Covering the self-publishing scene means that the majority of the comics one sees are the work of a singular vision. For whatever reason collaborative work (outside of anthologies and more obvious genre comics) is far scarcer than in other areas of comics publishing. Marmalade is a 44-page, one-shot offering from writer Charlotte Cassidy and artist Kat Cass and a welcome exception to that prevalence of solo endeavours. That the duo are sisters may go some way to explaining why their creative partnership works in such perfect synchronicity to bring this confident and assured debut longer-form comic to life.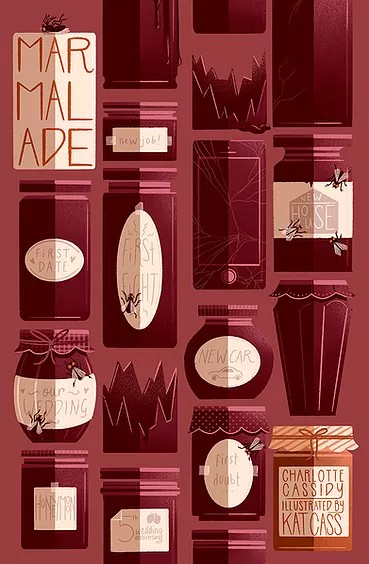 Marmalade is a love story with a darker edge. A young woman begins a relationship with her future sweetheart, Oscar; their shared passion for strawberry jam-making bordering on the obsessive. Despite her friends' fears that she has become too quickly fixated on him, the pair's blissful romance leads to marriage and a seemingly idyllic future. That is until the demands of Oscar's new job begin to seriously impact on their jam-making time and the fateful day that he comes home with the taste of marmalade on his lips…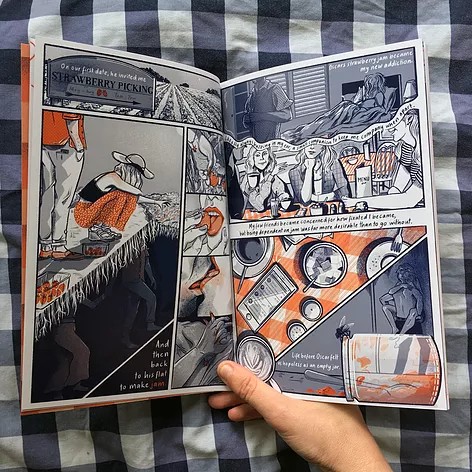 Unpicking the allegorical from the actual in the pages of Marmalade would be to miss the point of this deeply affecting tale. Cassidy's narration and dialogue have a sense of foreboding throughout, a pacing that we know from the beginning is carefully building up to something far bleaker in tone. But it's Cass's visual storytelling that fully exploits the communicative tools of the form in both composition and recurring motifs. Those with "pure language of comics" on their Broken Frontier reviews bingo card can tick it off now.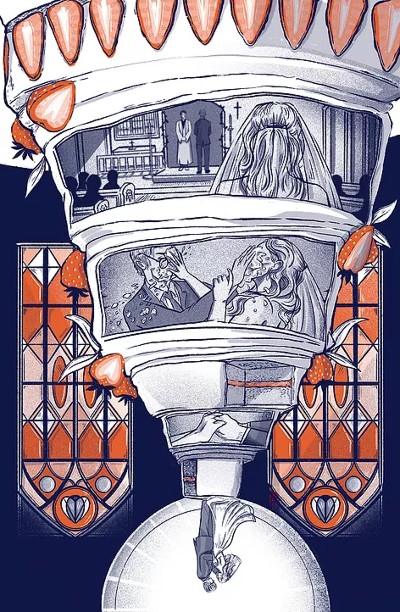 There's an element of what we are now referring to as graphic gastronomy in the early pages of Marmalade with the jam-making process becoming symbolic of something far more sensual in its realisation. Cass works in a moody, atmospheric palette of reds and oranges on backgrounds that otherwise use a highly atmospheric employment of light and shade. It's her outstanding use of visual metaphor and inventive panel structures that stand out though, with the dreaminess of the book's initial pages descending into devastating nightmare as events progress.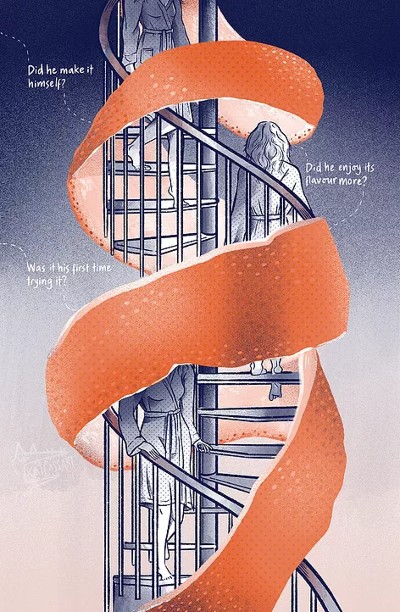 Jam jars become panels that act as portals into the characters' lives, buzzing flies foreshadow what is to come, and metaphorical subtlety (unravelling orange peel and dripping jam) echo the gradual breakdown in the characters' relationship. There's so much thought given to page structure and representational imagery that you'll need at least a couple of re-reads to fully appreciate all the little details.
I had already been following Kat Cass's work on social media but what Cassidy and Cass achieve with Marmalade is as impressive a first self-published offering as any I have ever previously written about at Broken Frontier. That, I think, is as high a compliment as I can pay. This is undoubtedly going to be one of the most acclaimed UK self-published comics of 2021. You have been given due notice. Do not miss out.
Charlotte Cassidy (W), Kat Cass (A) • Self-published, £12.00
Review by Andy Oliver
Read more small press reviews here at BF