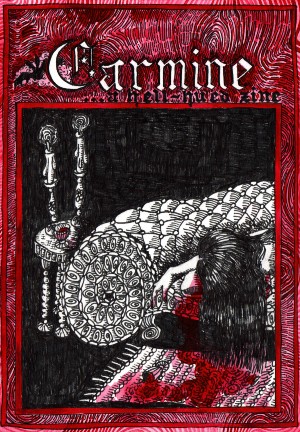 Even pre-pandemic, one element of the UK small press scene that had been dwindling noticeably with each passing year was the open submissions anthology. It's something I've mentioned with regret on a couple of occasions recently at Broken Frontier because when I first started writing primarily about small press comics such group efforts were a prevalent and positive force. They remain a vital platform for new voices to find wider audiences and develop their storytelling skills and, as such, it always feels important to give them a boost here at BF when we get the chance.
Beatrice Mossman put out an open call earlier this year on social media for her new Hell-Hued zine, a horror collection that will be themed around a different colour each issue. This first edition takes carmine red as its starting point for the best part of 70 pages of comics, poetry, prose and illustration from 26 creators. Just under a third of its contents are sequential art meaning this is a compilation of varied storytelling approaches to its subject and one that is rooted in a DIY culture/zine ethos of publication. Some readers may remember I reviewed Mossman's experimental psychological horror comic The Lure of the Flesh earlier in the year.
By its very nature then this is a grassroots project and contributors are by definition at varying levels of development in terms of craft. That, of course, is the joy of projects like this after all – their democracy and the vitally important showcase they provide for artists looking to hone their practice and reach a wider audience. Mossman herself provides the introduction to Hell-Hued: The Carmine Issue with a short strip in the style of the horror host comics that have been a staple of the genre from the EC Comics era through the DC Comics mystery line and British weeklies like Scream! and Misty. It's well-trod ground, of course, but Mossman's eerie, detailed, gothic visuals are a fitting scene-setter for what is to come.

Comics content herein ranges from one-pagers to multi-page offerings. The single page stories include 'Painting the Town Red' by George Snape and Kelly Salvat with its gruesome subversion of neighbourly concern playfully toying with the notion of time's passage between panels. Also lasting just a page is 'Dead End' (above) by Ben Couzens wherein an undead nightclub manager gets their comeuppance with a very inventive final panel pay-off, and 'Bleed' by Emiliyan Valev and Stanimir Valev which is a light in narrative but makes stunningly effective use of the carmine theme in its account of human encounter with supernatural entity.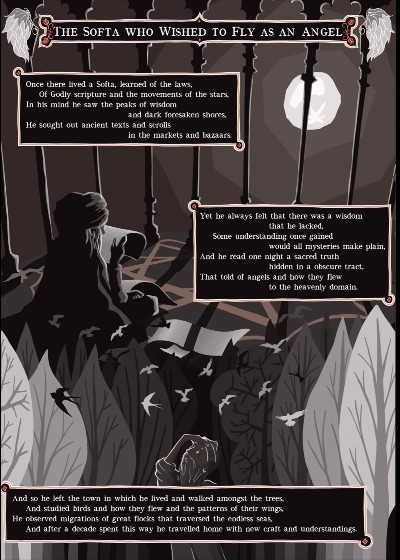 Richard Butterworth's 'The Softa Who Wished to Fly as an Angel' (above) is undoubtedly the most technically accomplished of the comics on show here. Butterworth's cautionary allegory about a student's quest for otherworldly knowledge makes brooding use of light and shadow and presents its moral lesson with a rhyming storybook approach that makes the inevitability of its denouement all the more tragic. 'Scarlet Transformation' by Toria McCallum runs with the kind of horror film standard that will be very familiar to anyone conversant with the genre, as a survivor of a gruesome multiple murder is given refuge by the authorities but panel-to-panel pacing and build-up certainly impresses here.  Finally on the comics front Tom Smith's 'Red Mist' (below) gives us a parable on anger management and entitlement that takes a confrontation in a cinema as its starting point in an effective piece of visual metaphor.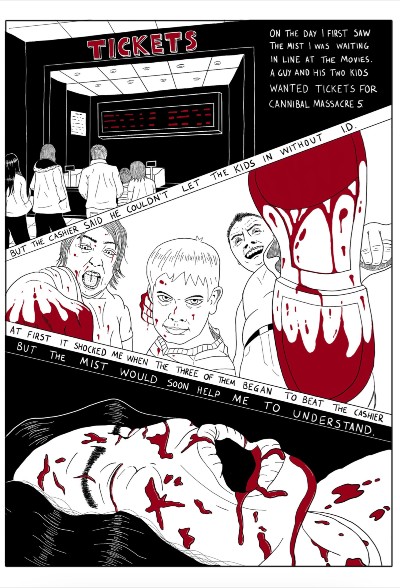 Given the colour on offer here to the creators the motifs of blood are far less in evidence than one would suspect with some being particularly inventive in their utilisation of those carmine hues as a storytelling device. It's important to underline that comics are only one part of this package (and unsurprisingly for a comics site our focus here). But of the non-comics offerings I was very impressed with the compositions of illustrators Fiona Oakley and Rowan.
While the work here ranges from the raw and the occasionally naïve to the highly proficient and adept that's very much the raison d'etre of an enterprise like this. Mossman's concept for the anthology is a neat one and I hope we do indeed see more of Hell-Hued in the future. For the moment, though, this is a perfect seasonal small press offering as the nights start drawing in…
For more on the work of Beatrice Mossman visit her site here and buy Hell-Hued from her online store here. You can follow Hell-Hued on Twitter here and on Instagram here.
Review by Andy Oliver