2000 AD celebrates its 45th birthday in early 2022 and to mark that occasion publishers Rebellion have some special projects coming to print next year. Full details in the press release below.
A brand new kind of comic hits newsstands almost 45 years ago – and the legendary 2000 AD is getting ready to celebrate its birthday in style!
Rebellion is delighted to announce its publication plans for the 45th anniversary of the Galaxy's Greatest Comic, with creator-led collections and special artist editions across eight months to mark its first publication.
Supported with special talent signings, these graphic novels and new editions will not only celebrate the rich legacy of 2000 AD but also honour the creators who have helped it continue to blaze into the new century! These books form just part of Rebellion's plans to mark this unprecedented anniversary, with more announcements due nearer the time.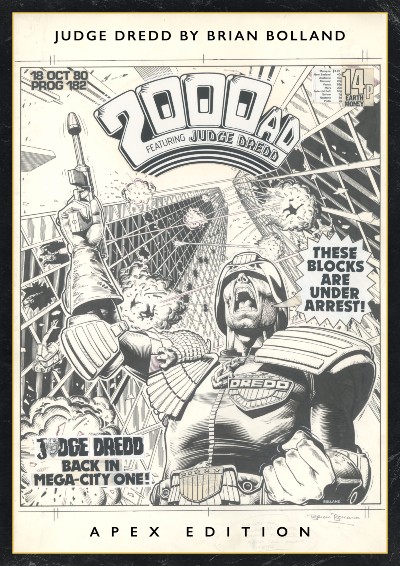 First arriving on newsstands in the middle of February 1977, 2000 AD was never expected to outlast all of its stablemates and rivals, but its difference and quality ensured it very quickly it became a cultural force far beyond its pages, its anarchic tone established by Pat Mills, John Wagner and a host of groundbreaking talent. As well as being the home of future lawman Judge Dredd, it has been a proving ground for comic book creators who have gone on to change the industry forever, from Alan Moore to Grant Morrison, from Simon Bisley to Jock.
Jason Kingsley, CEO of Rebellion, said: "Before the turn of the millennium many people had decided that 2000 AD wasn't worth saving, but over the past two decades it has not only proven them wrong but has gone from strength to strength. It is with no small amount of pride that we are now laying plans for celebrating its 45th birthday, even as it continues to produce comics of fantastic quality – not as an anachronism or museum piece but as truly the galaxy's greatest comic. All that success is thanks to the hard work, commitment, and talent of everyone involved – from creators to editorial and also the fans – I thank them all and look forward to helping shepherd 2000 AD through its next decades and beyond."
Ben Smith, head of books, comic books, film and TV at Rebellion, said: "Our line-up for spring 2022 is packed with tributes to the people who have helped make 2000 AD what it is. It's a pleasure to be able to bring such collections and special editions to the fans, which really bring 2000 AD's rich heritage and characters alive.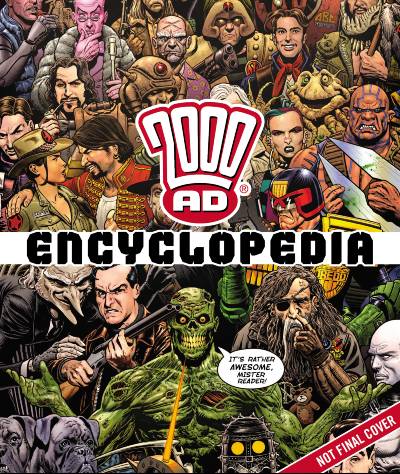 "The ongoing uncertainty over the pandemic means we're not planning a major convention to rival our 40th birthday celebrations, but that doesn't mean we're staying silent over this landmark. Far from it – our publishing schedule for both the anniversary and beyond will make 2022 a watershed year for 2000 AD and Rebellion."
The festivities begin with The 2000 AD Encyclopedia (published in February). The first ever comprehensive and definitive encyclopedia of the worlds of 2000 AD, this weighty tome will bring together synopses and details of every series published in the weekly anthology and its sister comic, the Judge Dredd Megazine, as well as popular and distinctive characters from major series such as Judge Dredd. Written by writer and journalist Scott Montgomery, The 2000 AD Encyclopedia promises to become the definitive, go-to resource for the hundreds of creations that have appeared in the Galaxy's Greatest Comics over the past four decades including comprehensive sections on Sláine, Nemesis the Warlock, A.B.C Warriors and many more.
Alongside this, The Brian Bolland Apex Edition (published in February) will showcase the Judge Dredd work of one of 2000 AD's greatest creators. This deluxe, over-sized facsimile edition will feature new high-resolution scans of Bolland's original art from 2000 AD, showing his delicate inking brushwork in unprecedented detail. As one of the first creators in the 'British Invasion' of the American comic book industry in the 1980s, Bolland's work on series such as Camelot 3000 and Batman: The Killing Joke, and covers for Wonder Woman, Green Lantern, Batman, and many more, have made him one of the most distinctive and famous artists in comics. This Apex Edition, which will be available in an exclusive edition through the 2000 AD webshop and a standard edition through comic stores via Diamond Distribution, will provide fans with unprecedented insights into his original art in an edition befitting such a landmark talent.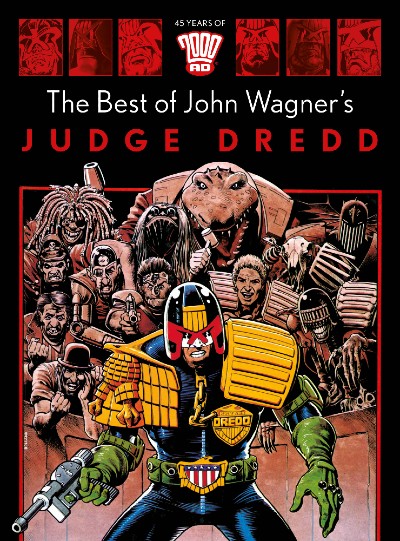 The mainstay of 2000 AD since its second issue, Judge Dredd is one of the world's most famous comic book characters, not only spawning two major movie adaptations but becoming a cultural icon and  a breeding ground for generations of creators who have helped transform comics as we know them. To mark Dredd's 45th anniversary, 2000 AD will honour his co-creators, writer John Wagner and artist Carlos Ezquerra, with two collections that bring together some of their best work for the Galaxy's Greatest Comic. The Best of John Wagner (published in March) and The Best of Carlos Ezquerra (published in May) will give long-time fans and those new to the work of these two giants of British comics the opportunity to enjoy and savour some of the highlights from two talents that helped seal 2000 AD as a cultural trailblazer, with Wagner's action-packed, terse, and often blackly comical writing paired with the gritty and dynamic art of Ezquerra, who sadly passed away in 2018.
Also published in March, Judge Dredd: Blaze of Glory will showcase the work of one of the best writers of the new generation of Judge Dredd scribes – Al Ewing. Beginning his career at 2000 AD, Ewing quickly established himself as one of comics' most unique voices. A master of character, plot, and wit, Ewing's work on Judge Dredd sealed his reputation as one of 2000 AD's most exciting creators, as he has gone to work extensively for Marvel Comics on critically-acclaimed titles such as Immortal Hulk and Guardians of the Galaxy. The Blaze of Glory collection will bring together his best stories of the 'lawman of the future' and provide fans with an overview of his energetic and enthralling writing.
The special new editions culminate with 45 Years of 2000 AD (published in May). To mark 2000 AD's galaxy of characters, forty-five popular artists from the worlds of comics and illustration will give their unique takes on some of 2000 AD's most famous characters. The brand new collection will feature work by David Aja (Seeds), Michael Allred (X-Statix), Jamie Smart (Bear), Colleen Doran (New York Times bestseller), Annie Wu (Hawkeye), Mick McMahon (Judge Dredd), Kevin O'Neill (League of Extraordinary Gentlemen), Rachael Stott (Doctor Who), Chris Weston (The Filth), Henry Flint (Judge Dredd) and many, many more.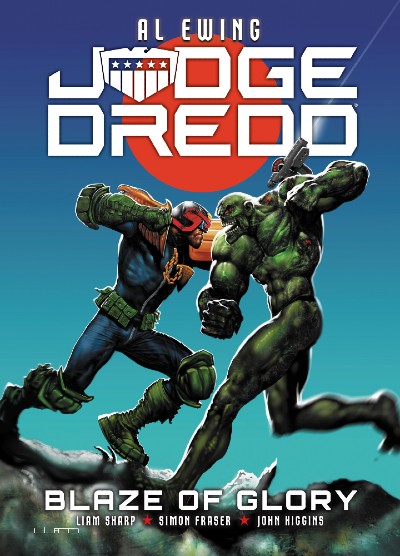 No conversation about 2000 AD's first great 'golden age' is complete without one name – Gerry Finley-Day. The co-creator of Rogue Trooper as well as the distinctive writer on series such as Blackhawk, The VCs, Fiends of the Eastern Front, Dan Dare, Ant Wars, Harry Twenty on the High Rock and many more, The Best of Gerry Finley-Day (published in August) will delve into this punchy, high-powered writing of one of the comic's greatest 'ideas men'. Finley-Day brought both a creative energy and a great sense of character to his work and this volume will pay tribute to the work of one of 2000 AD's best talents.
Never before reprinted, September 2022 will see the first ever collection of DC Comics' Judge Dredd: Legends of the Law. Capitalising on the hoped-for success of the Judge Dredd movie starring Sylvester Stallone and modelled on the Batman series Legends of the Dark Knight, this mid-'90s series bought in Dredd writers John Wagner and Alan Grant to jettison most of Dredd's established continuity and focus on the lawman's earliest exploits. This unique collection will finally bring the thirteen-issue series together, with art by Brent Anderson (X-Men) Tommy Lee Edwards (Marvel 1985), John Byrne (Superman), Barb Kaalberg (Planet of the Apes), Gary Martin (Nexus), and Anthony Williams (Judge Dredd).
And, rounding off 2000 AD's 45th birthday celebrations, October will see the eagerly-anticipated Mick McMahon Apex Edition. Few artists have stamped their signature on Judge Dredd the way McMahon has; the artist on the first published Dredd story in 2000 AD Prog 2, he was initially hired to imitate Ezquerra's distinctive style but soon developed his own kinetic, visceral style, which evolved into the chunky, powerful 'big boots' style. Constantly evolving, his work on seminal Dredd stories such as 'The Cursed Earth', 'Block Mania' and 'The Judge Child' was a world away from the almost woodcut-like art on Sláine, and his slick, sci-fi action on The VCs and Ro-Busters. This deluxe, over-sized facsimile edition will feature new high-resolution scans of McMahon's original art from 2000 AD. It will also be available in an exclusive edition through the 2000 AD webshop and a standard edition through comic stores via Diamond Distribution.
2000 AD 45th anniversary publishing schedule
February
The 2000 AD Encyclopedia
Brian Bolland Apex Edition
March
The Best of John Wagner
Judge Dredd: Blaze of Glory
May
The Best of Carlos Ezquerra
45 Years of 2000 AD
August
The Best of Gerry Finley-Day
September
Judge Dredd: Legends of the Law
October
Mick McMahon Apex Edition