With Refugee Week not long behind us, and with the UK's morally abhorrent decision to send asylum seekers to Rwanda sadly an actuality rather than a work of dystopian fiction, it seems an especially appropriate time to return to comics work dealing with the Refugee Crisis. 6,000 Miles to Freedom: Two Boys and Their Flight from the Taliban comes to us via Graphic Mundi, the socially relevant comics imprint of the Pennsylvania University Press. The book is written by Stéphane Marchetti, adapting refugee testimony from his documentary film Les Enfants de la Jungle, and illustrated by Cyrille Pomès.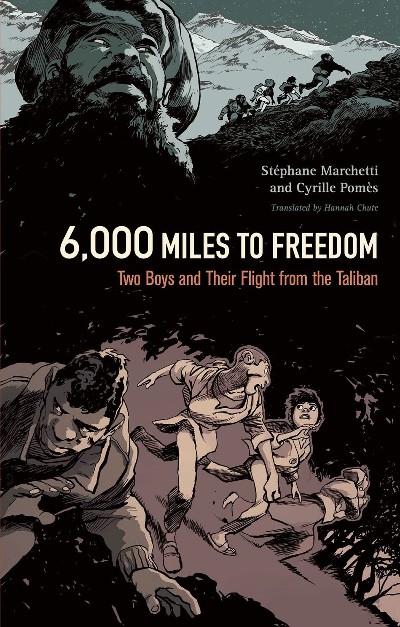 6,000 Miles to Freedom is the story of two boys, 12-year-old Adel and his older teenage cousin Shafi, and their attempts to escape persecution in Afghanistan and start a new life in the UK. Falling under the guardianship of his fundamentalist uncle, Adel is forced to become a child suicide bomber. But when his moment of supposed martyrdom comes mechanical failure means he survives, only to become a target of both the authorities and the Taliban.
Forced to flee, with Shafi acting as guardian of sorts, the two boys begin a journey of thousands of miles in the hope of a better future. Their struggle will take them across mountain ranges, dealing with people smugglers, being shot at and robbed. On the way they will discover different national approaches to refugees, experience hunger and cruelty, and spend time in the notorious Calais Jungle camp. Can their quest for a new life reach an unlikely happy ending, or will tragedy get the upper hand…?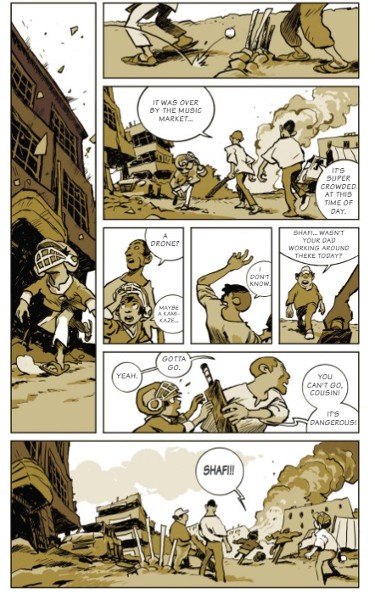 Marchetti and Pomès gives us two leads who we feel immediately invested in. Adel is young, obsessed with cricket, and has a child's eye view of the world at the beginning of the book. As it progresses 6,000 Miles to Freedom becomes a brutal coming-of-age story, though, as he is forced to grow up beyond his years as his ordeal continues. Shafi finds himself similarly affected by their wanderings, forced to make choices and compromises he may never have otherwise considered.
Pomès' art places slightly exaggerated characters on realistic and detailed backgrounds, ensuring reader empathy and emotional connection without compromising the horrors of the events depicted. Monochrome colouring choices give the book a suitably moody atmosphere while Pomès pages can play with the passage of time to powerful effect. An early sequence, where Adel's suicide mission is told in parallel narrative with a left to right sequence overlaid by a downwards vertical strip, shows him being prepared for the attack in the past while carrying it out in the present. It's an intense and unforgettable juxtaposition of timeframes.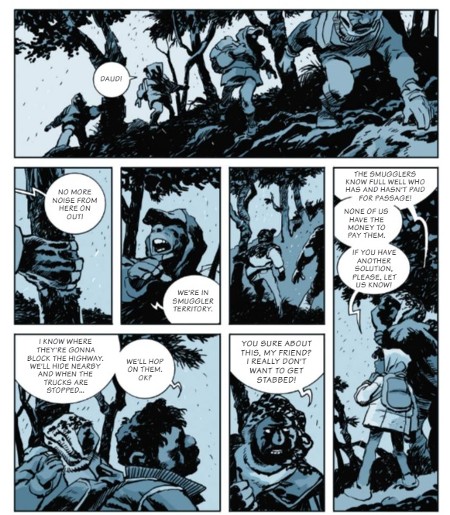 This is a challenging story drawn presumably from multiple sources and one that also reminds us that the pressures for refugees do not end when they reach their destinations. While there is undoubtedly a conversation to be had about how many graphic novels/biographies on the plight of asylum seekers are filtered through a Western lens of creative interpretation they still provide much needed accounts of the realities of the crisis as a counterbalance to the deliberately misleading bigotry of the right-wing media.
Stéphane Marchetti (W), Cyrille Pomès (A), Hannah Chute (T) • Graphic Mundi, $24.95
Review by Andy Oliver