Press Release
"Creativity and innovation", Simple words that serve as the core tenets of everything Action Lab Entertainment, the industry's newest and most exciting publisher. We are proud to present our slate of upcoming releases for 2014. With a bevy of exciting creators from industry veterans like Ray Height, to Eisner Award Nominee Mia Goodwin, Action Lab once again establishes itself as the next big publisher to make a mark in the comic book industry.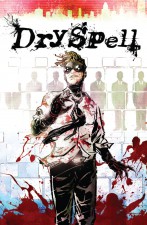 DRYSPELL
Written and Drawn by Ken Krekler|
Tom Ferris lives in a world of Superheroes: Vibrant colors that streak across the sky, that hurl themselves over rooftops at night. They are commonplace. But Tom doesn't notice them anymore, because his world is made up of spreadsheets, phone bills, software, coffee and button down shirts. Today he's a respectable, quiet man with a decent job and a dead dream. Long ago, Tom had been someone special and each night, he lies awake, wishing for the chance to do things differently. To be the man he really is. One day, Tom will get his wish. And the world will never forget him again.
4 ISSUES-Spring 2014
SOUTHERN DOG
Written by Jeremy Holt (Art Monster, Pathfinder Goblins)
Art by Alex Diotto (Hawken)
Covers by Riley Rossmo (Cowboy Ninja Viking, Daken:Dark Wolverine
A coming of age story with a rural-noir twist, Southern Dog follows 14- year- old Jasper Dixon, who struggles to adjust to life after a rabid wolf bite coupled with hormonal changes of puberty triggers his transformation into a Werewolf. Set in Fort Payne, AL, just weeks prior to President Obama's inauguration, this action packed drama examines the complexities of race, love, and what it truly means to be a family in the deep South.
4 ISSUES-Summer 2014
TOMBOY
Written by Jon Verall and Mia Goodwin (Princeless)
Art by Mia Goodwin
From the mind of Eisner nominated artist Mia Goodwin!
When 15-year-old Addison Brody fatally attacks two gang members who murdered her childhood friend, her life takes a turn for the dark. Addison's grandfather, a former vigilante himself, urges her to adopt his way of life and soon, his credo for murder becomes her only compass. As Addison gets further entangled in taking down the drug ring responsible for her friends death, she is forced to confront the true nature of her actions- and the grim toll it demands of her: an eye for an eye isn't justice; it's justification to become a monster.
THREE FOUR ISSUE MINIS- Winter 2014
MISHKA AND THE SEA DEVIL
Written and Drawn by Xenia Pamfil
11 Days trapped on an island. 11 different art styles. 1 incredible artist
Fisherman Mishka is left stranded on a Mysterious island after an encountering at sea with an equally mysterious beast. To get off the island she must unlock the secrets of the monster that trapped her there. Threats come from every direction, but thanks to a colorful cast of characters including Admiral ghost and Captain Furball, she may just have a fighting chance.
OVERSIZED HARDCOVER-Summer 2014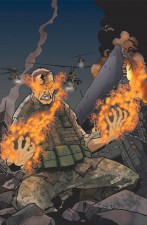 F1RST HERO
Written by Anthony Ruttgaizer
Art by Phillip Selvy
Covers by Lee Moder ( Wonder Woman, Shinku)
What if everyone who had ever developed superpowers had gone insane and become a threat to society? What if ONE manifested powers but kept his sanity? Faced with a society that fear superhumans, a government that hunts them down and growing numbers of crazed supervillans all around him, Jacob Roth must decide to either put himself at risk by using his powers to help people or do nothing and remain safe while innocent people get hurt.
4 ISSUES-Fall 2014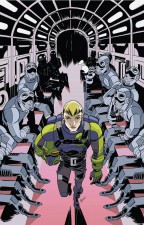 JETPACK B@ST@RDS
Written by James Patrick (Batman: Jokers Asylum, Green Arrow)
Art by Carlos Trigo (Judge Dredd Megazine, 2000AD)
From the Award Winning writer of Batman and Star Trek!
After Earth is attacked by a superior alien force, it must resort to guerrilla tactics for its survival. Enter the Jetpack Brigades, Who fly like madmen into enemy ships, and blow them to hell. Cameron Sphinx is a star pilot who's just been promoted to the elite Team Scorpion. But Team Scorpion has a secret, which might get him killed.
FOUR ISSUES – Winter 2014
MIDNIGHT TIGER
Written by DeWayne Feenstra ( The Adventures of Aero-Girl)
Art and Plots by Ray Anthony Height ( The Amazing Spider-man)
From Marvel Comics artist Ray Anthony Height!
Springing from this years ALE Free Comic Book Day Issue!
Gavin Shaw, a disillusioned teen living in the crime-infested city of Apollo Bay has lost faith in the heroes he admired growing up.  After attempting to save the life of the gravely injured hero known as Lionsblood , Gavin finds himself waking up in a hospital bed days later with amazing new super human abilities and smack dab in the middle of a 15 year old secret that could unravel the fabric of the superhero community. Gavin becomes Midnight Tiger, a young hero that's determined not to let that secret destroy his city.
4 ISSUES-Spring 2014
RUNNER
Written and Drawn by Nate Watson
From Lucasfilm Animation artist Nate Watson!
As our world is infiltrated by otherworldly zealots and their army of gigantic monsters, teenage hothead Bethany Caruso is recruited into the XB3 Project, and together with her artificially enhanced team of "Hyper Brawlers" is charged with leading the aliens from major cities..and into combat!
Parkour meets kaiju in the most kinetic comic in history!
THREE ISSUES- Summer 2014
PLANET GIGANTIC
Written by Eric Grissom
Art by David Halvorson
In the distant future, the Wunderkind Corporation is the leading developer of space exploration technology. That technology is children. These Genetically engineers human clones have enhanced abilities that range from gravity manipulation to electromagnetic energy generation and a designed to travel hundreds of light years from Earth. Their purpose is to identify potential targets for large scale harvest and mining operations. When two such teenage clones and their robot caretaker MOTHER crash land on a strange planet, they must learn to rely on themselves and their still developing powers as they brave the unforgiving planet.
FOUR ISSUES – Winter 2014