Press Release
While the company's full solicitations won't be released until later this week, Action Lab Entertainment has released some information about their upcoming releases, featuring variant covers by superstar creators LEE MODER, RILEY ROSOMO, JAMAL IGLE and Eisner Award Winner DARWYN COOKE!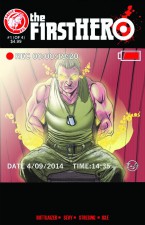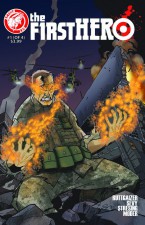 THE F1RST HERO#1 (of 4)
Writer(s): Anthony Ruttgaizer
Artist Name(s): Phillip Sevy (art), Fred C Stresing (letters/colors)
Cover Artist(s): Lee Moder (reg),  Jamal Igle (var)
The entire world knows the stark reality: everyone who manifests superpowers goes insane and becomes a threat to society. So, when Jake Roth develops superpowers but somehow keeps his sanity, he must decide whether to put himself at risk by using his powers to help people or do nothing and save himself while innocent people around him get hurt. Cover by Lee Moder, with a variant by Jamal Igle (Supergirl, Molly Danger) limited to 1500 copies!
32 pgs./Mature Readers/ FC                         $3.99/$4.99 Variant
Writer(s): Kyle Puttkammer
Artist Name(s): Marcus Williams
Cover Artist(s): Marcus Williams (reg and var)
Avengers and Justice League move over! The cutest heroes on the planet have arrived! Meet the Hero Cats of Stellar City in this spectacular first issue. Not your ordinary house cats, they're a tactical action-packed covert team dealing with extraordinary threats to humanity in ways that will amaze. Variant fold-out cover limited to 2,000 copies!
32 pgs./ Kids, All Ages/ FC                                  $3.99/ $4.99 Variant
Writer(s): Jeremy Holt
Artist Name(s): Alex Diotto
Cover Artist(s): Riley Rossmo (reg),  Mehdi Cheggour (var) (limited to 1500)
When awkward high school teen Jasper Dixon conceals an injury sustained during a hunting excursion with his family, his infected wolf bite combined with the hormonal changes of puberty triggers a disturbing physical transformation. Now he's forced to confront his Deep South upbringing and monsters far worse than what he's become! Featuring a regular cover by Riley Rossmo (Drumhellar), and a Limited Edition (1500 copies) werewolf variant by Mehdi Cheggour (Enormous)!
32 pgs./Mature Readers/ FC                         $3.99/$4.99 Variant
Writer(s): Jeremy Dale
Artist Name(s): Jeremy Dale
Cover Artist(s): Jeremy Dale (reg), Darwyn Cooke (var) Limited to 1500 copies
Celebrating its first full year, SKYWARD is thrust into new lands with new peoples, creatures…and distractions? In the midst of a changing land, our heroes find that the Battle of Three Rivers was only the beginning of a brand new conflict! This issue also features a LIMITED Edition variant
cover (1500 copies) by DARWYN COOKE (Parker, DC's New Frontier)!
32 pgs./ Children and Teens/ FC                        $3.99/ $4.99 Variant,