Press Release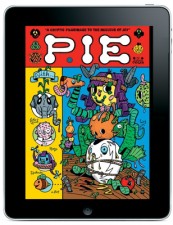 ComiXology and Alternative Comics announced today that the long-time independent publisher Alternative Comics has entered into an all-new digital distribution agreement with comiXology, the revolutionary cloud-based digital comics platform available across the iPhone, iPad, Android, Kindle Fire, Windows 8 and the Web.
Independent comic fans will be reading Alternative Comics in an all new dynamic way with comiXology's cinematic Guided View™ technology. iPad with Retina display users will experience every fine detail of indie comics with comiXology's high definition format dubbed CMX-HD!
To celebrate the announcement, Alternative Comics is releasing five titles on the comiXology platform from independent comic luminaries, including Karl Stevens's Failure, Steve Cerio's Pie, Sam Henderson's Magic Whistle series including the Humor Can Be Funny collection and 2012's twelfth issue of the long running humor comic.
"Alternative Comics has an extensive, hilarious and thought-provoking catalog of work by tremendous independent creators and we're excited to be able to share these stories worldwide on comiXology," said comiXology's co-founder and CEO David Steinberger. "Now fans and newcomers alike will be able to get access to these great titles and experience them in a whole new way with our Guided View reading technology."
"Making Alternative Comics available digitally on comiXology is a big step for us that we are truly excited to take," said Alternative Comics General Manager Marc Arsenault. "Bringing high-quality independently created comics to a larger readership has always been our mission and having our extensive back list and all of our new books available through comiXology will give a whole new generation of comic fans access to our catalog."
Here's a full list of the Alternative Comics titles debuting today across the comiXology platform:
Failure GN by Karl Stevens
Humor Can Be Funny (Magic Whistle) GN by Sam Henderson
Magic Whistle #7 by Sam Henderson
Magic Whistle #12 by Sam Henderson
Pie #1 by Steven Cerio
Future digital releases from Alternative Comics include their first day-and-date release Alternative Comics #4, coming June 26, 2013. The all-ages graphic novel Peanut Butter & Jeremy's Best Book Ever, by 2012 Eisner Award winning creator James Kochalka (Dragon Puncher, Johnny Boo), is also scheduled to debut digitally this year.
Alternative Comics is an independent comic book publisher with an extensive back catalog of humor, satirical and original creator-owned titles. Jeff Mason ran the company from 1993 until 2008, and it was re-launched in June 2012 by industry veteran Marc Arsenault.