Press Release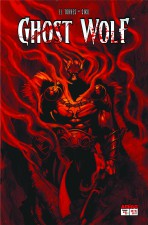 It is official and fans of Amigo Comics cannot get enough of Brutal Barbarian Action! The new debuting issue of Ghost Wolf  #1, in stores April 16, 2014, has been sold out on distribution level completely!
Though copies may still be available at retail level, the publisher urges fans to contact their comic book store and place a re-order. It would make the publisher mighty proud to find out the extra orders would warrant a second printing, but that is totally up to the fans, our Amigo's!!
Amigo Comics also urges retailers to check their orders on all issues of Amigo Comics as the series has already generated buzz from all corners of the media and will continue to do so in the coming months.
Ghost Wolf  #1 (of 4)
Author: El Torres
Artist: Siku
Cover Artist:  Siku
Genre : Fantasy
Format : Comic book sized, FC, 32 pages
Retail Price: $3,99
The full saga of the Ghost Wolf, the spirit of vengeance of the northern wastes.
When the sons of Corr lost their courage, they were captured  by the wild tribes. But there was one man who decided to fight… and he paid for this with his very life. He will become the vessel for the long, forsaken spirit of vengeance… The Ghost Wolf!