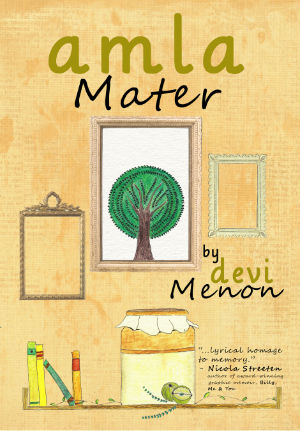 Released by Yali Books, a publisher specialising in books focusing on South Asian culture, Devi Menon's Amla Mater is a slice-of-life offering that explores how memory is intimately connected to sensory stimuli and how the simplest triggers can reawaken long dormant recollections of our distant past.
The book centres on Mili who is expecting her first child and living with her partner in a compact apartment in East London. As she awaits the arrival of her baby she finds herself being reminded of her life in India; the scent of amla (gooseberry) conjures up childhood games with her friend Maya in Kerala, the smell of jasmine takes her back to leaving her small village home after graduation, and rain on the Thames transports her back to monsoon month in June and the stories of Maya's great grand-aunt.
As the past and the present begin to flow into each other we learn how Mili's experiences would eventually take her to a new life in the UK and how she found the love of her life (referred to throughout only as "The Baker"). But this isn't the only thematic juxtaposition in the book. Interspersed throughout these flashbacks and flashforwards is a more linear narrative as Mili's unborn baby grows; its own sensory development acting as thematic mirror. Also running concurrently is a linked plot thread of Mili attempting to recapture her past in a more tangible form by making her own amla pickle; an act that will bring events full circle in a most unexpected way…
While Menon's art is uncomplicated and minimalist, its purely representational qualities evoke the most acute feelings of familiarity and shared experience in the reader. Not necessarily in the specifics of Mili's story, of course, but rather in the way that wistful nostalgia can sneak up on all of us; of how the tiniest things can suddenly remind us of people and events we may not have thought about for years. Mixing recurring motifs, visual metaphor, clever panel-to-panel tricks to create shifts in time and place, and occasional diagrammatic imagery, her storytelling is far more sophisticated than her deceptively stripped back pages may at first suggest.
Characters and events on occasion may feel underdeveloped and transitory, but rather than being a weakness this actually taps neatly into the book's central conceit of the nature of memory and that contradictory way in which it can be simultaneously immediate and fleeting. Eloquently comparing cultures by reminding us of our commonality of experience, and examining our conceptions of home with a gentle grace, Amla Mater is a graphic novel of great warmth and subtle passion.
Devi Menon (W/A) • Yali Books, £8.99
Review by Andy Oliver