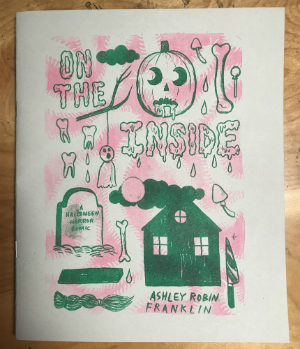 It is always interesting to see a cartoonist step outside their artistic wheelhouse and try something new. What is somewhat unique within indie comics is that this new thing can come in the form of genre fiction. In her recent comic On the Inside, Ashley Robin Franklin focuses all of the craft she has been honing in her illustration and illustrated diary work into a charming and grotesque tale of Halloween night hauntings and body horror. Sticking within the tropes of the ghost story allows Franklin to take her softer evocative style and twist and reshape it in a way that crawls under your skin. The end result being a solid indicator moving forward of the potential Franklin has a cartoonist and writer.
On the Inside follows the Halloween exploits of neighborhood bad kid Logan as his night begins with mischief and ends in madness. Creeping beneath the broken foundation of a house to deliver a jump scare to his sister Morgan and her friend Amalia, Logan finds a small wrapped bundle of unknown contents. In removing this mysterious bundle from its resting place he unearths a swarm of centipedes that are only the precursor to even greater horrors. We feel little sympathy for Logan and the terrors about to befall him when he, being the selfish brat that he is, refuses to take his younger sister Tegan trick or treating so that their mother can go to work.
It's not just that he is disobeying his mother, but the palpable pain on Tegan's face as Logan leaves with his equally no-goodnik buddy Trevor has the audience wanting the two boys to get the spooky comeuppance they deserve. The boy's punishment far exceeds the crime though when Trevor's teeth become infested with worms and are spit bloodily out of his mouth and Logan is pursued by the spirit whose property he had taken until he returns it to its origin. Yet this does not free him from his haunting. The gruesome ghoul sees a kindred spirit in Logan, a "friend who is just like me." While he rejects her offer of friendship the closing pages show us that he is not free from her influence. The rot that has infested her is bubbling up from his insides as well.
Franklin's art is soft, curvy, and loose in a way that is a perfect match for her diaristic work. Here Franklin uses the cute cartoony look of her characters to take down the audience's guard so that they don't notice the creeping corruption until it is far too late.  The centipedes crawling under the house read as just another part of the scenery until they begin infesting everything. They will spill, unbeknownst to Logan, out of a smashed pumpkin whose carving resembles an act of violence. But even the reader overlooks the creeping dread of these instances, our eyes drawn to the lively characters and their cute costumes.
We similarly brush off the urban legend ghost stories Trevor and Logan tell each other. The girl dressed in ghoulish costume lingering in the background of a panel will be just that – a girl in a costume – until she's an actual ghost with oozing eyes, fraying clothes, and leaking worms. Drawn in close by the wide-eyed cute character, the disgust we feel when they start spiting out blood and teeth is that some of it might have gotten on us.
Franklin's use of signs and symbols adds further flavor to the overturned grave ghost story tropes she is working in. Again and again she returns to images of rot or corruption. She strikes a deep nerve here correlating teeth rotting out (while eating candy) to the way all of our bodies will eventually succumb to putrescence. Having it happen before our eyes while we are still breathing evokes the kind of deep body horror revulsion usually reserved for a Junji Ito comic. Everything is rotten, especially Logan. There's an excellent moment when the ghoul in making her appeal of friendship to Logan saying, "I can see it in inside you. Under your bones."
Through the entire story Logan has been wearing a skeleton design hoodie that seemed only par for the course on Halloween. Here it takes on another meaning. The ghoul sees a black void underneath Logan's bones, both literally and figuratively. If the ghoul could have blended in among the costumed monsters what other horrors are hiding in plain sight? Did the ghoul place the corruption inside Logan or simply draw out what was already there?  Franklin leaves things open enough for the reader to decide.
On the Inside appears to be part of a larger overall pivot for Franklin towards supernatural fiction. She has been posting pages of as a yet unfinished comic Dead Girls Club which functions as more of a Beetlejuice-inspired horror comedy than straight horror story. This is a move that serves her well. She is a fully competent storyteller; well aware of the genre she is working in. Her artwork and visual choices adding a unique spice to what in other hands might be rote pulp horror.  It will be interesting to see how such a capable artist handles the concerns of a longer story.
Ashley Robin Franklin (W/A) Self-Published, $7.00
Available to buy online from Ashley Robin Franklin
Review by Robin Enrico