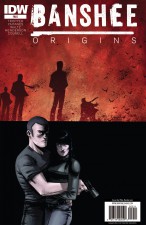 IDW Publishing and Cinemax® announced that the free digital one-shot BANSHEE: ORIGINS has been expanded to include additional content, filling fans in on just how master thief Lucas Hood found his way to the town of Banshee, Pennsylvania in Cinemax's hit show.
The prequel comic BANSHEE: ORIGINS, which debuted in early January, sets up the relationship between the two main protagonists Lucas and Carrie and tells their story 15 years prior to the series narrative. The new installment, written by BANSHEE series writer Jonathan Tropper and illustrated by Mike Henderson (Teenage Mutant Ninja Turtles: Casey Jones), delves deeper into the background of the characters and the dangerous criminal element that exists in Banshee.
"IDW's BANSHEE: ORIGINS is truly an innovation in transmedia storytelling," said Greg Yaitanes, executive producer, BANSHEE.  "It's not just a great graphic novel on its own merits, but is canon with BANSHEE mythology.  The creative team from the series seamlessly collaborated with IDW to create this experience.  Readers familiar with BANSHEE on Cinemax will have secrets revealed from season one and hints about season two woven into these pages all wrapped in an origin story."
Executive produced by Jonathan Tropper, David Schickler, Peter Macdissi, Alan Ball and Greg Yaitanes, BANSHEE stars Antony Starr (Rush) as Lucas Hood, an ex-con and master thief who assumes the identity of the sheriff of Banshee, Pa. where he continues his criminal activities, even though he and Carrie (Ivana Milicevic), his former partner in crime, are hunted by shadowy gangsters he betrayed years earlier.
A full-color noir blast populated by unique characters, mysterious turns, and harrowing thrills, BANSHEE has become a hit on television, and now fans can finally learn a few more of its secrets in comics! Take it from Alan Ball himself, who explains in the BANSHEE: ORIGINS' foreword: "Of course, there had to be a comic book."
BANSHEE: ORIGINS is a free download and available now in the IDW Comics app for Apple iOS, Comics by ComiXology apps for iOS, Android and Windows 8, the Apple iBookstore, and online at read.idwpublishing.com.