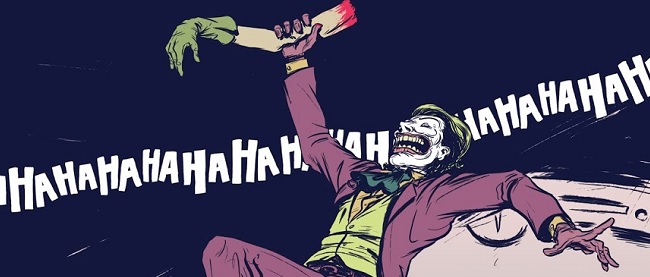 Fan fiction tends not to get a lot of press. It carries with it, deservedly or not, a host of stereotypes, including that it's amateurish, hackneyed, uncreative, and occasionally, very slash-y. It has its following, to be sure, but especially in the comic book world it's rare for that following to reach very far into the mainstream of fandom.
Hence, it was more than a little surprising when, last week, a fourteen-page story entitled Batman: The Deal made the rounds of comics fans and creators on the social networking sites, even landing coverage at, among other places, Bleeding Cool and Wired.
The story was crafted by the guys at Moonhead Press, a small independent comics studio. Illustrated by the Paul Pope-esque art of Daniel Bayliss, The Deal is a remarkable piece of fan fiction. Telling the story of Batman's final confrontation with the Joker, writer Gerardo Preciado takes the opportunity to reimagine the relationship between the two.
And that's where things get (for lack of a better word) weird. After Batman tracks the Joker to an airship above Gotham, a fight between the two ensues, and the airship takes an abrupt nosedive. With only Batman's hand keeping him from plummeting to the concrete below, the Joker leaps into a monologue, but not of the sort you might expect. He and Batman are soulmates, the clown prince of crime says; they were once husband and wife, have traded roles as hero and villain between lifetimes.
"This is how we learn," the Joker says. "You love me and I love you, and no matter what you do in this life, that is never going to change."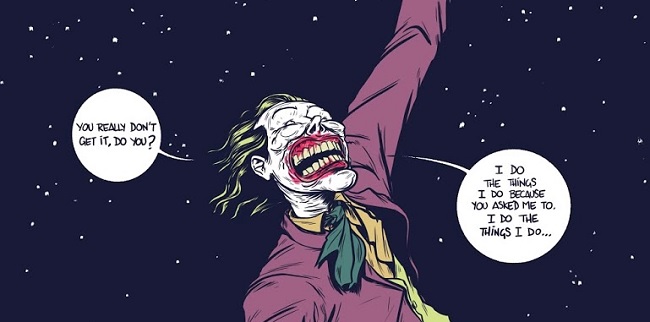 It's an interesting, and undeniably original, take on the relationship between Batman and his greatest villain. It's also probably the main reason The Deal is the kind of story that could never, ever make it into the pages of a book published by DC Comics. Comics is a serial medium, where the best readers can hope for in terms of character and plot development is what Stan Lee called "the illusion of change." Superhero comics thrive on continuity and long-term consistency. And if a lot of fans like that, it isn't my place to say that it's necessarily a bad thing. But it's undeniably one of the things that makes The Deal unique.
No one would call it amateurish, and it certainly isn't hackneyed or uncreative. That bit about the Joker being Batman's literal soulmate (and once his wife) notwithstanding, it isn't slash-y either. Put simply, The Deal is a lot of things fan fiction isn't supposed to be, and even if the story's existential message isn't to your liking, that alone makes it worth checking out.
And, hey, it's free. So what's your excuse?