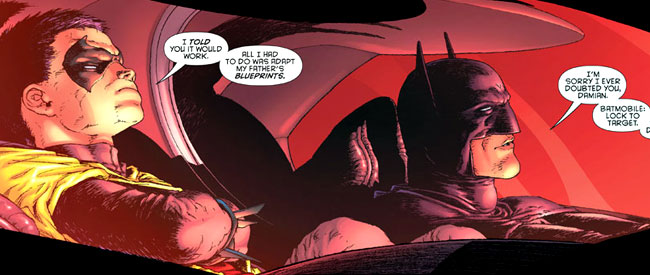 "Batman and Robin will never die!"
That line from the beginning of "Batman R.I.P." pretty much sums up the whole of Grant Morrison's Batman run to me. The line in the story is referring to the concept or symbol of "a" Batman and "a" Robin. Those symbols will always be around to strike fear into the hearts of criminals.
But I think Grant Morrison also meant the line literally. Batman is such a staple of pop culture and entertainment that he and Robin will never go away. There will always be stories told of the pair. That is one of the big themes of Morrison's overall story; the legacy of the character. He did something very interesting by taking old Silver Age ideas that seem laughable today and twisting them slightly to give them a more modern feel.
He took old issues that would be impossible under the more realistic rules Batman has to play by today, and said they were dreams. In essence, Morrison said that every Batman comic ever told is in continuity, that it's all part of an epic.
This idea starts in the first issues of the run, Batman #655-658 which make up the "Batman and Son" arc. In this story Batman is introduced by Talia Al Ghul to Damian Wayne, the son he never knew they had. The character first appeared decades in early in Batman: Son of the Demon. Originally conceived as an out-of-continuity story, Morrison incorporated it into the larger Batman saga.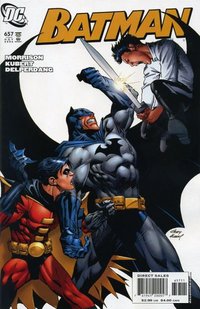 "Batman and Son" also has one of my favorite gag/homages to the Silver Age from Morrison's work when Batman fights an army of Man-Bats in a pop art museum. It was a clever way to add sound effects to a Batman fight.
The "everything counts" mindset continues and primarily plays a role in Batman #667-669, and Batman, Incorporated. Those first three issues reintroduce The International Club of Heroes, essentially Batmen of different countries. They are initially introduced for a murder mystery but become the backbone of Bruce Wayne's "Batman, Incorporated" initiative. Those early issues of the series also reintroduce Kathy Kane (the original Batwoman) back into Batman continuity.
But, the legacy of the character goes beyond whether or not all of his stories count. I think "Batman and Robin will never die" also refers to the fact that these characters will always come back.
In "Batman R.I.P." and then "Final Crisis" Morrison teased the death of Bruce Wayne. For awhile readers and DC superheroes alike thought Batman was dead.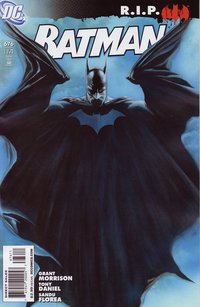 In "The Return of Bruce Wayne" it is revealed that Bruce isn't dead but wandering through history, trying to return to the present. In this series Morrison showed the idea that a Batman has always been around, even before he was called actually "Batman". This series illustrates the timelessness of the character, from those that inspired the creation of Batman to Batman himself.
Morrison's Batman and Robin series, along with Batman #666 and Batman #700, showed that there will always be a Batman even when it isn't Bruce Wayne. In a possible Damian Wayne takes over for his father. In the present Dick Grayson takes the role. In a different future Terry McGinnis is Batman.
But replacements are never needed for long as the characters themselves are immortal. Bruce Wayne returned to the "death" that Grant Morrison himself sent him. What that means for Damian fans, is not to worry.
Damian's legacy shall live on too, as teased on the final page of the series.
Once again the day is saved thanks to Batman and family. As it always has been and it always will be. And that is Morrison's legacy on the character.