Tantalizingly dark, sometimes deadly, and simply divine, Beasts of Burden showcases Dorkin and Thompson at the top of their game.
The finest anthropomorphic characters often make you forget that they are animals and simply become compelling individuals. In addition to the capability for speech, most in comics today take on decidedly human traits and mannerisms. David Petersen's Guard Mice are a fine example: they walk upright, carry weapons, fight battles great and small, and have even been known to enjoy an ale or two at the end of the day.
By contrast, the animal characters who defend the world of Beasts of Burden all move and behave as appropriate to their species. Pugsley even talks in the tough, abrupt manner that you might expect from a little dog who doesn't know (or doesn't think) he's little.
It's a commitment to accuracy that writer Evan Dorkin and artist Jill Thompson have maintained through each offering in the series, providing an instant sense of continuity and familiarity—a necessity for a series that isn't published on a regular schedule.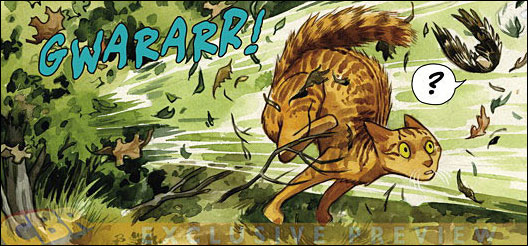 In Hunters & Gatherers, Dorkin once again offers insights to the big picture surrounding the isolated events in Burden Hill, as the Society's elders meet to discuss the supernatural threats facing the entire region. Emrys and Miranda cannot return to help the Watch to defend Burden Hill while other crises require their assistance, so they accept their responsibilities and head off to Derrington to deal with the Old Grimm. Clearly, there is more at stake for the Society's members than just one town.
Meanwhile, the defenders of Burden Hill are dealing with a rather large Windslither that they manage to dispatch with solid teamwork. Personalities clash at times, as dogs and cats put aside their inherent differences for the greater good, but their dedication to the mission is unwavering and makes the book a thrilling page-turner.
Dorkin uses minimal dialogue to accomplish this, but packs each frame with individual character development that endears you to the members of the Watch and has you fearing for their lives – and not without good reason. Bloodshed and deep personal loss are indelible parts of Beasts of Burden, and you never feel that any character is safe.

Thompson is a magician: her superb art conveys the concerns of every character and the heavy responsibilities they carry, while maintaining a sense of humor that is welcome and sincere. The chase scene is a pulse-pounding affair, punctuated by the genuine fear expressed by Rex, Orphan, and Ace as they literally run for their lives.
Her paintings capture the intricate details of each setting while pressing the story forward, but it's her stunning facial expressions that convey all of the emotion that breaks our hearts and makes us cheer. Yes (spoiler alert), you will cheer.
It's no walk in the woods keeping Burden Hill's supernatural wonkiness in check. Beasts of Burden Hill: Hunters & Gatherers is an irresistible treat for longtime fans, and now we also have to worry about the Kingdom of Crows joining forces with the Rat Kingdom—creepy! But that's for next time!
Evan Dorkin (W), Jill Thompson (A) • Dark Horse Comics, $3.50, March 12, 2014