Beethoven's 250th birth anniversary may have been overshadowed by that little irritant called Covid-19, but it didn't stop Germany and a bunch of other countries in the Western hemisphere from celebrating the composer's music for an entire year. There were innumerable concerts planned (2,500 in private German households alone), along with new city tours and travelling exhibitions, even themed picnics, as well as a slew of special commemorative recordings. And while most of these events were eventually grounded, artists worldwide took it upon themselves to pay tribute to his legacy in their own ways.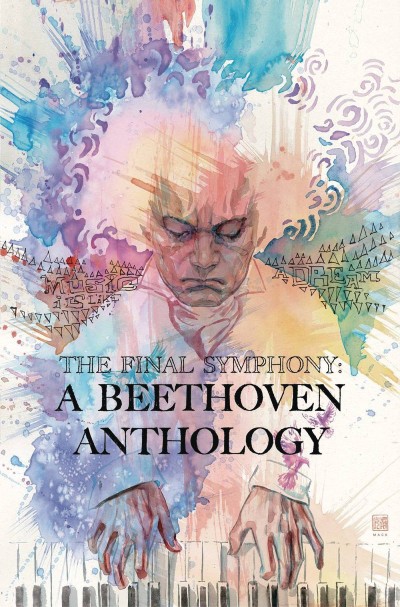 What Brandon Montclare and Frank Marraffino came up with was The Final Symphony: A Beethoven Anthology. This isn't just a graphic edition highlighting aspects of the composer's long and colourful life. What the writers have done is also tie chapters to the music they gave birth to. There are interludes, the odd fable, and even cameos from renowned musicians like American violinist Ezinma, German classical pianist Alice Sara Ott, and German-British composer Max Richter, all of whom get their own chapters with which to pay tribute. The label Deutsche Grammophon also offers a specially curated playlist to accompany each chapter, triggered by a helpful QR code at the start of the book. The resulting pages are often beautiful; the music unsurprisingly sublime.
This isn't to say the book escapes a perennial problem with anthologies in any format: where there are multiple contributors, there will be hits and misses. Much of the art is easy on the eyes, but the writing sometimes stumbles, presumably because the man himself has been reduced to a caricature over the past two centuries. For every well-researched biography, there are a number of books portraying him as a cross between a misanthrope and megalomaniac. The writers stick to better corroborated episodes such as ones involving his overbearing father, doomed efforts at wooing women, and his state of mind when the Heiligenstadt Testament was written.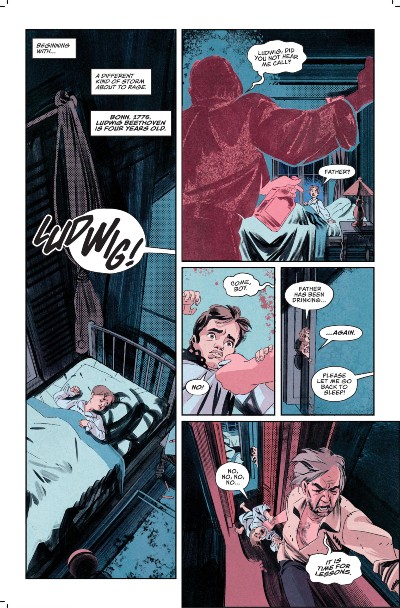 It's safe to assume this isn't going to make everyone happy. Readers familiar with the man and his music will sniff at historical inaccuracies, complain about dubious connections between the chapters and recommended music, and wonder why some of his more powerful work isn't represented in any way. For casual lovers of classical music, however, there is much to be delighted by: small 'interstitial' stories devoted to his opera Fidelio, fables that captured the popular imagination in his day, books that inspired him, a poem by German giant Goethe, and particularly striking chapter dedicated to Schiller's version of the Turandot story.
Those looking for an illustrated biography will be disappointed because that really isn't the point of this exercise. It's more of an attempt to create a whole that is greater than the sum of its parts. If one is to draw a line between the music and what is depicted on these pages, there are probably more than a few missed connections, but what one is left with at the end is another set of perspectives from which to look at an undeniably complex figure. It shows why Beethoven was talked about in his time and continues to be studied and dissected centuries later.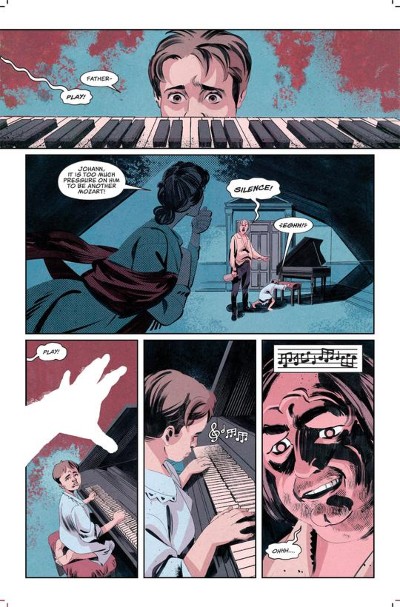 Apparently, there's also a deluxe edition that comes with an exclusive double vinyl LP, which makes for an interesting gift idea if nothing else. Read it for the stories, stay for the recommended music, and come away with a little more appreciation for one of the undisputed giants of Western civilisation. To ask for more is simply churlish.
Brandon Montclare & Frank Marraffino (W), Patricio Delpeche, Rodrigo Luján, Liana Kangas, Luisa Russo, Alice Meichi Li, Shane White, Ryan Kelly, Tom Williams, Miki Tsujii, Andres Szymanowicz, Jamaica Dyer, Dave Chisholm, Creees Lee, Jarrett Williams, Aladdin Collar (A), Justin Birch (L) David Mack (CA) • Z2 Comics
Review by Lindsay Pereira