Press Release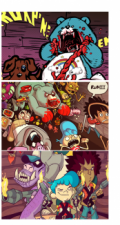 Strange Kid has a knack for getting into trouble. But when he and his pals – Lando, an anxious yet highly intelligent boy, and Orwell, a dim-witted and unpredictable purple chupacabra – accidentally unleash a host of demons that take over every toy in their clubhouse… Strange Kid might just be in more trouble than even he can handle. Trapped and running out of time, the kids must find a way to survive which in their case involves loads of crass, juvenile humor, monkey farts, profanity and flamethrowers.
Written by Benito Cereno (Tales from the Bully Pulpit, The Tick, Hector Plasm) and influenced by films like Toy Story, Hellraiser and The Gate, the comic features illustrations by up-and-coming artists Aaron Klopp, Glen Brogan, Aaron Alexovich, Chad Welch and Michael Anderson.
But that's only a portion of the radness that can be found in the SK Comics Magazine. We've got an exclusive interview with artist and toy designer JAMES GROMAN (Madballs, Barnyard Commandos, My Pet Monster) – who also provided our cover artwork – PLUS there's articles and illustrations by Chris Savino (Kick Buttowski), Dean Rankine (Simpson Comics), Zé Burnay, Cartoon Lagoon Studios and more.
Look for SK Comics Magazine #4 now on Kickstarter!
https://www.kickstarter.com/projects/228158145/strange-kid-comics-magazine