Writer (and sometime artist) David Hine has been treating readers to his intense and intelligent chills for years. We talk to him about his career so far, the power of horror and breaking the barrier between reality and fiction.
David Hine is contributing to the Broken Frontier Anthology, created to celebrate the magic of creator-owned comics. Check our Kickstarter campaign and please share it with your friends on social media using #BFanthology. You can find David on Twitter @HineDavid.
Can you give us a quick summary of your work to date?
I've been producing comics in some form since the 1970s, starting with fanzines produced at school and art college, then getting published professionally by Knockabout Comics and Dez Skinn's Warrior. I spent several years inking comics like Zoids and Transformers for Marvel UK, then drew several strips for 2000AD and Crisis.
My big break was writing and drawing the graphic novel Strange Embrace for Tundra/Atomeka. That book has been republished by Richard Starkings' Active Images imprint and Image Comics, and more recently in digital form by Sequential.
I spent almost a decade working as a commercial illustrator before returning to comics as a writer for Marvel, DC, Top Cow, Image and Radical, writing lots of fairly iconic American mainstream characters, like Batman, Spider-Man, The X-Men, Green Lantern, The Darkness, Will Eisner's The Spirit and Spawn.
More recently I've been concentrating on creator-owned books – Storm Dogs with Doug Braithwaite, and The Bulletproof Coffin and Cowboys and Insects with Shaky Kane. I've also collaborated a few times with Mark Stafford, starting with a Lovecraft adaptation for SelfMadeHero and then the adaptation of Victor Hugo's The Man Who Laughs, which was short-listed for best book of 2013 in the British Comic Awards. Right now I'm writing The Bad, Bad Place, with Mark on the art, for Soaring Penguin's bi-monthly anthology, Meanwhile.
Phew! That wasn't very short was it? It's kind of scary to think I've been doing this for going on four decades!
What can you tell us about your upcoming story in the anthology? 
It's called Quin Returns and it's an existential detective story. That sounds a little pretentious, but it reflects a lot of the literature I've been reading recently. Books like The Outsider by Camus, Berg by Ann Quin (yes, she's the inspiration for the title of our strip), George Simenon's The Man Who Watched The Trains Go By, The Killer Inside by Jim Thompson, the Ripley books by Patricia Highsmith.
I'm fascinated by these stories of motiveless murders and amoral killers. There's a surreal element to these stories too – a sense of being trapped in a dream state – and I wanted to capture all these elements and tell a story that's enthralling and enigmatic.
You've produced quite a bit of work with Mark Stafford now. What makes him a good collaborator?
Firstly there's the fact that Mark is an absolutely brilliant artist. Then I'd say we're very much on the same wavelength. We have similar tastes in literature and movies and we seem to be able to riff off one another's input.
There's a lot of communication when we work. I'll give Mark an outline of a plot and he'll start sketching characters and settings, which sets me off on a new tangent.
It means that there's an element of unpredictability in our work that keeps it fresh and exciting. For the readers as well as ourselves, hopefully.
As seen in Strange Embrace (and your more recent contribution to the Think of a City project), you're also a highly talented artist as well as a writer. Do you have any immediate plans to illustrate any more of your own work?
Not really. Drawing is very hard work for me and I never really pin down the drawing that I see in my head, which is very frustrating.
I prefer to work with artists who are able to work the alchemy on my words and make the end result look so much better than it would if I were drawing. I've had the good fortune to work with some great artists, like Frazer Irving, Doug Braithwaite, Shaky Kane, Jeremy Haun and numerous other really talented people.
A lot of your work has skewed towards horror. What does that genre allow creators to say about the world? 
Definitely, horror always rears its head, no matter what the genre I'm officially working in. There was horror in the Mambo strip I did for 2000AD, even though that was a science-fiction story, and the same is true of Storm Dogs. Same with District X and Spider-Man Noir at Marvel, and the Arkham Reborn series for DC.
I find myself returning to themes of death, disease and mental and physical corruption. I honestly don't feel the slightest impulse to write happy stories about pleasant characters. It's so much more important to confront my fears and phobias on the page. It makes the real world more bearable. I guess it's a way to regain some kind of control over the uncontrollable.
Apart from the upcoming Broken Frontier anthology, of course, what is the one bit of your work you'd recommend to a new reader?
One? That's impossible really. I'm still very pleased with Strange Embrace and it's one of those stories that doesn't seem to date with the passing years, but I find it hard to choose between the recent collaborations I've done.
The first volume of The Bulletproof Coffin is probably the most entertaining and groundbreaking, and if you like science-fiction you should pick up Storm Dogs. I'm also very proud of The Man Who Laughs.
What else can we expect from you in the near future?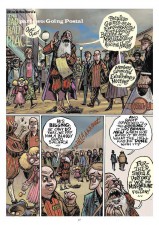 I have signed non-disclosure agreements on no less than three projects that I'm currently working on. So you can expect those…
I'm in the middle of The Bad, Bad Place with Mark Stafford. It's a horror story (surprise, surprise) that will run to around 100 pages. It's being serialized in the bi-monthly Meanwhile anthology comic from Soaring Penguin and will be collected as a graphic novel.
Mark and I are also working on a major new graphic novel. We aren't going to say anything about that for now, apart from that the title is Lip Hook. Sounds like it might be a horror story, doesn't it?
And finally – what 'frontier' would you like to break through with your comics?
All of my recent work has been very much cross-genre and I'm working on some concepts that shift between different media and publication platforms. You'll see what I mean when those secret projects appear. So definitely the boundaries between genres and media.
I also want to break down – or at least weaken – the borders between reality and fiction. Shaky and I did that to an extent with The Bulletproof Coffin. In the future there will be a less distinct border between the world of the mind and the physical world around us, and I'd like my writing to travel between the two.