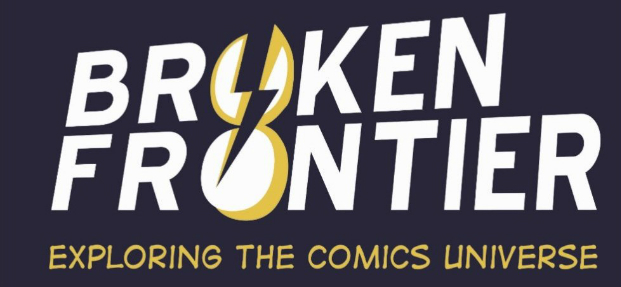 Pinned post! Want to know more about the history, mission and ethos of Broken Frontier? We have a handy guide here to who we are and what we do, complete with links if you want to investigate further or get in touch with us!
Who we are
Broken Frontier is an award-nominated web-magazine and a comics community hub with a focus on the worlds of (genuinely) indie, small press, self-published, micropublished and alternative comics. Founded in 2002 in Belgium by Frederik Hautain, the site came under the ownership of long-time contributor and current Editor-in-Chief Andy Oliver in 2017 (you can read more on his vision for BF when he took over here).
Its international team of contributors provide reviews, interviews/features and relevant news updates every weekday. It is also the home of Andy Oliver's 'Small Pressganged' feature, the UK's longest-running, continuous small press reviews and interviews column (debuting in 2011). Its work has been mentioned in the British national press (in the i newspaper in 2020) and it was cited in the Arts Council-funded 'UK Comics Creator Survey' as UK creators' most accessed digital channel/comics site for comics sector support and news.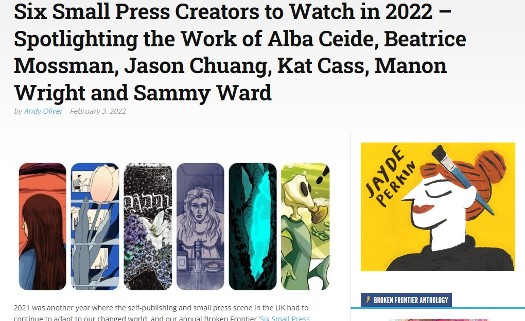 The Broken Frontier ethos – Championing emerging creative voices
Broken Frontier actively seeks out deserving emerging voices in comics to champion their work and bring it to wider audiences. Our annual 'Six Small Press Creators to Watch' programme which began in 2015 provides the chosen creators with a year of guaranteed coverage at BF, a mentoring initiative, and multiple opportunities to be a part of Broken Frontier-related comics events, panels and talks.
Our 'Six to Watch' creators have gone on to be published by the likes of 2000 AD/Rebellion, Avery Hill Publishing, BOOM! Studios, Faber & Faber, Graphic Universe, Image Comics, kus! comics, Myriad Editions, SelfMadeHero, Seven Stories Press, Street Noise Books, Titan Books and Unbound. 2020 'Six to Watch' artist Dominique Duong was also nominated for an Ignatz Award in 2021.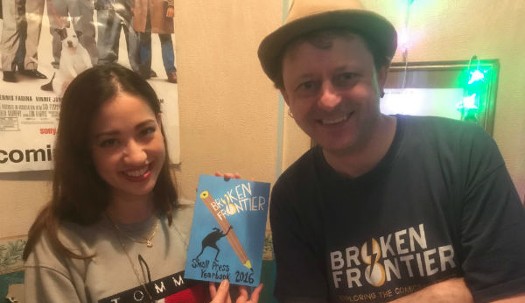 The Broken Frontier team often run a communal table at comics fairs and festivals where creators who aren't exhibiting can drop off their comics to be sold on their behalf
The Broken Frontier ethos – Prioritising marginalised voices
Broken Frontier strives to be an inclusive platform reflecting and celebrating the diversity of the form and its practitioners. Our internal coverage policies are designed to prioritise diverse voices and work that spotlights marginalised communities wherever possible. You can read our team statement on this here. To that end we are also building up relevant resource lists of comics that communicate those stories.
These works-in-progress include:
We provide free advertising for any work that brings the stories of under-represented groups to broader readerships. Please contact our Andy here for more details.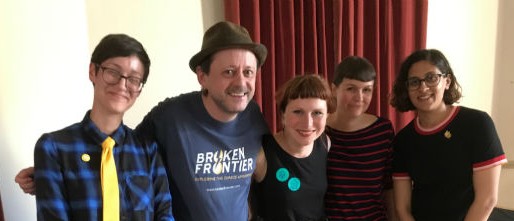 The most recent Broken Frontier Panel at ELCAF with Hannah Berry, Andy Oliver, Jayde Perkin, Katriona Chapman and Aleesha Nandhra
Comics community and collaboration
The Broken Frontier website is just one aspect of BF's work in championing the form. We have collaborated for many years on the Gosh! Comics and Broken Frontier Drink and Draw, a monthly meet-up with guest artists previously run in-person and currently running online every two weeks (read a history of our Drink and Draw here). We have also been media partners with the East London Comics and Arts Festival (ELCAF), the Hackney Comic + Zine Fair (HCZF), and the South London Comic and Zine Fair (SLCZF), providing them with extensive dedicated coverage before the festivals.
Our Andy has represented BF as a moderator or panel member on panels at Thought Bubble, ELCAF, the Lakes International Comic Arts Festival (LICAF), the Fast Fictions Festival and others. He has also given presentations on Broken Frontier's work championing the form at numerous arts groups and events.
Broken Frontier is also a co-organiser of the UK and Ireland's Small Press Day, an annual event that has sees around 30 comic stores/venues around the UK and Ireland putting on small press signings, events, workshops and panels to promote comics self-publishing and grassroots creators.

Providing support and a platform for our wider community
BF has run a number of guest blogs, providing a platform for promoting community initiatives or exploring talking points. We also run editorial commentary and advice pieces designed to support our community or challenge toxic elements in comics. Some of the most popular over the years have included:
Andy Oliver on 'How Do I Get Coverage for My Self-Published Comic?'
Andy Oliver on toxic fandom in UK comics
Avery Hill's Ricky Miller on the need for a British comic awards
Joe Stone on the work of the WIP Comics support group
Amneet Johal on the challenges of organising a small press fair
PositiveNegatives and Fahmida Azim on I Am a Leader of My House
State of the Small Press Nation (the most comprehensive commentary to be compiled on the UK small press and self-publishing scene to date originally published as a 10-part series)
You can contact us here about pitching a guest blog idea.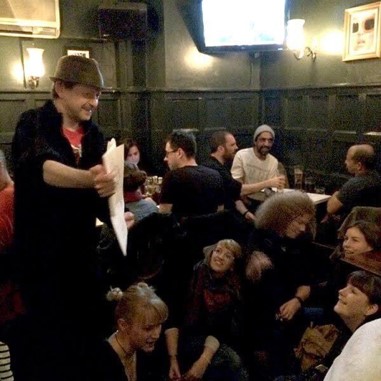 The ever popular Gosh! Comics and Broken Frontier Drink and Draw, one of a number of community events BF has been involved in
What commentators say about Broken Frontier
"There's a good chance that without [Broken Frontier], Avery Hill wouldn't exist" – David White, co-founder and co-publisher of Avery Hill Publishing
"The Broken Frontier team are my first port of call for upcoming work… delivering the most provocative, engaging and beautiful reviews and discoveries the world has to offer" – Sabba Khan (The Roles We Play/What is Home, Mum?, Myriad Editions/Street Noise Books)
"Can I recommend that you follow Broken Frontier? It's a marvellous celebration of the endless creativity of comics" – Ian McMillan, BBC Radio Presenter (The Verb), writer and poet
"Andy is such a brilliant talent spotter and generous promoter of opportunities, that he spreads the word more effectively than most multi-million companies. He incubates, reviews and looks after up-and-coming creators like a hen with its chicks" – Corinne Pearlman, Creative Director, Myriad Editions