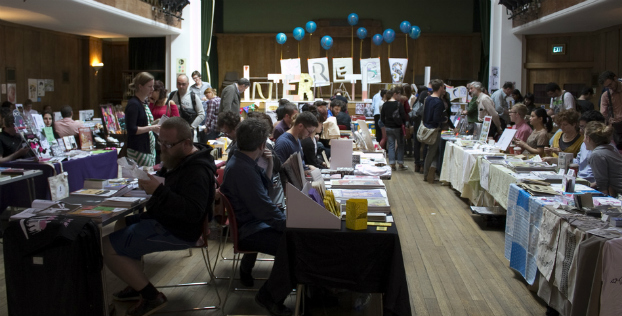 An account of challenges faced when hosting a small press fair from Alternative Presser Amneet Johal…
Throughout 2015 at Broken Frontier we've been running a series of articles in this column under the umbrella title 'State of the Small Press Nation', giving micropublishers and self-publishers an opportunity to address the talking points of today's small press circuit. The discussions so far have included the infrastructure of UK comics, the expanding number of small press shows and their impact on the creators involved, and whether the growth in SP creators is accelerating at a greater relative rate than the potential readers.
In another of our occasional Small Press Nation guest blogs Amneet Johal gives a personal perspective on the process of organising events and fairs. Amneet is a member of the Alternative Press whose Takeover event takes place this Saturday 9th May championing radical publishing, small press comics, zine-making and DIY culture of all varieties. Here she provides her own response to some of the points raised to date.
 ***
This dialogue is certainly important and I do think it's about time that there is a reflective conversation about the scene as a whole.
What it's done for me as both as a maker (of sorts) and an organiser of events is really look at how I/we at Alternative Press fit in… and wonder if perhaps there should be a more in-depth conversation about who organises the events and the difference in aim and challenges faced by self-funded maker/organisers and professional companies/organisers.
What attracted to me to Alternative Press as a collective was the ethos created by Dimitri Pieri and Peter Lally. AP champions all self-publishing (book arts, comics, zines, illustration, poetry, writing – its why we're Alternative), aims to build an inclusive, non-hierarchical platform to showcase the work from amateur and professional artists alike, and introduce new makers to the scene.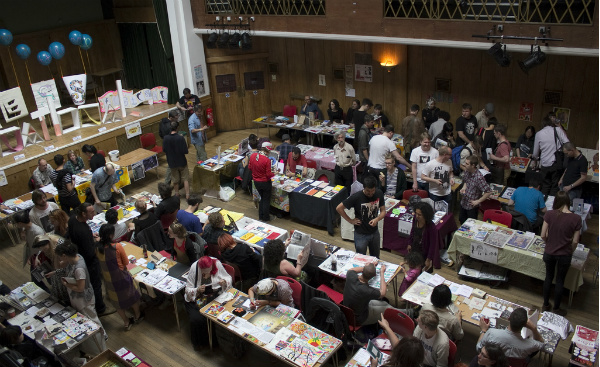 The second International Alternative Press Fair (picture courtesy of Camila Barboza)
And in the 5 years I've been a member of AP, it's this ethos that has formed the foundation of all the work we have done, and we do our very best to reflect it in our events. We aim to show a broad range of work from a broad range of artists and will have professionally printed work next to those that have been reproduced on a photocopier.
Our workshops and exhibitions support our aim of introducing new people to zine-making as well as presenting an opportunity for zine veterans to try their hand at leading a workshop and sharing their way of working. The challenges we face putting on these events may mean that perhaps we're not entirely successfully in fulfilling our aims. And reading your series, questions about the needs of the scene compared to what we try do with AP are brought to the foreground.
Questions of the big fair vs. small fair are interesting, and from an organiser's perspective (with AP we have experience of hosting both types – large fairs with 100+ exhibitors and small fairs with 10 tables in a pub) we do get stuck fulfilling exhibitors' needs. With our larger events, some exhibitors find that they don't sell as much as they would like – perhaps because the event isn't curated by a particular type of self-published work (we don't just have beautifully printed comics) and therefore the AP audience is broader. With our smaller events, some exhibitors find that it's too small for them.

The Alternative Press/Minesweeper Collective show at The Bird's Nest pub in February-March of this year which combined exhibitions, mini zine fairs and gigs… 
Questions of audience and building a wider readership are so important but as a self-funded group who work around our day jobs and from our bedrooms  – in the first instance we do have to rely on the existing marketing networks (which are self-defined and too narrow) to promote our events to ensure we get a decent footfall. We do our best to widen our promotional campaign with each event (Dimitri is an absolute champion at getting new people interested in the scene), but with limited time and budget, there is only so much we can do.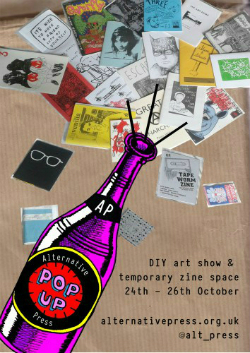 Having said that, our Pop-Up Shop in Greenwich last October was a really interesting experiment – the first time we've created a zine-selling platform without the makers being there. What was surprising was that (excluding the opening night on Friday) 80% of visitors to the shop over Saturday and Sunday were completely new to AP and to the scene. And over the whole weekend, the shop was only empty for about 15/20 minutes on Sunday – which is pretty good going considering it was a good 10 minute walk from Greenwich DLR – and we had an amazing number of sales. Perhaps the traditional fair is becoming stale? Julie Kane (Indestructible Energy) had a similar experience with her pop-up shop earlier this year – leaving her wondering if it's worth taking part in zine fairs at all.
The question of whether are there too many events is a fair one, and perhaps as organisers we should be collaborating and pulling resources together to host fewer but higher quality events which fulfil the needs of the wider scene – especially in London. But what is the mark of a high quality event? Is it purely sales? Because as organisers the best we can do is ensure a good footfall – we can't promise every exhibitor will sell all their stock. Perhaps the onus is on the exhibitor to choose the right event for their work. And with our smaller events ensuring a big footfall outside of central London isn't always an easy thing. Though we do our best to tap into local networks, we do find that people aren't always willing to travel to go to a zine fair in a pub with only 10 tables.
There is a lack of funding for what we do. We spent a considerable amount of time and energy in the lead-up to both our International AP Fairs filling out application forms – only to be told that 'even though this is likely to be a high quality event – we cannot fund you because of the sheer number of applications we receive' (I'm paraphrasing). It is the downside of hosting an event in London – more artists – more applications. I would be interested to find out whether people organising events in other parts of the U.K have had different/similar experiences.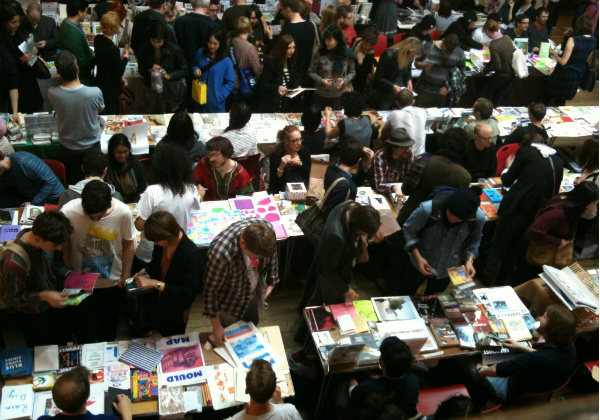 The first International Alternative Press Fair
It's this lack of financial support that causes us the biggest heartache and perhaps is the reason that we're unable to fully meet our aims. Even though our table prices are dictated by venue hire fee, we try our best not go much beyond the £30 mark for a full trestle table. The last thing we want to do is to price people out (especially those who only sell their work for £1/£2) and we always want to be in a position where we can offer smaller table spaces (half/quarter) at a price-point that everyone can afford.
This model of financing however does mean that we don't get a huge amount of funds from table sales – we literally cover venue hire, workshop material, printing costs. This does have a knock-on effect especially on our marketing reach and increasing our audience. Simply put, we can't afford to cater to all our exhibitors and invest in our marketing. Either we increase our table prices which only certain makers can afford and get a wider audience in, or keep our prices low so everyone has an opportunity to take part and rely on our self-defined marketing networks.
However collaborating with the London Radical Bookfair for the Takeover last year, we did get a wider audience. Bringing together two different types of publishing fairs meant that we brought together two different audiences. And this year, with our second event Takeover 2015, we're making a considered effort with the planning and layout to ensure that there is even more of a cross-over – with both sets of visitors engaging with both fairs. We will also be encouraging both sets of exhibitors to engage with each other. London Radical Bookfair's exhibitors are made up of independent bookshops and publishers and it would be fantastic if through this event we can get more zines and comics stocked in these bookshops and perhaps even published – increasing readership beyond the event.
We will also be bringing back the First Publications Corner – a space purely for first time self-publishers new to the wider scene (last year we had Wobbly Rock and Querstret among others).
Whether it will be a high quality event remains to be seen – we have to mindful that we're not able to cater for everyone and perhaps what your series doesn't cover are the exhibitors who take part not just to sell their work but because they want to be connected to a wider community and have a lovely day out. And ultimately that's what AP try to do – we want everyone to have a lovely day out.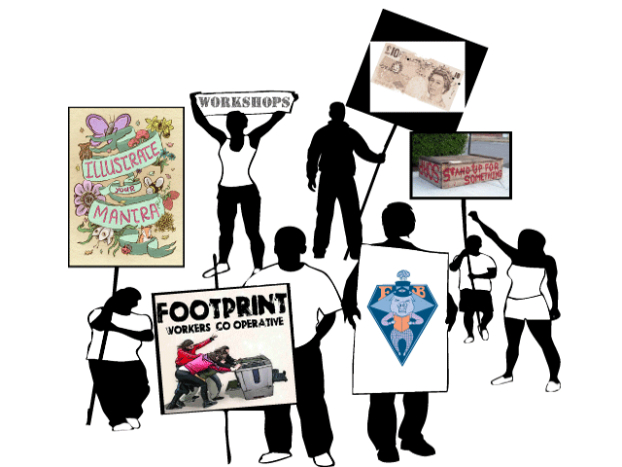 The Alterntaive Press Takeover isn't just a fair – there's also an extensive programme of workshops, talks and spoken word activities… 
Last thought – is it just me or is the whole scene more focused on selling? There does seem to be a lack of zine-swapping in the recent years – which for me really lent itself to the feeling of community and network.
Also to question why zine-makers become event organisers is interesting – is it only to build a platform for their own work or for something bigger? For me it was both but over the years it's become about maintaining the network AP has built (I would like to call it a community – but whether it actually is isn't something I can really assess). The truth is AP is now bigger than its parts and we have a strange responsibility to it – we try to always do it justice and that's really the best we can do.
To find out more about the work of the Alternative Press visit their site here and follow them on Twitter here.
For regular updates on all things small press follow Andy Oliver on Twitter here.