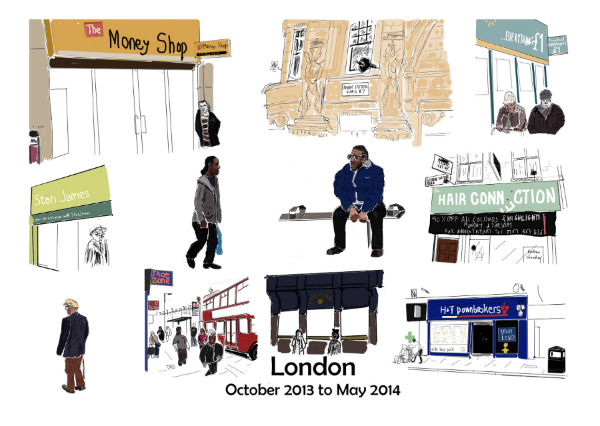 We are currently living in a Golden Age of comics self-publishing in the UK. Anybody active in any of those hubs of small press activity, in both our major cities and beyond, will be well aware of the reality of that statement. Never have the small press shelves in our comic shops been so fulsome, never have there been quite so many fairs and shows devoted to the DIY culture side of the medium, and never have the opportunities for creators to be picked up by a bigger publisher been more pronounced. Yet if there's one element of vague disappointment that I have noticed coming up in post-show discussions of late it's that, to a certain extent, the small press comics scene seems to have lost its dissenting bite in recent years. The pure craft of comics creation has taken precedence and somewhere along the line we forgot about the power of the medium in its self-published form to rattle cages and provoke debate.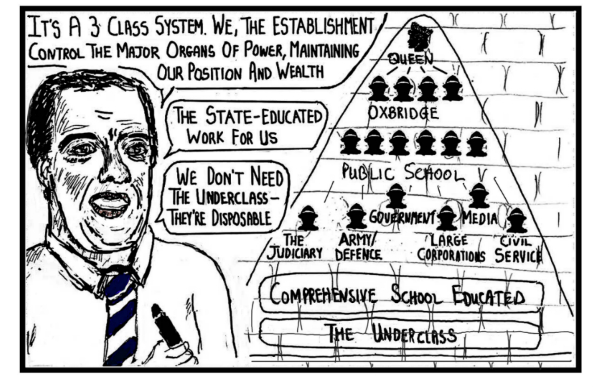 This was something that I was reminded of when reading the third and final story in Peter Lally's collection of comics London: October 2013 to May 2014. Lally, of course, is one of the true mainstays of the British small press world; a stalwart figure of the Alternative Press and a creator whose work fans of The Comix Reader will no doubt be aware of even if they have never picked up his self-produced comix. He was also one of the subjects of Daniel Baldwin's 'Comix Are My Rock N' Roll' documentary, featured in this column at the tail end of last year.
But back to discussing the use of comics as a form to confront and challenge uncomfortable truths. Lally's story 'Our Thing' in this London collection took me back to that notion of comics as an art form that has so long been belittled because of a fearful recognition of its inherent ability to communicate viewpoints and to stir up discussion. This six-pager is presented as a damning indictment of the influence of the "establishment" – a satirically constructed interview with the Chancellor that traces the rise of the untouchable societal elements that really control our destinies. It's played with a delightfully morbid humour by Lally but there's no denying his disgust at the sneering unaccountability of his subjects, and the points he makes about the iniquities of our political system are hard to argue against.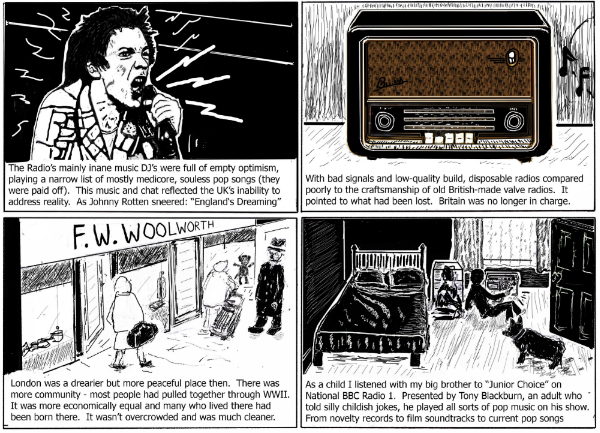 The middle story 'The Radio' is a more subdued affair; a history of our British love affair with what we once termed the "wireless" that combines meticulous research with Lally's own anecdotal experience. It puts the evolution of radio as a medium into a socio-political and cultural context and while it makes for a text-heavy six pages it's crammed with intriguing factual tidbits. These are complemented by Lally's personal commentary on the importance that listening to one's favourite stations had when growing up in the '70s.
Perhaps, superficially anyway, the most throwaway offering in this compilation is the opener 'Aerial Dave' which sees a cartoon strip version of Peter in discussion at home with two workmen – the titular Dave and his mate Barry – as the trio enjoying a ramblingly silly, but oddly fascinating, pet-based chat about parrots in pubs, the Horniman Museum, wallabies in gardens and monkeys swinging from living room curtains. It's a subtle little dedication to the British obsession with animals in the homestead and Lally's raw but expressive cartooning ensures that the final panel gives the strip a witty concluding image – a knowing parallel wink at the audience – for those with a memory for classic British advertising iconography.

In hindsight it seems quite shocking that in nearly three years of 'Small Pressganged' here at Broken Frontier I've only touched on Peter Lally's work in the context of contributions to anthologies. As important a contributor to the development of the small press scene in the UK should not have had such short shrift in that time. London: October 2013 to May 2014 is a recommended – and modestly priced – entry point to the work of a vitally important voice in UK SP comics who continues to follow his own singular muse.
For more on Peter Lally's work visit his blog here. London: October 2013 to May 2014 is available from his online store here priced just £3.00.
For regular updates on all things small press follow Andy Oliver on Twitter here.