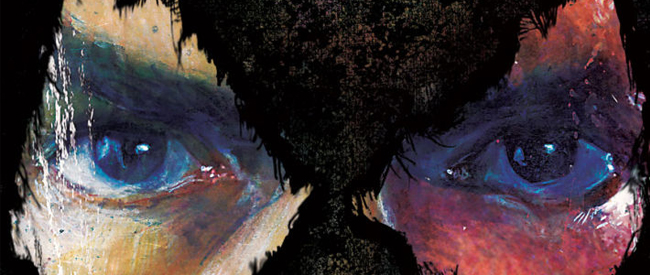 Infused with pathos and gritty realism, Archie Comics' Dark Circle imprint sets out in a bold new direction aimed at a more sophisticated and discerning audience, while remaining true to the rich history of its source material.
First appearing in 1940 as the masked alter ego of police officer Matthew "Kip" Burland, the gun-toting vigilante known as the Black Hood has had a long,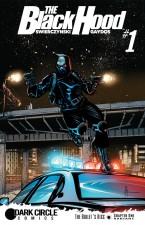 rich and somewhat convoluted history. After a popular debut during comics' Golden Age, the character has been rejuvenated numerous times under several different imprints, most recently in a failed attempt by DC Comics to insert Archie Comics' Red Circle heroes into their own superhero universe in the late 2000s.
This latest incarnation launches Archie's Dark Circle Comics imprint – a new publishing initiative dedicated to injecting new life into the company's deep catalogue of superhero properties – and builds upon recent successes such as Afterlife With Archie, The Fox and The New Crusaders. Although different in tone from all of these series, The Black Hood remains faithful to the publisher's recent courting of more sophisticated readers, while remaining true to the original source material.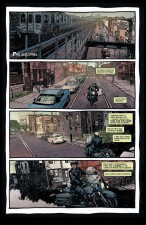 Writer Duane Swierczynski (X, Bloodshot, Punisher) and artist Michael Gaydos (Alias, Daredevil Redemption) are both well known for their crime fiction and are perfectly suited to usher the Black Hood into a new age of gritty, realistic vigilantism aimed at mature readers. Although the pair are quick to include nods to past iterations of the character, in the form of a brief, tragic appearance by one Kip Burland, this is an all-new take on the property set firmly on the mean streets of Swierczynski's home town of Philadelphia.
The writer's love and passion for his city is more than evident in virtually every scene of this debut issue, informing the character of the new Black Hood, Greg Hettinger, and entrenching the book's setting in the minds of its audience as a character in its own right. Hettinger, the victim of a gruesome gunshot wound while on his beat as a motorcycle cop, walks the streets of the city in a virtual fugue state as he struggles to recover physically and emotionally from his injuries.
Swierczynski infuses Hettinger with such pathos it's hard not to feel for the man's plight, even if he descends into an emotional cesspool of painkiller addiction and self-pity. It isn't until he dons Burland's Black Hood that he truly comes alive and finds a new way to protect the city he loves so much, not to mention survive his self-inflicted downward spiral into addiction and self-loathing. It's a difficult journey to witness and underlines the brilliantly layered character development that sets Hettinger apart from other, cookie-cutter gun-toting vigilantes populating the genre.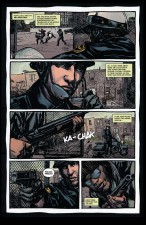 Just as integral to the success of this first issue is Michael Gaydos's depiction of Philadelphia. As noted, in Swierczynski's deft hands the City of Brotherly Love becomes a living, breathing character in its own right, a fact Gaydos parlays into sweeping cityscapes and gritty man-on-the-streets scenes that lend the setting a personality all its own. Grounded by the artist's rough, robust yet highly detailed rendering, Philadelphia's working-class neighbourhoods and pugnacious pride shine through the grime and shadows to create a wonderful tapestry of urban life, without the cloying gloss and glamour of typical superhero metropolises.
Beautifully rendered and injected with a healthy dose of much-needed pathos, Swierczynksi and Gaydos's Black Hood is a stellar debut that only adds to the character's storied legacy. If this is what we can expect from Archie's Dark Circle imprint, then I can't wait to see what the publisher has planned for The Shield and The Fox later this year.
Duane Swierczynski (W), Michael Gaydos (A) • Dark Circle Comics, $3.99, February 25, 2015.