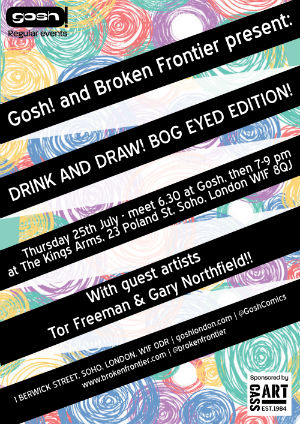 We're well into the summer and a new era of our Gosh! Comics and Broken Frontier Drink and Draw begins this week Gosh's Clare Wood takes over from Nora Goldberg as co-host! This time we have a Bog Eyed Books Spectacular on Thursday (note that we've switched days!) July 25th with Gary Northfield and Tor Freeman joining us for our regular monthly meet-up, sponsored by Cass Art.
You can find us upstairs in The King's Arms on Poland Street. The fun begins at 6.30pm at Gosh! on Berwick Street before we head off for our sketching and drinking antics at 7pm.
A quick intro to this month's artists…
Gary Northfield is the genius cartoonist behind a whole host of irreverent characters who appeal to children and adults in equal measure, and a past Broken Frontier Award nominee. He brought his acclaimed creator-owned Derek the Sheep strips (below – originally published in various incarnations of The Beano) back to print through his  Bog Eyed Books publishing venture alongside Jim Medway's Sgt.Chip Charlton & Mister Woofles of the Royal Canadian Mounted Police, Alexander Matthews and Wilbur Dawbarn's Useleus the Greek and Sarah McIntyre's Vern and Lettuce.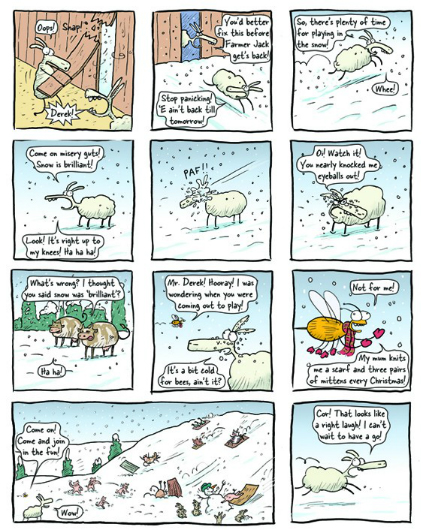 Gary is renowned for his work for publications like The Phoenix in which his Gary's Garden feature appeared (reviewed here at BF) and books like The Terrible Tales of the TeenyTinySaurs! (below and covered here at BF). He's also the madcap mind behind the Julius Zebra series of children's novels and a contributor to anthologies like Moose Kid Comics, Tiny Pencil and Score and Script.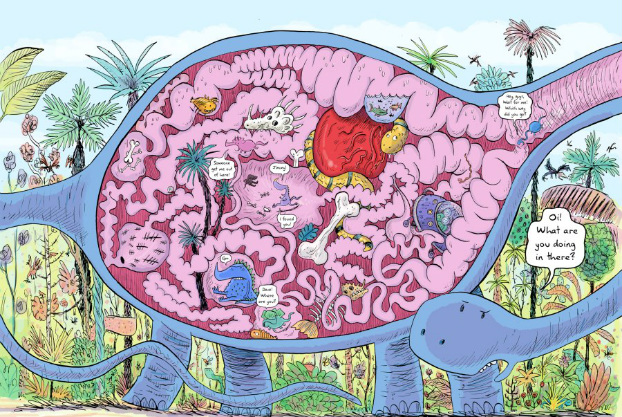 Tor Freeman is a children's illustrator whose books have included Digby Dog Saves the Day, Digby Dog Delivers, Olive and the Bad Mood and The Toucan Brothers and a 2012 recipient of a Sendak Fellowship. She originally self-published the wonderful Welcome to Oddleigh following the adventures of Chief Inspector Jessie and Sergeant Sid and the strange adversaries they encounter. That series was collected by Bog Eyed Books and reviewed here at Broken Frontier.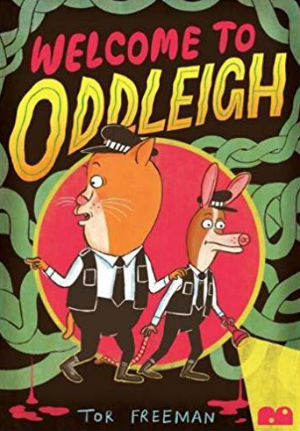 I said of it then: "It seems so trite to describe a book – particularly a children's one – as "feelgood" but there's no denying the sheer sense of joy that permeates these pages. Welcome to Oddleigh simply bursts with imagination and good-natured humour. It's a reminder, as well, of how our remarkable small press comics scene in the UK has become a very real stepping stone to publisher recognition over the last several years. Tor Freeman is an obvious rising star in the comics world after her 2017 Observer/Cape/Comica Prize win and this is a sublimely perfect entry point for younger readers wanting to discover the world of comics for the first time."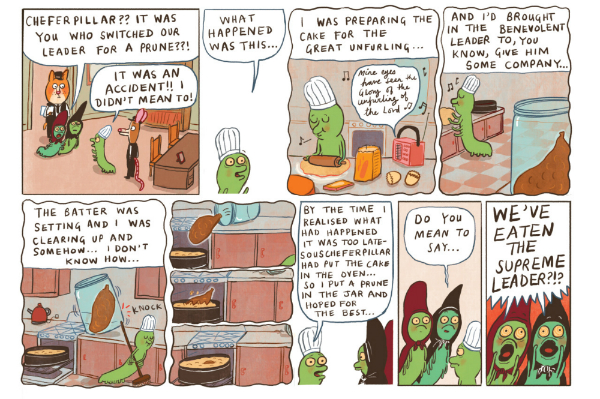 Join us on Thursday July 25th, then, for another fun evening of drinking, drawing and comics camaraderie. We kick off at 6.30pm in Gosh with a chance to get hold of signed comics and books from all our featured creators before moving over to The King's Arms for 7. We look forward to seeing you then!