Press Release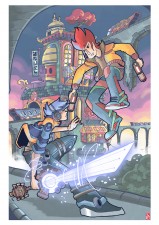 Some of the UK's best emerging and established comic art talent will be showcasing their skills at the specially-dedicated Comics Clock Tower venue as part of The Lakes International Comic Art Festival.
The festival will run from 18-20 October in Kendal in Cumbria. Held beneath the landmark tower of Kendal Town Hall, the Comics Clock Tower venue will be a vibrant mash-up of writers and artists from a wide variety of styles and genres, who will be signing, sketching and selling their original creations.
Occult antiquarians will rub shoulders with urban teen vigilantes. Slacker vampires will size-up the romantic poets in a venue that promises to have something for comic fans and those who may not have read comics since they were kids.
The aim of the Lakes International Comic Art Festival's Comics Clock Tower is to champion some of the breaking talent of comic art, as well as some of the industry's more established names. The focus is on writers and artists who are pioneers of new styles in the field of comics and graphic storytelling. The venue will celebrate and introduce their work to a new audience.
Owen Johnson, co-ordinator of the Comics Clock Tower, said: "We're thrilled to be able to reveal some of the comic creators and publishers taking part in the three-day marketplace. These are some of the brightest, freshest names in British comics and it really is a privilege to present them to a wider audience.
"In the lead up to the show, we plan to use our various social media platforms to present interviews and artwork from these guests in order to explore them and their work in graphic novels."
There will be an emphasis on creators working or living in the North of England. These will be joined by a selection of cutting-edge names from across the country, as well as leading UK publishers.
Guests who will be appearing at the Comics Clock Tower include:
Emma Vieceli, 33, from Cambridge, who has worked on the Manga Shakespeare series for SelfMadeHero, Girl Comics for Marvel, Violet for the DFC, My Little Pony for Hasbro, and Comic Book Tatoo for Image Comics. Her more recent work includes The Avalon Chronicles, the award winning Vampire Academy and the graphic novel adaptations of the Anthony Horowitz Alex Rider series.
Great Beast, a publishing house which is dedicated to making fun, creative, accessible and pop-culture inspired comics.
Black Hearted Press – Scotland's leading independent comic book publisher. The publisher's leading title 'School of the Damned' has been optioned to be made into a motion picture.
Andrew Tunney (aka 2hands) – Manchester-based, Andrew's debut self-published comic GIRL&BOY was nominated for Best Comic in the first ever British Comic Awards in 2012. He is also the colourist for Peabody & D'gorath.
Nich Angell – Nich has been drawing explosive, vibrant and colourful comics for clients such as Mattel, Hasbro, WWF, Titan and the BBC for more than seven years. He has also recently produced concepts and games for an animated series for Nickelodeon UK.
Many of the more than 50 special guest writers and artists who will be appearing at the festival will also make appearances within the Comics Clock Tower., which will give an opportunity to people to buy from a wide range of new and existing comic art of all genres.
Names already announced as attending the festival include founder patrons Bryan and Mary Talbot and as well as Sean Philips, Ed Brubaker, Charlie Adlard, Posy Simmonds, Kurt Busiek, Joe Sacco and many others.
Julie Tait, festival director, said: "We want to give comic fans the chance to discover something new and also encourage others, who may perhaps think comics are just for kids, to pick up a graphic novel and find out what they are missing.
"The Lakes International Comic Art Festival wants to highlight the diversity of the UK comic arts community. One of the ways we will be doing this is through the Comics Clock Tower – our version of a comics' marketplace."
More details about the new event are available at www.comicartfestival.com. It is also possible to keep up to date with plans for the festival by following @comicartfest on Twitter or by liking the Lakes International Comic Art Festival Facebook page.