The Galaxy's Greatest Comic reached a landmark 40th anniversary this year and the celebrations continue at this year's Thought Bubble Festival in Leeds with the Zarjaz! An Art Tribute To 40 Years of 2000 AD exhibition in September. There 2000 AD fans will get the added bonus of enjoying previously unseen Brett Ewins Bad Company artwork for the very first time. BF readers can enjoy a sneak peek in the exclusive image reveal below.
The full 2000 AD press release follows. You can find out more about the life and work of Brett Ewins here at Broken Frontier.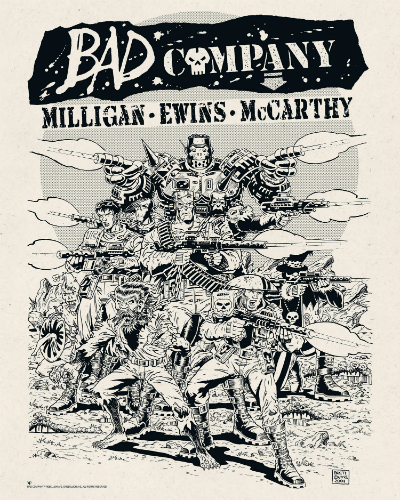 A never-before-seen pin-up by legendary British artist Brett Ewins is to be unveiled at a special art show marking 40 years of 2000 AD.
The unpublished pin-up showing the cast of Bad Company, the 2000 AD strip Ewins co-created with Peter Milligan and Jim McCarthy, will go on display as part of the Zarjaz! An Art Tribute To 40 Years of 2000 AD gallery exhibition at the Thought Bubble convention in Leeds in September.
Known for his pop art and underground comics-inspired style Ewins, who also co-founded Deadline in 1988, worked on Judge Dredd, Anderson: Psi Division, Rogue Trooper, Bad Company, Johnny Nemo, and Skreemer. He died in 2015 after a long battle with ill health and mental illness.
The Bad Company pin-up will be available as a very limited edition screen print, reproduced lovingly from artwork donated by Ewins' friend and fellow 2000 AD artist Rufus Dayglo. Limited to an edition of just 50 and priced at £40, all proceeds from this 40x50cm screen print will be donated to the mental health charity Mind.
The piece by Ewins will be on display alongside many other prints and originals at Zarjaz! An Art Tribute To 40 Years of 2000 AD, organised by Vice Press, 2000 AD and the Thought Bubble Festival to celebrate four decades of the Galaxy's Greatest Comic. Running September 1st to September 30th at The Gallery at Munro House, Leeds the show will feature a staggering display of original tribute art and limited edition prints from the finest art droids to grace the pages of 2000 AD and the rare opportunity to witness some of contemporary comics' biggest names deliver their own takes on classic 2000 AD characters.
A must for poster and graphic art collectors, you can keep up to date with all the latest news at the official Facebook Event page.
The show will be complemented by the '2000 AD Juve Cube' – the official after-party of the opening of Vice Press Presents: Zarjaz! An Art Tribute to 40 Years of 2000 AD. A riotous night of celebration featuring Live music, DJs and live art from super-star VIP droids featured in the accompanying exhibition, it's the perfect way to kick off the UK's finest comic and sequential arts festival! The '2000 AD Juve Cube' will run from 8:30pm to late at Belgrave Music Hall & Canteen in Leeds City Centre.
For more on the worlds of 2000 AD visit the site here, follow them on Twitter here and visit their online store here.