Press release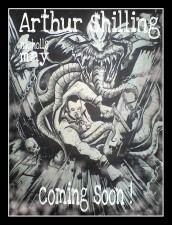 A new comic book series written and produced in the south west, set against a Victorian backdrop with elements of the paranormal and steampunk, is set to release its first issue if enough money can be generated from a crowd funding campaign.
'Arthur Shilling: Paranormal Investigator and Gentleman Engineer' is the creation of Christopher Nicholls and follows the adventures of a Victorian hero battling his way against all manner of monsters. A second story is also included in the comic, written by Christopher Fisher, and stars his protagonist Dr Michael Beckett. Student of Professor Van Helsing and Master of the martial art Bartitsu, Beckett has dedicated his life to stalking those that stalk the night. With art from local artists Rob Cross and Steve May, and lettering from Emily King of Cornwall, they have been brought together by their mutual interest in comic book culture.
In their endeavour to self-publish their own comic book they are using the crowd funding site Kickstarter. Due for release in September this project is relying on enthusiastic members of the public to pledge money up front in exchange for rewards, such as copies of the comic and unseen art work. It is a risky business as they have to achieve one hundred per cent of the one thousand pounds they are asking for to succeed. If the total is not reached, they don't get a penny.
To promote the forthcoming launch there will be a free event held in Plymouth on 17th August celebrating all things Victoriana and steampunk with afternoon tea, competitions, music and more.  Everyone is welcome to attend, young or old, in costume or not.
To find out more about Arthur Shilling find us on Facebook (www.facebook.com/ArthurShillingComic) and WordPress (www.arthurshilling.wordpress.com) and to find out more about the free afternoon tea search for events via the Facebook page.