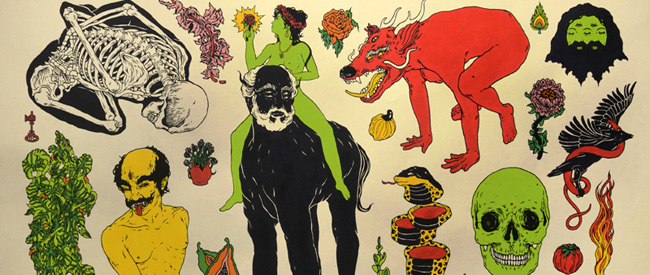 Regular BFFs* might recall that sometimes we drift a little off-piste to cover the occasional gallery show, as long as there's at least some connection with comics.
And while it's always nice to have a closer look at original comic art, my heart really beats a little bit faster when I come across an exhibition that takes the things we love about the comics form and liberates it from the two-dimensional linear pattern of the regular page.
Two shows that particularly grabbed my attention over the past 18 months or so took place at the Howard Griffin Gallery in east London: The Bestiary, by British artist Phlegm, and Parabola di G, by Italy's Giacomo Bufarini (aka Run).
While both of them had a graphic narrative at their heart, they took the form of installations that totally transformed the gallery space, creating an environment akin to walking into a 3-D comic. Along the way they created an image of how an ambitious artist could scale up his or her comics work into something altogether more immersive.
And now gallery director Richard Howard-Griffin ('Griff') is presenting a similar collection of work at his Los Angeles branch. Marking the US gallery debut of Israeli art collective Broken Fingaz, Journey Galactiko will centre on a 150-cubic-metre temple, constructed in the middle of the galaxy space from wood and found materials.
Drawing on months of travel, the installation intertwines "spiritual motifs and icons from the Indian religious tradition with the ubiquitous tropes of Western capitalist advertising", acknowledging how both use graphic imagery to influence and manipulate the viewer.
The temple itself is being kept under wraps until the opening night (Saturday June 20th), but Griff has kindly shared a preview of some of the paintings that will accompany it.
Broken Fingaz, made up of the artists Unga, Kip, Tant and Deso, was founded in Haifa in 2001. Since then they've worked in graphic design, animation, graffiti, music, film and installation, with a distinctive and often disturbing aesthetic that draws heavily on comics imagery.
Sadly, Andy Oliver has already blown the Broken Frontier travel budget on a string of limousines to and from Gosh Comics, so I won't be making it over there myself. But if you happen to be in or around the City of Angels in the next month or so, drop into the Howard Griffin Gallery for what's sure to be an intense graphic experience.
Journey Galactiko is running from June 20 to July 25 at the Howard Griffin Gallery, 410 South Spring Street, Los Angeles CA 90013 (Weds-Sun, Noon-8pm).
*Broken Frontier Fanatics, of course.