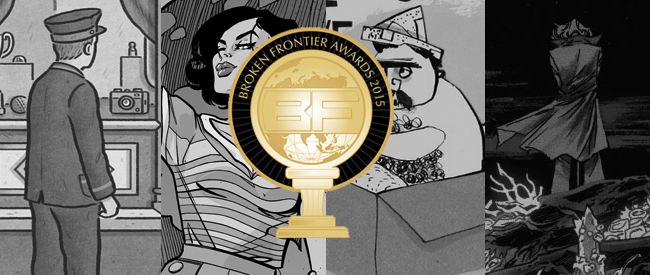 Broken Frontier proudly presents the nominees for our 12th annual Broken Frontier Awards. Our staff have selected five nominees for each of the 11 categories that comprise the BF Awards, honoring the best creators and publications of the past year.
As always, you will have a big say in who gets to take home an award!
Has our tagline, 'Exploring the Comics Universe', ever been better represented than by the diversity and eclecticism of this year's BF Awards nominations? Together, the creators and books on the 2015 ballot directly reflect our coverage over the past year; content designed to appeal to comics aficionados looking to read about the very best in indie, alt and small press sequential art.
The glorious mix of material up for your consideration this year recognises that DIY culture, self-publishing and zine-making are just as valid and important a means of delivery and presentation as acclaimed graphic novels from major publishing houses or more mainstream serial comics. Where else but Broken Frontier, for example, could you see a self-published comic like Kim Clements' Rabbit Thoughts – with its print-run of just three figures – up for the same award as a "Big Two" blockbuster written by industry legend Grant Morrison?
This year's ballot mirrors our mission to champion deserving new creative voices, endorse experimental and innovative publishing, and celebrate unique and challenging uses of the form. Our Breakout Talent award is always demonstrative of that, and regular BF readers will be aware of our proven track record in being the first site to bring your attention to some of the next big things in comics. It's a particularly exciting category this year and you can be guaranteed that – whoever triumphs – each and every one of those nominated creators is destined for greater things.
The BF team have completed their role in the initial process and now it's up to you to do your bit in deciding our winners in the public ballot. As ever, the final decision will come from an equal 50-50 consideration of the votes of the comics community and the Broken Frontier staff. Voting will run until Tuesday December 8, 11:59 PT, with the results to be announced on Monday, December 21.
Will Image Comics continue to dominate the Best Publisher award after four wins in the last five years? Who will triumph in our newly conflated Best Writer and Best Artist categories? Graphic fiction or graphic memoir – what will you back in the Best Graphic Novel section? And will this be the year that support for the self and micropublishing worlds overturns the ascendancy of the bigger publishing houses?
Those are just some of the questions that you can play a major part in answering in this year's Broken Frontier Awards. From grassroots activism to boundary-pushing, acclaimed graphic novels, comics has never been a more thriving, vibrant and vital medium. Join us in our riotous celebration of the diversity of the form in 2015!
Now go ahead and submit your ballot!
Broken Frontier Awards 2015: The Nominations
Best Writer

Cullen Bunn (Harrow County, Blood Feud, Magneto)
Jeff Lemire (Descender, Plutona, All-New Hawkeye)
Kelly Sue DeConnick (Bitch Planet, Captain Marvel)
Noah Van Sciver (Fante Bukowski, Saint Cole)
Warren Ellis (Injection, Karnak, Trees)
Best Artist

Adrian Tomine (Killing and Dying)
Dustin Nguyen (Descender)
J.H. Williams III (The Sandman: Overture)
Joëlle Jones (Lady Killer, Brides of Helheim)
Robbi Rodriguez (Spider-Gwen)
Best Colorist

Dave Stewart (Hellboy in Hell, B.P.R.D: Hell on Earth, Starve)
Elizabeth Breitweiser (The Fade Out, Outcast, Velvet)
Jordan Boyd (Invisible Republic, Ant-Man, Planet Hulk)
Jordie Bellaire (Injection, The Autumnlands: Tooth & Claw, The Kitchen)
Matt Hollingsworth (Tokyo Ghost, We Stand on Guard, Suiciders)
Breakout Talent

Andrew MacLean (ApocalyptiGirl: An Aria for the End Times, Head Lopper, The Tomorrows)
Babs Tarr (Batgirl)
Danny Noble (Was it… Too Much for You?, Ollie & Alan's Big Move)
Jessica Martin (Elsie Harris Picture Palace, Vertigo Quarterly: SFX)
Tillie Walden (The End of Summer, I Love this Part)
Best New Series

Descender (Jeff Lemire & Dustin Nguyen, Image)
Harrow County (Cullen Bunn & Tyler Crook, Dark Horse)
Injection (Warren Ellis & Declan Shalvey, Image)
Invisible Republic (Gabriel Hardman & Corinna Bechko, Image)
Midnighter (Steve Orlando, Aco & Stephen Mooney, DC)
Best Ongoing Series

Saga (Brian K. Vaughan & Fiona Staples, Image)
Sex Criminals (Matt Fraction & Chip Zdarsky, Image)
Silver Surfer (Dan Slott & Michael Allred, Marvel)
The Bunker (Joshua Hale Fialkov & Joe Infurnari, Oni)
The Fade Out (Ed Brubaker & Sean Phillips, Image)
Best Limited Series

Lady Killer (Joelle Jones & Jamie S. Rich, Dark Horse)
The Sandman: Overture (Neil Gaiman & J.H. Williams III, DC/Vertigo)
The Spire (Simon Spurrier & Jeff Stokely, BOOM!)
The Tomorrows (Curt Pires, Jason Copland, Alexis Ziritt et al, Dark Horse)
We Stand On Guard (Brian K. Vaughan & Steve Skroce, Image)
Best One-Shot

Frontier #7: Jillian Tamaki (Jillian Tamaki, Youth in Decline)
Identity (edited by Sarah Broadhurst and Julia Scheele, One Beat Zines)
Lost Property (Andy Poyiadgi, NoBrow)
Multiversity: Ultra Comics (Grant Morrison, Doug Mahnke & Christian Alamy, DC)
Rabbit Thoughts (Kim Clements, Moustache Cupboard Press/Self-published)
Best Graphic Novel

Becoming Unbecoming (Una, Myriad Editions)
Death of the Artist (Karrie Fransman, Jonathan Cape)
Killing and Dying (Adrian Tomine, Drawn and Quarterly)
Russian Olive to Red King (Kathryn Immonen & Stuart Immonen, AdHouse)
The Story of My Tits (Jennifer Hayden, Top Shelf Productions)
Best Book on Comics

Drawn and Quarterly: Twenty-Five Years of Contemporary Cartooning, Comics, and Graphic Novels (edited by Tom Devlin, Drawn and Quarterly)
Harvey Kurtzman: The Man Who Created Mad and Revolutionized Humor in America (Bill Schelly, Fantagraphics)
The Art of Mouse Guard 2005-2015 (David Petersen, Archaia)
Tove Jansson: Work and Love (Tuula Karjalainen, Particular Books)
Will Eisner: Champion of the Graphic Novel (Paul Levitz, Abrams)
Best Publisher

Avery Hill Publishing
Breakdown Press
Fantagraphics
Image Comics
Retrofit/Big Planet