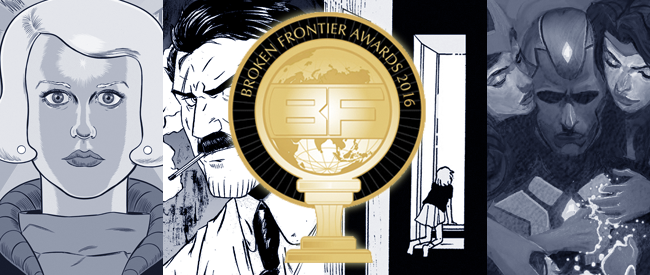 Broken Frontier proudly presents the nominees for our 13th annual Broken Frontier Awards. Our staff have selected five nominees for each of the 12 categories that comprise the BF Awards, honoring the best creators and publications of the past year.
As always, you will have a big say in who gets to take home an award!
It's hardly hyperbolic to say that 2016 has been a huge year for Broken Frontier. The publication of our two anthologies underlined our commitment to championing both creator-owned work and up-and-coming talent, and our growing involvement in events in the wider comics community provided us with many opportunities to take that message out to a new audience.
But, of course, it's our regular weekly output of reviews, interviews and features that will always remain the backbone of our dedicated mission statement; one so aptly summed up in the BF tagline 'Exploring the Comics Universe'. It's that belief that great work can come from across the entirety of the comics spectrum – from grassroots practitioners to industry giants, from pop cultural fantasy to groundbreaking graphic memoir – that has become such an important part of Broken Frontier's identity.
As the nominations for this year's awards go up today our hope is that the BF philosophy is suitably mirrored in the names below. They represent not just some of the truly amazing work to see publication in 2016 but also act as a reflection of Broken Frontier's coverage in that time. Take a look at that Best New Series category and ask yourself where else but at BF could you see work like Simon Moreton's hand-stapled zine Minor Leagues being equally recognised as the top debut book of 2016 alongside the blockbuster All-Star Batman with its headline team of Scott Snyder and John Romita Jr.?
The BF crew have completed their role in the initial process and now it's up to you to do your bit in deciding our winners in the public ballot. As ever, the final decision will come from an equal 50-50 consideration of the votes of the comics community and the Broken Frontier staff. Voting will run until December 21st, with the results to be announced on January 5, 2017.
Will this be the year that the micropublishers finally knock Image Comics off the top spot they've held as Best Publisher for five of the last six years? Could 2016 see a self-published comic picking up an accolade? Which of the five nominees will triumph in the always fiercely contested Breakout Talent Award won by Tillie Walden last year?
Your input will play a vital role in answering all those questions. From DIY culture to 'Big Two' mega-hits the Broken Frontier Awards exist to embrace all aspects of this wonderfully diverse medium and its boundless possibilities. Comics can be whatever we want them to be. Join us in celebrating that fact by clicking on the blue 'Vote now!' button and casting your votes below!
Broken Frontier Awards 2016: The Nominations
Best Writer

G. Willow Wilson (Ms. Marvel)
Jeff Lemire (Black Hammer, Descender)
Ryan North (Unbeatable Squirrel Girl, Jughead)
Steve Orlando (Midnighter, Namesake)
Tom King (The Vision, The Sheriff of Babylon)
Best Artist

Chris Samnee (Black Widow)
Eduardo Risso (Dark Night: A True Batman Story, Moonshine)
Joelle Jones (Lady Killer 2)
Lorena Alvarez (Nightlights)
Tillie Walden (A City Inside, On a Sunbeam)
Best Colorist

Dave Stewart (Black Hammer, Hellboy and the B.P.R.D., House of Penance)
Elizabeth Breitweiser (Outcast, Kill or Be Killed)
Jordie Bellaire (Injection, The Vision, The Autumnlands)
Matt Hollingsworth (Seven to Eternity, Tokyo Ghost)
Tamra Bonvillain (Angel Catbird, Doom Patrol, Wayward)
Best Letterer

Clayton Cowles (Batman, Bitch Planet, The Wicked + The Divine)
Jared K. Fletcher (Paper Girls, Moonshine)
Jodi Wynne (Wonder Woman, Black Magick)
Nate Piekos (Angel Catbird)
Thomas Mauer (4 Kids Walk into a Bank, Namesake)
Breakout Talent

Chris Hunt (Carver: A Paris Story)
Grace Wilson (Saving Grace)
Jade Sarson (For the Love of God, Marie!)
Matthew Rosenberg (4 Kids Walk into a Bank)
Rozi Hathaway (Njálla, Ø)
Best New Series

All-Star Batman (Scott Snyder, John Romita Jr., Danny Miki et al., DC)
Black Hammer (Jeff Lemire, Dean Ormston and Dave Stewart, Dark Horse)
Cave Carson Has a Cybernetic Eye (Jon Rivera, Gerard Way, Michael Avon Oeming et al., DC)
Dept. H (Matt Kindt, Sharlene Kindt, Dark Horse)
Minor Leagues (Simon Moreton, Self-published)
Best Ongoing Series

Archie (Mark Waid, Veronica Fish et al., Archie Comics)
Frontier (Eleanor Davis, Kelly Kwang and Richie Pope, Youth in Decline)
Harrow County (Cullen Bunn, Tyler Crook et al., Dark Horse)
Paper Girls (Brian K. Vaughan, Cliff Chiang et al., Image)
The Vision (Tom King, Gabriel Hernandez Walta et al., Marvel)
Best Limited Series

4 Kids Walk into a Bank (Matthew Rosenberg, Tyler Boss and Thomas Mauer, Black Mask Studios)
Carver: A Paris Story (Chris Hunt, Z2 Comics)
Second Sight (David Hine and Alberto Ponticelli, Aftershock)
The Sheriff of Babylon (Tom King, Mitch Gerads et al., DC/Vertigo)
The Violent (Ed Brisson, Adam Gorham and Michael Garland, Image)
Best One-Shot

Arctic Comics Volume 2 (Michael Kusugak, Jose Kusugak, Germaine Arnaktauyok et al., Renegade Arts)
The Artist (Anna Haifisch, Breakdown Press)
A City Inside (Tillie Walden, Avery Hill Publishing)
Fear of Mum-Death and the Shadow Men (Wallis Eates, Self-published)
Summerland (Paloma Dawkins, Retrofit/Big Planet)
Best Original Graphic Novel

The Art of Charlie Chan Hock Chye (Sonny Liew, Pantheon)
Don't Come in Here (Patrick Kyle, Koyama Press)
For the Love of God, Marie! (Jade Sarson, Myriad Editions)
March Book Three (John Lewis, Andrew Aydin, and Nate Powell, Top Shelf)
Patience (Daniel Clowes, Fantagraphics)
Best Book on Comics

Comic Book Fever: A Celebration of Comics 1976-1986 (George Khoury, TwoMorrows)
Ed Brubaker: Conversations (Edited by Terrence R. Wandtke, University Press of Mississippi)
Forging the Past: Seth and the Art of Memory (Daniel Marrone, University Press of Mississippi)
The Mighty One: My Life Inside the Nerve Centre (Steve MacManus, Rebellion)
CBLDF Presents: She Changed Comics (Edited by Betsy Gomez, Maren Williams and Caitlin McCabe, Image)
Best Publisher

Avery Hill Publishing
Breakdown Press
Fantagraphics
Image Comics
Retrofit/Big Planet