It's almost Wednesday, and you know what that means: a fresh load of comics and graphic novels! With so many publications hitting your local comics store or digital storefront, BF is here to lead you through the woods. These are the books that need to be on your pull list this week.
Comic of the Week
The Joyners in 3D
Meet George Joyner. In this twisted take on The Jetsons, R.J. Ryan and David Marquez show that family problems will be just as prevalent at the tail-end of the 21st as they are at the beginning. Alternatively described as a mix of the cartoon with American Beauty, or what if George Jetson were an asshole, this OGN promises plenty of dark humor.
And that's without even mentioning the main hook of the book. David Marquez (best known for his great work drawing Miles Morales in Ultimate Comics Spider-Man) has been working on this book for the past three years to deliver on the 3D illustrations. The creators have gone out of their way in interviews to make it clear that the 3D is used as much more than a gimmick. This book has my attention as one of the first noteworthy OGNs of 2014.
R.J. Ryan (W), David Marquez (A) • BOOM! Studios/Archaia Entertainment, $29.95
– Levi Hunt
White Suits #1
After making its debut in the anthology title Dark Horse Presents a couple of years ago, writer Frank J. Barbiere's White Suits has now graduated to its own four-issue mini-series. Original artist Luke Radl has been replaced by the stylish Toby Cypress, whose black-and-white artwork does a mad kinetic dance across the page, with the occasional splash of colour – mostly red…
The eponymous snappy dressers are a group of mysterious killers who cut a murderous swathe through the Russian Underworld during the Cold War and have now turned up in NYC for a repeat performance. Meanwhile, an FBI agent with a personal agenda and an amnesiac who has flashes of a violent past find themselves in an uneasy alliance to track them down. This is a violent, noirish mix, delivered in a blistering comics form. If you're still suffering withdrawal symptoms from 100 Bullets, this is definitely the title for you.
Frank J Barbiere (W), Toby Cypress (A) • Dark Horse Comics, $3.99
– Tom Murphy
Where Bold Stars Go to Die GN

Remember Elmer, the graphic novel about super-intelligent chickens? Most people don't, and that's a shame, because Elmer turned out to be a surprisingly well made and thought-provoking piece of work. Now, from Elmer creator Gerry Alanguilan, comes a comic that follows the story of Daniel, a man whose life spirals out of control as a result of his obsession with Anna Marie, a forgotten softcore porn star of decades past.
Exploring themes of censorship, desire and lust, Where Bold Stars Go to Die is also the last work of Arlanzandro Esmeña, a Filipino comics artist who died of cancer in 2010.
Gerry Alanguilan (W), Arlanzandro C. Esmeña (A) • Slave Labor Graphics, $7.95
– Evan Henry
Loki: Ragnarok & Roll #1
Norse gods and rock 'n roll go together as chocolate and ice cream or skulls and snakes as I am thrown back to the visual skullduggery of the Eighties and jeans jackets featuring bizarre 'hard rock' imagery with slogans like 'Slowly We Rot'.
Anyway… the Norse gods have always been a popular visual in rock 'n roll or hard rock and writer Eric Esquivel has the trickster god Loki banned from Asgard only to wind up in… you guessed it: a rock 'n roll band. Promising a showdown between various pantheons while Loki becomes an evermore popular rock star, the success of the title will depend on how tongue-in-cheek Esquivel is going to play this because that is definitely what it sounds like. With artist Jerry Gaylord attached though, it looks like humor is the way to go. Let's hope Thor shows up in time put the hammer down on Loki's glamrock.
Eric Esquivel (W), Jerry Gaylord (A) • BOOM! Studios, $3.99
– Bart Croonenborghs
Undertow #1
When a writer cites the mythos of Atlantis, Dune by Frank Herbert and the first-of-its-kind science fiction novel Across the Zodiac as influences over his new comic, the only prejudgments that can be made about it are 'ambitious' and 'in it for the long game'. And so it would seem from the blurb on Undertow: the story of an Atlantean superpower in confrontation with an insurgent, hell-bent on hunting down a legendary creature which may be the missing link between life under the sea and dry land.
If the complex back story isn't enough to whet your appetite, the mention of Ray Harryhausen at its heart and a cover featuring a hairy Frankenstein-a-like may tempt you to give it a try.
Steve Orlando (W), Artyom Trakhanov (A) • Image Comics, $2.99
– Joe Krawec
New Warriors #1
Marvel's team of young heroes is back, with some help from writer Christopher Yost and artist Marcus To. Called back to the front lines, the New Warriors have re-formed, with a roster including veteran members Justice and Speedball, joined by new faces that include Scarlet Spider, Nova, and Selah Burke, the brand-new hero Sun Girl previously seen in the pages of Yost's Superior Spider-Man Team Up.
It's a battle for the survival of mutants, Inhumans, Atlanteans, and other not-quite humans among the Marvel Universe's population. The High Evolutionary and his genocidal army are on the rampage, and it's up to the New Warriors to defuse the situation.
Christopher Yost (W), Marcus To (A) • Marvel Comics, $3.99
– Evan Henry
Curse #2
The opening issue of this four-part contemporary take on the werewolf legend was one of my surprise hits last month . And, as the story of a desperate dad's efforts to fund his son's leukemia treatment hurdles to the half-way mark, there's no sign of the action or emotional drama letting up.
Laney Griffin might have caught the local killer, but it looks like his problems are only just beginning. Keeping a blood-thirsty lycanthrope in the basement (until his next transformation) isn't quite as much fun as you might imagine, while all that messing about in the woods has got the local sheriff thinking that Laney could well be the prime suspect for the murders. The first issue was a stylish, measured bit of storytelling from the posse of creators, and it's not too late to get on board.
Michael Moreci, Tim Daniel (W), Colin Lorimer, Riley Rossmo (A) • BOOM! Studios, $3.99
– Tom Murphy
Zero Vol. 1: An Emergency
One of Image's newest and best books gets collected in this trade paperback that is due out on Wednesday. Edward Zero is one of the best spies, working for a dangerous organization. The premise sounds doesn't sound like anything special, but the execution is. The artwork (done by a different artist in each issue, with vastly different styles) sells the story as something truly special. So too, does the character work. There's a surprising amount of depth here for a spy story.
If you're still not sold, keep in my, this first collection is only $10. At that price, this collection of the first five issues of the series is a must for anyone who has been enjoying Image's recent output.
Ales Kot (W), Various (A) • Image Comics, $9.99
– Levi Hunt
On Loving Women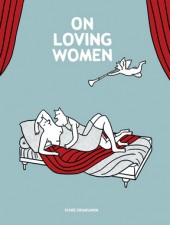 Slice-of-life comics have been one of the big success stories of the medium's renaissance over the last few years, providing a relatable genre of sequential art that shatters the great myth of comics' inaccessibility for those first venturing into the ever expanding graphic novel section in their local bookstores.
Diane Obomsawin's On Loving Women – published by the ever reliable Drawn & Quarterly – is a collection of shorts focusing on those pivotal coming out moments in the lives of the author's friends and former partners. Using that tried and tested representational comics technique of the anthropomorphic animal, the vignettes herein cover first loves and first crushes, sexual identity, fears of rejection and more; all told with Obomsawin's ultra clear linework.
From the pre-publication preview material available this looks to be a collection of tales that are witty, moving, incisive and fun. One to definitely look out for if you're a fan of the autobiographical strand of comics storytelling.
Diane Obomsawin (W/A) • Drawn & Quarterly, $16.95
– Andy Oliver