Broken Frontier presents its staff picks for the comics released this week. If you want to know which books should be on your pull list, look no further!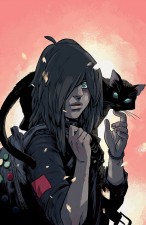 True Lives Of The Fabulous Killjoys #1 (Comic of the Week)
Disbanding My Chemical Romance has freed up Gerard Way's schedule to return to his second love: comics! Four years after Umbrella Academy: Dallas, Way brings us a story that – much like Umbrella Academy – bleeds crazy and cool from the opening panels.
Killjoys is the continuation of the narrative started in the fourth and final album of My Chemical Romance, Danger Days, which featured the free riding Killjoys fighting against megacorporation Better Living Industries in the post-apocalyptic California of 2019… only to end up getting killed. The sole Killjoy survivor of the final showdown is the mysterious Girl, who has vowed to take down BLI in the wake of her friends' brutal assassination.
To get a good feel of what awaits you in Killjoys #1, watch MCR's clip of Na Na Na (yes, that's Grant Morrison!) and be stunned. All of it will be brought to the page by the criminally good Becky Cloonan.
Dystopia + Way + Cloonan = comic book magic waiting to happen.
Gerard Way, Shaun Simon (W), Becky Cloonan (A) • Dark Horse, $3.99
– Frederik Hautain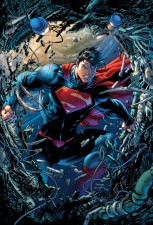 Superman Unchained #1
It's finally here, and it's right on time for the theatrical release of Man of Steel! Scott Snyder and Jim Lee team up to offer an irresistible mystery for Superman in Superman Unchained #1.
Thirteen satellites fall from the sky in one day, and it wasn't Superman who stopped the last one. So who did? Lex Luthor is the obvious suspect, but he's locked up in prison. Snyder and Lee intend the title to be a treat for fans old and new utilizing the New 52 look in a title that reminds us why Superman is the most enduring and endearing hero in comics.
Scott Snyder (W), Jim Lee (A) • DC Comics, $4.99
– Karen O'Brien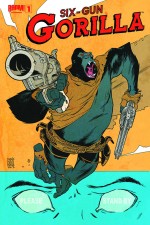 Six Gun Gorilla #1
Buckle up, don your space suit, and prepare to blast off with Simon Spurrier and Jeff Stokely who will take you on a futuristic adventure to the 22nd century, where humans have colonized "the Blister" and their efforts to pillage natural resources have instigated a civil war.  Amidst the backdrop of a new frontier of wild lawlessness, natives, and the planet's ruins comes the threat of the Six Gun Gorilla, a deadly, revolver spinning, bio-engineered gorilla who is ready to carve a warpath across the frontier.
Six Gun Gorilla sounds like the perfect hybrid of sci-fi outrageous ideas, over-the-top action, and crazy fun that will combine to properly kick off the summer blockbuster season.
Simon Spurrier (W), Jeff Stokely (A) • BOOM! Studios, $3.99
– Jason Clyma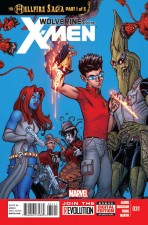 Wolverine and the X-Men #31
Writer Jason Aaron and artist Nick Bradshaw are taking the X-Men to the grand opening of a school where the students aren't likely to survive the curriculum. The Hellfire Academy is open for business, and with teachers like Mystique, Mojo, Sauron, Wendigo, and Master Pandemonium, Wolverine and the X-Men are in a deadly race against time to find the school before their kidnapped students are transformed into uncanny bad guys.
This new story arc is the perfect time to jump in on this title.
Jason Aaron (W), Nick Bradshaw (A) • Marvel Comics, $3.99
– Karen O'Brien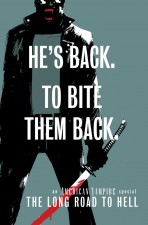 American Vampire: The Long Road to Hell (One-shot)
Travis Kidd, the vampire-hunter that bites back, leads the charge in American Vampire's triumphant return to readers's hands this week as co-creators Scott Snyder and Rafael Albuquerque deliver an oversized one-shot to tease the series' future return.
American Vampire is in the middle of a long hiatus as Snyder and Albuquerque focus their attention on other projects, but the best Vertigo title on the market makes an all too brief appearance to pick up Travis Kidd's threads left dangling ages ago.
This oversized offering is guaranteed to thrill as Kidd hops in his hotrod to chase down the "Heartbreak Killers" across the American Heartland.
Scott Snyder (W), Rafael Albuquerque (A) • DC Comics/Vertigo, $6.99
– Jason Clyma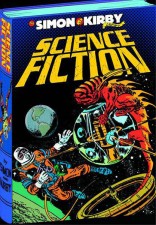 The Simon & Kirby Library: Science Fiction HC
Over the last few years Titan Books have published a number of handsome collections of classic comics work by legendary creators Joe Simon and Jack Kirby. These have included volumes on crime, super-heroes, a complete compilation of the Fighting American strips, and Joe Simon's autobiography.
Science Fiction is the order of the day for this latest hardback which presents, in chronological order, the duo's space opera flights of fancy from the 1940s to the 1960s, both those where they worked in tandem and their solo offerings.
Joe Simon (W), Jack Kirby (A) • Titan Books, $49.95
– Andy Oliver

[
Excerpted from our review
]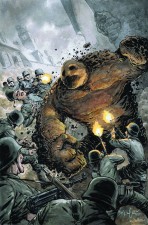 Breath Of Bones: A Tale Of The Golem #1
In a way it's only fitting that when you write a story about one of the most fascinating creatures from Jewish mythology you have him take on the Jews' worst enemy in history. Steve Niles's Breath of Bones is more than a 'Golem vs Nazis' story though: it's a tale about a kid, Noah, and his grandfather, and how they're looking to stay alive while war is being waged.
The three-issue mini-series is illustrated by Dave Wachter, who underscores the emotional qualities of Niles's script with beautiful black and white brush strokes.
Steve Niles (W), Dave Wachter (A) • Dark Horse $3.99
– Frederik Hautain