It's nearly Wednesday, and you know what that means: a fresh load of comics and graphic novels! With so many publications hitting your local comics store or digital storefront, the BF staff is here to lead you through the woods with our weekly staff picks. Satisfaction guaranteed.
Comic of the Week
The Sixth Gun: Valley of Death #1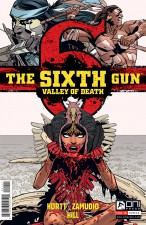 Given the staggering success of the Sixth Gun Kickstarter, this one probably won't need much recommendation. But this three-issue miniseries looks to pack in enough high-concept, visually dynamic storytelling to attract new readers in addition to existing fans.
Regular series artist Brian Hurtt takes solo scripting duties to tell the story of Buzzard Wife, a witch tasked with uniting the tribes to combat an unearthly incursion from the Spirit World. A.C. Zamudio and Ryan Hill provide the art, and if the cover is any indication, readers are in for a bloody good time.
The Sixth Gun's world is shaping up into one of the richest and most enduring in indie comics since the debut of the Mignolaverse, and there's no such thing as a bad time to jump on. Do yourself a favor and dive into this weird Western this Wednesday.
Brian Hurtt (W), A.C. Zamudio & Ryan Hill (A) • Oni Press, $3.99
– Paul Mirek
The Oven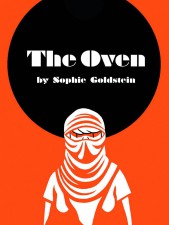 The latest release from Chris Pitzer's "boutique publishing juggernaut" AdHouse Books is The Oven, an 80-page graphic novel from rising star Sophie Goldstein, who hopped off with an Ignatz Award last year for her mini-comic House of Women.
The story follows Syd and Eric, a couple who flee the harsh family-planning policies of their over-crowded futuristic society to try for a baby in a remote desert community. However, the reality of their new-found "freedom" soon begins to fall short of their initial optimism.
Originally published in black and white in the anthology Maple Key Comics, the work is now coloured in a stark, restricted palette that drives home the oppressive atmosphere of the desert in which they live – the "Oven" of the title. Goldstein's bold, fluid cartooning creates work that's accessible and powerful, and this promises to be a highly relevant fable that tackles timely issues of fertility and personal responsibility. A brief PDF preview is available here.
Sophie Goldstein (W, A) • AdHouse Books, $12.95
– Tom Murphy
The Hero, Book One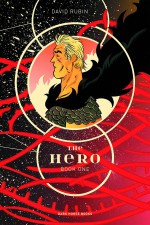 David Rubin first showed up on the North American comics radar illustrating Paul Pope's Battling Boy spin-off The Rise of Aurora West. Known as a versatile visual storyteller with a knack for innovative layouts, the latest example of Rubin's talents arrives this week, courtesy of Dark Horse.
A modern retelling of the Heracles myth, positioning the Greek demi-god as the world's first true superhero, The Hero was originally published in Spanish in 2011. This first hardcover volume chronicles the young adventurer's childhood and adolescence, as he completes his Twelve Labors and lays the foundation for the legends to come.
Fast-paced, exuberant, and stylish, The Hero showcases another facet of Rubin's talent (for North American audiences, at least), as he both writes and draws this action-packed reinterpretation of one of the world's most popular myths. Check out Publisher's Weekly for a free preview.
David Rubin (W, A) • Dark Horse Comics, $24.99
– Jason Wilkins
Action Comics #41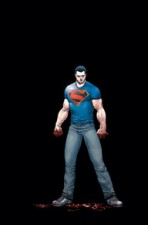 Now that Convergence is over, DC is doing a miniature re-launch of its characters. While this isn't a complete re-boot like the "New 52", DC is still going to shake up its line-up and its flagship characters.
Starting with Action Comics #41, Superman will get a "new" look that we've seen before—blue jeans and a T-shirt with what looks like a 1940s-style "S" on his chest. The early fan reaction to the change has been skeptical considering how fans welcomed the New 52 costume, so we are trusting writer Greg Pak to introduce some interesting story elements.
The new storyline ,'Truth', begins with this issue, and all we know from DC is that Superman "won't be holding back." The alternate cover by Darwin Cooke featuring the Joker is an interesting potential spoiler, especially considering recent events in the Bat-titles.
The real question is, "Why wouldn't Supes need to hold back?" We'll find out on Wednesday.
Greg Pak and Aaron Kuder (W), Aaron Kuder (A) • DC Comics, $3.99
-Karen O'Brien
Justice League #41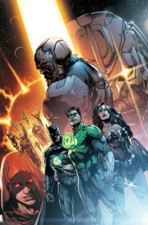 While I have my reservations about the post-Convergence direction of Action Comics, I have been eagerly awaiting the events about to unfold in Justice League #41. This issue kicks off the 'Darkseid War' – an event that has been brewing since the New 52 reboot began. It's an epic undertaking sure to tax the abilities of every member of the League.
So it's Darkseid versus the Anti-Monitor, in an all-out war that engulfs the League when they investigate a series of strange murders on Earth. The issue promises to introduce Darkseid's daughter, provide Batman with the ultimate temptation, uncover the secret of Superwoman's baby, and pit Lex Luthor against Superman.
Beyond promising the inevitable action sequences that Jason Fabok will deliver with depth and amazing detail, writer Geoff Johns will balance the action with personal and emotional challenges for the League that make this book a must-read this week.
Geoff Johns (W), Jason Fabok (A) • DC Comics, $4.99
-Karen O'Brien
Midnighter #1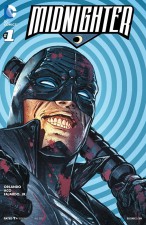 The Midnighter steps out of the shadows into his own series, after this latest iteration of the character was introduced in Grayson. Gone are the ties to the Authority and his marriage to Apollo, but he's still the same crime-fighting hero with a penchant for violence that we've come to know and love.
In this first issue, the Midnighter takes on street gangs, demons and aliens, as a theft at the God Garden has unleashed a wave of dangerous biotech weapons on the world. But something else was stolen from the Garden as well… the secret history of Lucas Trent, the man Midnighter once was!
Steve Orlando (W), Aco (A) • DC Comics, $2.99
-Tyler Chin-Tanner