Cheer Up!: Love and Pompoms gets straight into the story, introducing us to all the characters through its high school setting. Annie is academically gifted but brash, which is what causes her mother, alongside her school principal, to convince her to join her school's cheer club. She eventually falls into the club by being convinced by her old friend Beatrice who she reconnects with over the course of the book.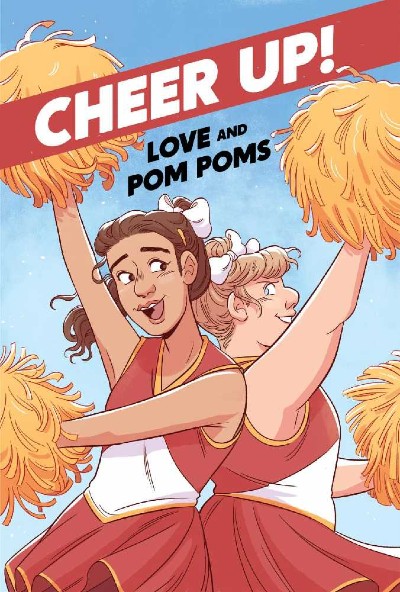 With lively character expression and interaction, Cheer Up! highlights the importance of friendship and teamwork amongst young people, and how being supportive of each other is what gives a group strength. Foregoing stereotypes, the characters are written to play off each other in dynamic ways. Nobody here really fits into that stereotypical media-led portrayal of high school cheerleaders.
The characters' facial expressions are exaggerated and full of vibrancy. Wise is able to capture characters' subtle movements which portray a vast array of emotional outputs. When explaining to Annie the positions within a cheer team the art style becomes more bouncy and cute, creating a more theoretical and imagination-led exposition.
Beatrice's characterisation gives real insight into her worries and worldview. Naturally there is a lot of discussion about trans issues within her storyline as she is a trans teenager – the discussion feels organic and relatively open. The lettering is clear and often the letters appear bolder when characters are expressing themselves loudly, giving them a particular tone of voice, especially during arguments or harsher character interactions. The awkwardness of high school also really comes through with the way characters respond regarding certain situations, for example arguing about things they don't fully understand.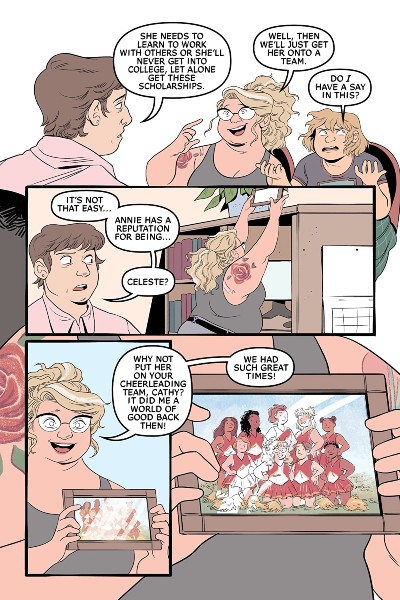 Beatrice's parents are fairly protective and that comes across in a very natural way. I'm glad that the progression of her friendships allows her parents to feel more secure and less protective of her. It feels like a good growing process. Her friends' support is one of my favourite overall parts of the narrative – having a strong group of friends who are considerate can make or break a teenager's experiences.
Overall, Cheer Up!: Love and Pompoms emphasises the concept of trust within sport or relationships whether that be family, friendship or even a romantic relationship. Especially concerning the importance of trust amongst LGBTQA+ teens. The characters' thoughts and feelings are taken seriously by adults despite their age. The book has a lightness in both its art, colours and story that lend itself to considering the more serious themes. Cheer Up!: Love and Pompoms, shows the importance of peer support and the joy in trying new things as a group. It's a heartwarming story with fully-realised characters; a delight to read.
Crystal Frasier (W), Val Wise (A), Oscar O. Jupiter (L) • Oni Press, $14.99
Review by Holly Raidl