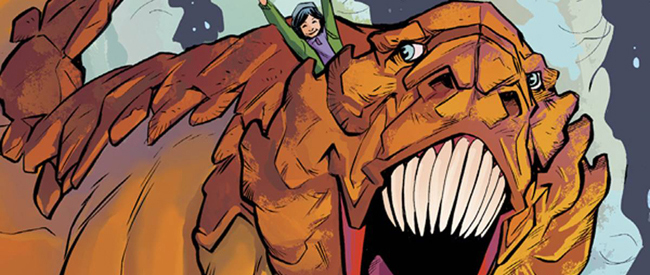 Cullen Bunn may just be the busiest man in comics. If you don't believe me, take a peek at the popular scribe's official website, where the intrepid fanboy will discover a full slate of books coming out each month that would do most publishers proud, never mind a single creator.
While it's true that most comic book writers can pump out multiple books each month, while artists must spend their time toiling on a single issue, Bunn's output is nothing short of amazing. Balancing his time between mainstream titles such as Lobo and Sinestro for DC and creator-owned projects such as Brides of Helheim,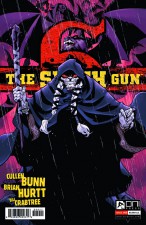 The Sixth Gun, and the kid-friendly Terrible Lizard, Bunn never scrimps on quality, no matter the genre or audience of a given comic.
His ability to tell widely accessible, intriguing stories from unique perspectives is quickly garnering him a reputation as one of the industry's most marketable creators. This is a writer who comes at his work from unexpected angles, and that, folks, is money.
With The Sixth Gun winding down in the new year and the recent debut of two new Oni Press series in the past couple of months, we thought it the perfect time to discuss Bunn's work with the critically acclaimed indie publisher who gave him his start.
Cullen, you've hinted that there are some big surprises planned for the final issues of The Sixth Gun. Could you give us a hint as to what fans can expect by the time #50 hits shelves?
Cullen Bunn: Well… they wouldn't be surprises if I told you everything! What I will tell you is that the final issue is going to be massive, in both the literal and the figurative senses of the word. Extra pages! Epic confrontations! A resolution to everything we've been building toward. We'll learn the truth about Drake Sinclair and Becky Montcrief. We'll see old friends and old enemies. In the words of Billjohn O'Henry, "it'll be a real hog-killing time!"
You've always maintained The Sixth Gun would be a finite series with a prescribed ending at #50. Now that the ending is in sight, just how much are you going to miss this world? How will you fill the void?
I'll miss Drake and Becky and Billjohn. I'll even miss Missy and Griselda and Jesup. Their story comes to an end with #50. As for the world, I think there are other stories to tell. There's a very good chance we'll revisit this twisted version of the Wild West from time to time.
Even if we don't, Brian Hurtt, Bill Crabtree, and I have a couple of new and exciting things cooking. The three of us, as a creative team, will continue to work together.
Over the last couple of years we've seen many creators attempt to balance their time between creator-owned work and mainstream superhero comics, with varying degrees of success. How have you managed to balance your own workload in this regard, and how will that change with the end of The Sixth Gun?
I don't think the mainstream stuff I've been working on impacts the ending of The Sixth Gun at all. At one time, maybe, I was several issues ahead of Brian Hurtt in terms of scripts. That margin has narrowed drastically. But we've never been late on an issue, and I don't think that will change.
As for balancing the workload, it's just a simple matter of scheduling and managing priorities. My goal is for my collaborators to never wait on me. That tends to keep the wheels moving.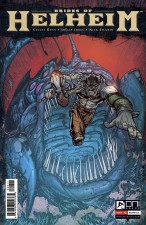 Let's move onto Brides of Helheim. The world of Helheim is one wracked by violence and danger. How much of this is a by-product of the series' setting during the Viking Age and how much a product of your own imagination?
I didn't necessarily always see Helheim as a Viking-era story. At one time, it was going to be set in a fantasy world, a place where Conan would feel at home. So… with that in mind, it was always meant to be dark and violent and dangerous. Once I settled on making it a Viking story, that helped to flavor the surroundings and the characters. But it certainly didn't make the story less violent!
When we last saw her, poor, little Kadlin didn't seem quite right in her head. What role does she play in the new series and should she be trusted by Rikard?
A lot of folks were angry with me at the end of Helheim, because they thought I had turned Kadlin into a villain. As you'll see in Brides of Helheim, though, that is not the case. Kadlin is a little older now, and you'll be learning why she does the things she does. In #2, I'm essentially giving you the origin story of Kadlin.
After quite literally losing his head at the end of the previous series, how will Rikard's impending return affect his father, Kirk, and his best friend, Shad? Will any of them have a chance of real closure?
Kirk and Shad will appear in Rikard's life again, but I wouldn't expect to see them in Brides of Helheim. When they return, though, in the third and final Helheim series, I promise some closure for them.
Of course, in this book, that closure is almost certainly going to be violent and terrifying.
Terrible Lizard marks your first foray into the field of all-ages comics and so is quite different in tone from your previous output. Why did you want to venture into the all-ages market? What inspired you to tell this particular story of a girl and her Tyrannosaurus Rex?
I have always loved all-ages stories. My novel Crooked Hills is an all-ages horror story. And I have several stories like this rattling around in my head. While I often gravitate toward darker stories, there's a pull toward writing material that appeals to younger readers, too.
I think it's pretty clear that Terrible Lizard is inspired by a steady diet of comic books like Devil Dinosaur and the movies of Ray Harryhausen. I wanted to write a comic that had the feel of a Saturday afternoon matinee.
And what kid wouldn't like to have a T-Rex for a best friend?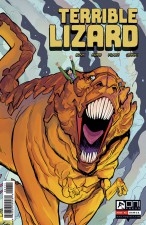 All-ages stories require the exercise of a different set of storytelling muscles. What challenges did you encounter while writing for a younger audience? What are some of the themes you'll be exploring in the series?
For me, "all-ages" doesn't necessarily translate to "kid's stuff." It just means that the book can be enjoyed by kids and adults alike. I don't "write down" to the audience. I just avoid some of the more adult situations. That wasn't difficult here. By its very nature, this story is more focused on fun and action and adventure.
Some of the themes I'm exploring here are friendship and loneliness, alienation from others, and the growing pains of dealing with your own parents when you yourself are on the verge of adulthood.
Drew Moss is well-known for his ability to render monsters, aliens, and all sorts of creepy-crawlies. How has his involvement in Terrible Lizard impacted the project?
Drew is an absolute delight to work with. We talk on a (nearly) daily basis, throwing ideas around, sharing thoughts on monster design, and just talking about all the geeky stuff we love. It doesn't hurt that he's amazingly talented and a really versatile artist who draws the heck out of monsters. There were definitely times when I would give him some suggested ideas for monster design, and he just went berserk!
So, yeah, he's a great guy. I can't wait for folks to see what we're cooking up next!
Imprinting is at the core of the bond between Jessica and Wrex. If you could have one creature imprint onto you, what would it be?
True story: years ago, I was attacked by a cougar. It didn't kill me… and it actually ended up being kind of friendly after the initial moments of terror. Maybe it imprinted on me in those moments. I definitely like to think that cat is my spirit animal these days.