It must be a strange feeling that while going about your daily eat-work-eat-sleep routine, the very fabric of time and space starts to crumble, with you as the centre point. In Joshua Hale Fialkov and Gabo's new comic from Oni Press, that's what happens to poor Jude, who after touching the hand of a woman he has strong feelings for, gets sent through a temporal vortex only to realise he's actually dead and in Purgatory.
Welcome to The Life After. With the second issue of this new ongoing just released, we spoke to series writer Fialkov to bring you up to speed on his vision of the afterlife and the world of the comic.
The Life After is by all means a book with a strong religious twist: you're playing on a very specific element of Christianity which says that people who commit suicide can't ever make it to heaven and are cast into purgatory instead. Why did that particular thesis appeal to you?
JOSHUA HALE FIALKOV: Well, it came more out of a desire to tell a story in a place that was hopeless. To find a place to bereft of spark, that it would take a very special person to walk out of it. And what place is more brutal than purgatory? The idea of a perpetual 'meh' rather than torment or torture just seemed that much worse.
Putting our hero, Jude, in to that, in a place of mostly comfort, which would be almost invisible, seemed like the perfect prison for him to break out of.
How did that idea spin into enough material for an ongoing?
Well, the journey that Jude and Hemingway will go on is pretty epic, across heaven, hell, and, maybe even the earth itself down the road. And there's dozens of different sets of rules and strictures that have ruled the afterlife over the eons, and they're going to find themselves butting up against a lot of them.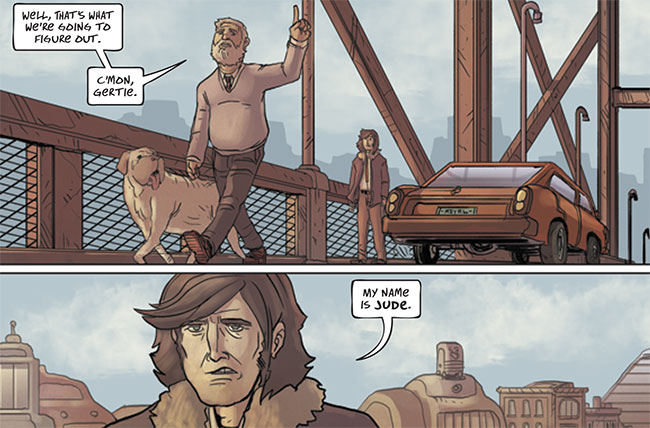 I can imagine that because of the religious or spiritual contours, this book might not have been the easiest sell at the publishers. How did that process play out?
One of the reasons I love Oni is that they never even thought that it would be an issue. They saw the book as worth doing because they loved the characters and the milieu first. It was a story they wanted to see told, and then, we're here.
The Life After is part of a new wave of Oni ongoings including Letter 44, Princes Ugg and your other book, The Bunker. The publisher isn't only about Wasteland and The Sixth Gun anymore when it comes to monthly books. What does it mean for you to be such a prominent part of this next breed of Oni titles?
When I was breaking into comics, Oni's output was a huge influence on me, from the Brian Wood stuff to the Andi Watson comics, and Scott Pilgrim of course. So getting to now be a part of that elite crew is a constant joy.
And, by the way, I've seen what else they have coming up, and it's going to be a BIG year for Oni. More and more, better and better. Yes, great stuff on the way.
Doing a book like this opens the door to your own views on religion, and in a broader sense, existentialism. Is that a conversation you're comfortable having, and getting asked about in interviews for everyone to read?
Well, I guess it's too late to say 'no.' I think the important thing is that it's just a story. I'm an atheist who spent a decent amount of time reading and studying world religion, but, at the core of me and this series, I only care about telling the most compelling story with the most challenging adventures for the heroes.
I care about love and faith and lot more than I care about making a point about religion.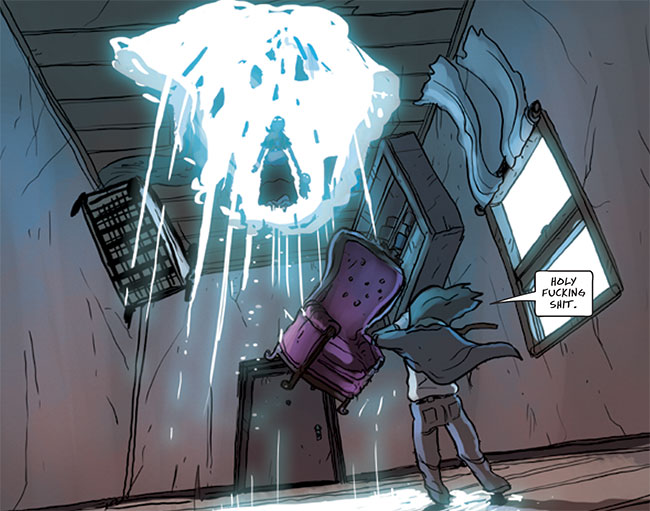 How does Jude end up in the afterlife, i.e. why does he end his life?
Well, that's the big question. He doesn't remember killing himself, and he doesn't remember having lived, so, the question we have to answer is, "Why is he here?" We might have a pretty good idea by the end of the first arc.
What does your afterlife look like?
My afterlife? I mean, what I think it is is nothing. What I hope it is is time with the people I love.
Is there a particular reason why your protagonist is called Jude? One could easily see a link to Judas, who should still be burning in a bottomless pit somewhere deep below.
More importantly, why would his parents have named him that, all things considered? You'll find out eventually.
One of the things that struck me is the people behind the scenes pulling the strings, orchestrating sunrises, traffic jams, etc., pretty much like The Truman Show. What's the deal here?
Ah, the office drones. They become a big part of the story. The bureaucracy was such a fascinating thing for me. The idea of managing an infinite number of people for an infinite amount of time seemed like such a huge challenge, that it only seemed logical that there had to be a team of people running the show.
But now, for them, the show is careening off the tracks now that Jude is awake, and it's going to be an unpleasant ride for all of them.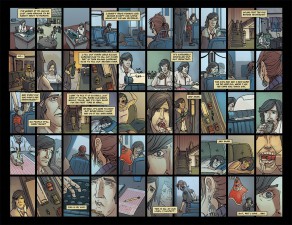 Issue one included a double-pager with an extremely dense 50-panel grid. Is this a book where you're experimenting with visual storytelling more than you've had room to do elsewhere perhaps?
I think it's just something that Gabo does naturally. He's an amazingly inventive storyteller, and finding ways to challenge each other is a lot of the fun that goes into making The Life After. Getting e-mails with different ideas or strange new layouts is one of the best parts of the book.
Gabo is a name readers of Image's Elephantmen will surely recognize. Were you on his trail because of his work on that title?
Elephantmen's creator Richard Starkings actually introduced us. Set us up, even. He thought we'd compliment each other, and he was right. Gabo and I fell hard for each other, and working together has been a dream come true. It's really just a great pairing. Thank you, Richard. [Laughs]
How did Hemingway become a part of the story? His life, especially at the end, was often mired in depression and anxiety. Is this his redemption play?
Definitely. There was no other character who could be Jude's sidekick, mostly because he thinks that Jude is HIS sidekick. Their relationship is constantly a blast to write, and getting to humanize such a huge icon of the 20th century is an amazing blast.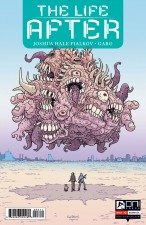 Issue #1 saw Jude land in the purgatory for suicides, getting helped up by Hemingway. How does Jude's adventure continue in #2, which is out now?
Well, the afterlife is a big sprawling thing, and, now that they know where they are, they have to figure out WHY they're there, and HOW to get out. And with Jude's 'powers' they have a lot of exploring to do. Plus, you get to see more on the inner workings of the men upstairs. So much fun ahead.
The first two issues of The Life After are available at your local comic book store. The third installment hits September 17. Also, do read Josh Fialkov's thought-provoking column about suicide and that of Robin Williams in particular.