Guillermo del Toro and the creators of True Detective have done much to bring Lovecraftian horror into the mainstream over the last several years. But while a generation of new adult fans has been discovering the thrills of decades-old weird fiction, one audience has gone under-served: middle-grade readers. Luckily, Matt Gardner and Rashad Doucet have remedied that with Alabaster Shadows.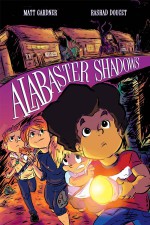 This unique graphic novel draws on familiar concepts and motifs from Lovecraft and his peers, especially the Cthulhu Mythos, without being a direct adaptation. Readers with even a passing interest in the topic will find references throughout, but Gardner and Doucet ensure that the material is more than just window dressing.
Alabaster Shadows works on many levels: as a homage to Lovecraft's world-building; as a sharp coming-of-age metaphor; and as an entertainingly paced, charmingly drawn adventure that's a perfect gift for reluctant readers.
The story opens as young Carter Normandy and his family leave their old lives behind for the manicured monotony of Alabaster Shadows – a seemingly nondescript suburb where the only visible differences are the house numbers. The menacing Miss Crowe heads up the town's governing Community Council, and she's less than thrilled by the arrival of Carter and his young sister.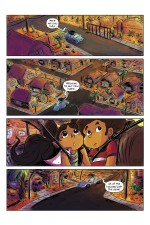 When Carter discovers a portal in his new home's basement, it's clear that something more mysterious is hiding in the deeper darkness of Alabaster Shadows. Of course, Carter's parents are unable to sense anything more than the usual apprehensions expected with any big move, so it's up to him to put things right. His search for answers brings him into league with a group of like-minded students at school, and face-to-face with wonders and terrors beyond imagining.
The Lovecraftian hallmarks of alienation and deepening unease are such a great fit for the familiar pains of growing up, it's almost a surprise that we don't see the pairing more often. In particular, adolescent readers (as well as older ones) should feel a certain recognition as Carter realizes the weaknesses of the adults in his life: his parents don't have all the answers, and the adults of Alabaster Shadows care more for his value than for his well-being. Gardner and Doucet are careful not to wallow in the existential malaise, though, using this realization as a springboard to help Carter discover his own self-confidence and worth.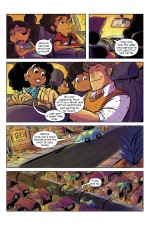 Doucet's sketchy art style adds an unexpected contrast to Gardner's carefully paced script. Although the animated caricatures will probably be familiar to an audience raised on Steven Universe and Gravity Falls, they're likely to disappoint purists looking for more classic scares. Instead, Doucet's easy linework and color washes add to the fun of the reading experience and help to reconcile cosmic concepts that might otherwise be "alien" (pun intended) to a younger audience: for instance, dream travel or moral relativism as it pertains to extra-dimensional civilizations.
Alabaster Shadows has all the hallmarks of a series opener, leaving plenty of dangling threads for future volumes. If Gardner and Doucet have the opportunity to return to this world, I imagine I'll be only one of many eager to see what comes next.
Matt Gardner (W), Rashad Doucet (A) • Oni Press, $12.99