Arrow executive producer Marc Guggenheim and Oni Press vet Justin Greenwood bring widescreen cinematic sensibilities to their rambunctious tale of freelance newshounds and adrenaline junkies racing through the streets of L.A. With its combination of super-charged action, accessible characters, and timely subject matter, this amped-up glimpse from behind the lens has media crossover written all over it.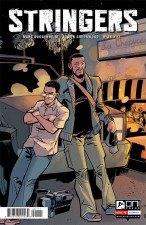 All you have to do is take a look around yourself the next time you're on public transport or walking down the street. We're all addicted to our media.
Whether it's social media newsfeeds, online newspapers, or our favorite blogger, we all have a monster to feed. And if it ain't trending, it's old news, and therefore little more than white noise. Fresher is always better in the digital age.
With more people lost to online media every day, traditional news providers in print and on the air are quickly becoming obsolete. The only way they are able to stay ahead of the lightning speed at which the Internet moves information is to be the first ones to possess the information.
This week, Arrow executive producer Marc Guggenheim (Resurrection) returns to creator-owned comics – and Oni Press – with a boisterous five-part limited series that thrusts readers behind the lens, following freelance newshounds haphazardly navigating the wide, dangerous boulevards of Los Angeles. Although blatantly exaggerated for dramatic and comedic effect, Guggenheim's treatment of his material has the ring of truth to it – a kernel he exploded into a big piece of delicious, fluffy popcorn.
Enter protagonists Nick and Paul, a pair of struggling L.A. stringers living from story to story in one of the most competitive fields around. Piloting a rickety old "rig" straight out of Fall Guy, the freelancers cruise the streets, on the look-out for dynamic, broadcast-worthy stories. When they stumble upon a "balls-out chase at 90 mph", all hell breaks loose as the creative team stomps on the accelerator.
The newshounds do the only thing they can and film the violent running gun battle between police and a heavily-armed gang. The situation quickly escalates, and suddenly Nick and Paul are swallowed by the very story they were chasing.
Overall, the tone and pacing of this first issue evoke classic action movies from the 1980s and 1990s – and I mean that in the most positive way possible. Guggenheim establishes both immediately, showcasing his talent for snappy, rhythmic dialogue and character development, in the interplay between his two protagonists. Much of their banter occurs on the road, neatly introducing the hook.
Nick and Paul's "odd couple" partnership is reminiscent of Lethal Weapon's iconic duo, Riggs and Murtaugh. We learn a lot about each character by how the other reacts to their actions, imparting a sense of depth to their personalities. Overall, despite some pretty high stakes, the interaction between the protagonists keeps the book's tone light-hearted, even as the ante continues to rise.
The art of Justin Greenwood (Stumptown) has a bit of a cartoony quality that I've always liked – an expressiveness and fluidity that make him a great match for Guggenheim's character-driven, action-packed script. He draws with clarity and a keen understanding of how to maximize the dimensions of the comics pages to create kinetically-charged scenes with discernible depth and scope.
There is a definitive sense of perpetual motion, of velocity, driving the visual storytelling onward, especially during the script's extended action sequences. The result is a fun, breathless quality to the final product, in perfect keeping with the subject matter.
In Stringers, Guggenheim and Greenwood give readers a rare chance to stand behind the camera, all the while poking fun at our insatiable hunger for the very latest in news, current events, and gossip. Never taking themselves or their material too seriously, they nonetheless craft a smart, funny action-comedy romp that wouldn't be out of place on the big screen.
Marc Guggenheim (W), Justin Greenwood (A) • Oni Press, $3.99