Excellent news for anyone with access to Comics Plus through their schools or universities. The LibraryPass platform will now be hosting publisher Oni Press's digital catalogue which includes such vitally important books as Maia Kobabe's Gender Queer and pop cultural phenomenon Scott Pilgrim. More in the press release below.
LibraryPass and Oni Press Announce Digital Access for Libraries and Schools Through Comics Plus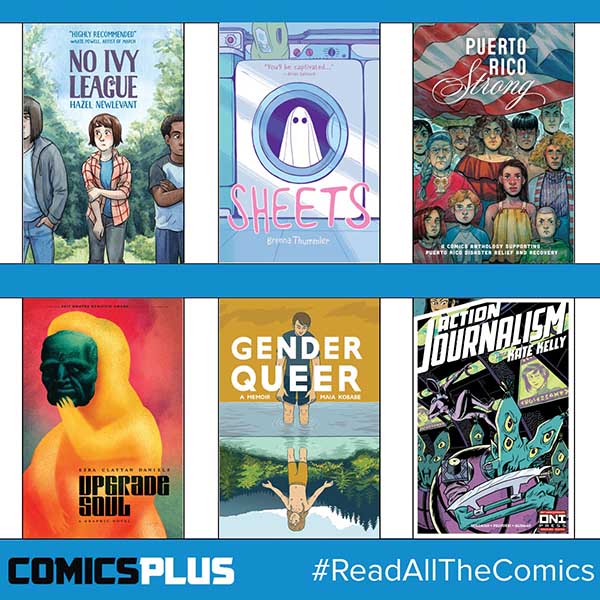 LibraryPass welcomes the acclaimed publisher to Comics Plus, offering libraries and schools  unlimited simultaneous access to their full digital catalog. 
LibraryPass, Inc. has announced a distribution agreement with Oni Press to make its digital catalog available to libraries and schools  through Comics Plus, consolidating the existing backlist titles from Lion Forge Comics under one banner. With Comics Plus, readers can access thousands of digital comics,  graphic novels, and manga through their school or library, with unlimited simultaneous  access for online and offline reading.
"We're honored to be expanding our diverse collection to include all of Oni's excellent  backlist and are looking forward to the many exciting releases they have coming out in  the near future," said Guy LeCharles Gonzalez, Chief Content Officer at LibraryPass.
"Oni Press is proud to partner with LibraryPass and Comics Plus who are doing amazing  work in one of the most important areas of book publishing: educational and public  libraries," said Spencer Simpson, VP of Sales at Oni Press, "We've seen firsthand the  power of bringing graphic storytelling to students and patrons alike and we're excited to  share our full catalog of published works through Comics Plus, from classics such as Tea  Dragon Society, Mooncakes, and The Sixth Gun along with upcoming releases such as  The Happy Shop, Covenant, and Hobtown Mystery Stories."
Founded in 1997, Oni Press has a 25-year history as one of the industry's most respected  and acclaimed publishers of award-winning comic books and graphic novels with titles  including Bryan Lee O'Malley's Scott Pilgrim, K. O'Neill's Tea Dragon Society, Cullen Bunn  & Brian Hurtt's The Sixth Gun, Maia Kobabe's Gender Queer, Ezra Claytan Daniels'  Upgrade Soul, Brenna Thummler's Sheets trilogy, and many hundreds more. In 2019, Oni  Press merged with Lion Forge Comics – the Eisner Award-winning independent comic  book publisher founded by Academy Award-winning producer and entrepreneur David  Steward II – to create one of the largest, independent libraries of comics content anywhere  in media. The Oni-Lion Forge Publishing Group now exists as a publishing subsidiary of  Steward's diversified global media company, Polarity.
The Oni-Lion Forge Publishing Group publishes more than 60 original and licensed graphic  novels annually, in addition to an extensive list of periodical comics. Many notable titles  from Oni Press are already available on Comics Plus, like Action Journalism, Gender  Queer, No Ivy League, Puerto Rico Strong, Sheets, and Upgrade Soul, with more to be  added in the months ahead, including the complete Scott Pilgrim.
For more information about Comics Plus, sign up for a FREE demo at comicsplusapp.com, follow us on LinkedIn, or contact us at info@librarypass.com.