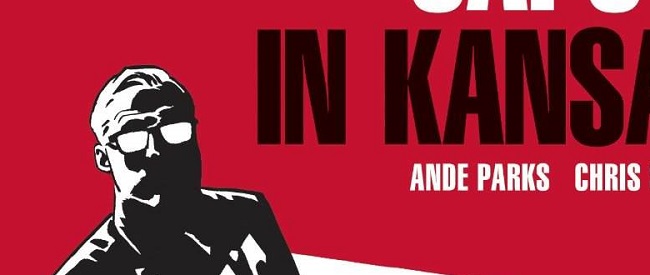 Parks' and Samnee's graphic novel examines the story behind the story, crafting a startlingly beautiful narrative rooted in the most horrific of tragedies.
Oni Press finally deliver a long-awaited hardcover reissue of their 2005 graphic novel Capote in Kansas, a piece of historical fiction centered around true crime author Truman Capote's trip to a Midwest town in search of material for his next book.
As subject matter, Capote has chosen the recent grisly murders of Herbert Clutter, his wife Bonnie, and their two children, Nancy and Kenyon, at their family farm in Holcomb, Kansas. Taking a sabbatical from his public life as one of the literary elite of the New York publishing scene, the writer sets out on a research trip to the small town. This graphic novel is a fictionalized account of Capote's visit, following him as he pieces together his account of the killings and their aftermath, later to become immortalized as the widely influential 1966 non-fiction novel In Cold Blood (adapted four times for the screen).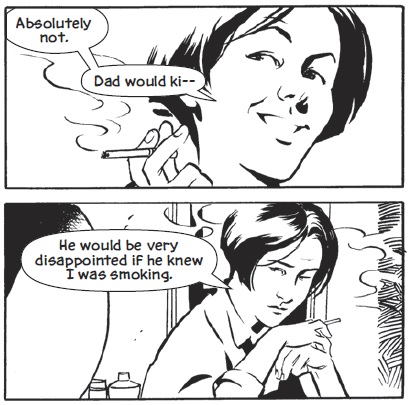 In an unexpected twist for an otherwise grounded and realistic comic, the author is joined in his investigation by none other than the ghost of the Clutters' 16-year-old daughter Nancy. Though his interactions with the town's residents at times vary between confrontational and downright adversarial, Capote and the departed teenager come to confide in each other.
In fact, Nancy Clutter's post-mortem role as Capote's friend and confidant serves a vital function, reflecting the conflicted feelings held by both the townspeople of Holcomb and Capote over his book. Is it better to let the story of the Clutters be buried along with them, or to risk glorifying their deaths in the name of popular entertainment by bringing their tale, and that of their two killers, to a larger audience? Can the "terror in a tiny town" sensationalism of big city journalism ever take precedence over concern for the dead's privacy? This more than anything else is the question Capote grapples with, in conversation with Nancy, with his friend and companion Nelle Harper Lee, the then-unpublished author of To Kill a Mockingbird, and with his lover Jack Dunphy.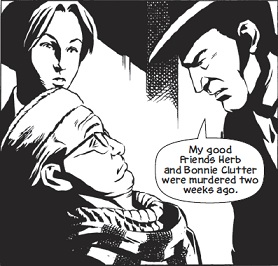 Certainly the most striking aspect of this book is the simultaneously subdued and vibrant black-and-white art of Chris Samnee (Daredevil, Captain America & Bucky). Delivered entirely without the benefit of greytones, Samnee's illustrations are none the worse for it, conveying both the emotions of the characters and the tone of scenes surprisingly well. The art has a casual look, streamlined in its simplicity, perfectly complementing a well-written and superbly paced story.
Writer Ande Parks (Union Station, Green Arrow) has done an admirable job of portraying Capote as a generally sympathetic, if occasionally arrogant and not altogether likeable character. The dialogue is free-flowing and believable, and while the "ghost" scenes may seem a little offbeat to some readers, they are in a way the most introspective and insightful scenes of the book, fleshing out Capote's perception of himself, the Clutters, and the men who murdered them. Even apart from the story, though, Samnee's art alone is more than worth this graphic novel's cover price.
Ande Parks (W), Chris Samnee (A) • Oni Press, $19.99, July 31, 2013.