The special Centenary Edition of International Aces is a beautiful white boxed set of 4 volumes, each chronicling the lives of different flying aces from World War I; 14 in total.  Chris Geary has meticulously researched these stories as well as the visual aspects of the relevant magnificent men and their flying machines, so there is an element of historical documentary to the work. But humanity sings from each tale too, with moments of pathos as frequent as the dramatic air battles and, indeed, moments of humour. This style of slightly detached but deeply personal storytelling is unobtrusively engrossing and at times very moving. Geary's style is delicate in the line-work and ambitiously varied in the layouts with some really stunning spreads of both air fights and quieter moments. He has managed to mix a consistent feel in the characterisation with a different visual approach to the pages and battles in each story.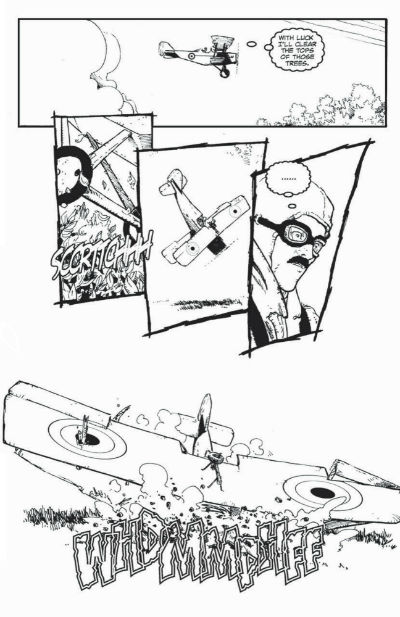 The stories featuring Australian pilot Little and Belgian ace Coppens are particularly exciting with bold black and white compositions. The technological development of the aircraft during this period is astonishing (nothing so good for scientific research as war) aviation being in its infancy and nowhere near the levels of those that became so deadly in WWII. We see the international aces progress from firing pistols at each other mid-air through a dazzling variety of different cartoon sound effect-producing hardware; from BUDDA BUDDA BUDDA to SPKK SPKK SPKK, the inner small child with the toy gun is fully phonically satisfied here and classic aircraft criss-cross the pages to great dramatic effect, only to come crashing down to earth with each understated tragic epilogue.
A Flying Ace is a military aviator who has achieved a certain number of 'victories' i.e. shot down a certain number of enemy planes. The thresholds for Acedom and what counts as a victory have not always been consistently defined, but for the purpose of International Aces the qualification for featuring in this 4-volume series of real life stories is to have chalked up the highest number of any pilot from your nation of birth in the First World War. From Von Richthofen's astonishing 80 for Germany, to Indra Lal 'Laddie' Roy of India's 10 victories, this system of story selection is not designed to give an overview of the military movements or key moments of the Great War.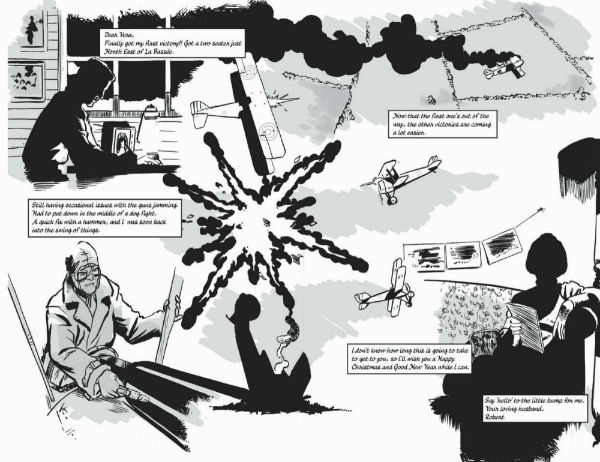 As a fairly arbitrary selection process it both does and does not provide a balanced view. The aim to represent as many nations as possible does give a pleasantly broad spectrum of characters, but not perhaps a sense of the balance between the Allied and Central Powers as the fifty odd German pilots that took down more than twenty planes during the conflict certainly did their share of damage. Whether or not the choice of stories was optimal, they are a complementary set which do show a subtle range of perspectives, from the somewhat jingoistic to the openly pacifist. Using a mathematical rule to decide which pilots to include does legitimise any claims or aims of neutrality which will frustrate anyone looking for a clear-cut stance on one side or the other over war in general.
We know that the relationship between comics and genre is more fraught than perhaps any other narrative medium's, but, while journalists continue to act surprised that anyone is making comics about anything other than tights and capes, other genres of comics that once rivalled the supers in popularity often get forgotten. When Roy Lichtenstein ripped off Irv Novick and Jerry Grandenetti in 1963, amalgamating their work into what is arguably one of the most iconic comic book images in cultural consciousness (I'm speaking of course of Whaam!) he wasn't plucking niche images from a small sub-genre, war comics were big business through much of the 20th century in the US and UK. I mean, so says my Wikipedia research and I claim no expertise, but I hope it's not too much of a stretch to speculate that our relationship with war comics is both connected to our relationship with war itself and our ideas for what genres are appropriate for our favourite medium.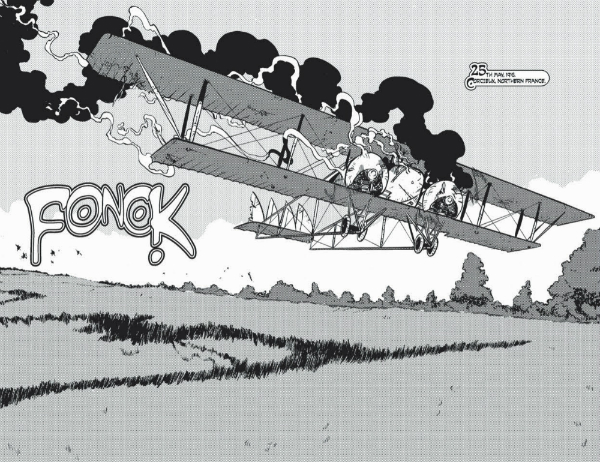 How do we feel about war these days? Well, it's pretty complicated I would say, and like a lot of things now pretty divided. The Centenary of the war has seen a lot of people tackle the subject, whether subtly or cynically cashing in on the historical connection over the last four years. At its worst it's been lies and schmaltz and at its best honestly moving, looking at that truly horrific waste of life from the human perspective. War comics over the last hundred years have tackled the topic from both sides of the debate too, many of them glamourising the heroism of soldiers while others have revelled in the gore and the horror of war. This collection does neither.
While WWI air battles lack some of the visceral grimness that was more typified in the trenches (see Pat Mills' Charley's War for a graphic take on this and other themes – there's a new edition coming out in April from Rebellion) and the focus on accomplished pilots may make us forget that more died during training than in battle, and that those that made it to 5 or more victories were celebrated exactly because they were very much the exception to the rule. Each man here is a hero for sure, in a war that the perspective of history still paints a massive waste with no side deserving the title of good guys.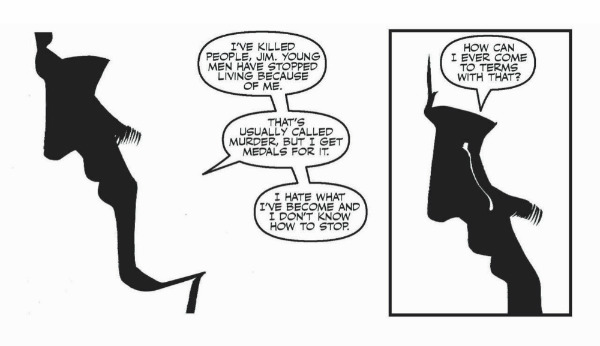 Geary does not shy from reporting the less favourable accounts his research has shown up. Fonck, France's greatest ace for example, is said to be "annoying and a bit of a bore"; Brumowski of Austro-Hungary arrogantly burns through new aeroplanes, narrowly escaping death twice to hop burning from the wreckage and declare "ow ow ow ow ow… might have to stop painting my planes red"; while a single tear slides gracefully down English Mannock's heroic lantern jaw and he wonders how he can ever come to terms with the celebrated murderer he has become. Each man here is a human, and that is no mean feat.
The deluxe centenary edition box set is available here while stocks last, and you can also pick up the individual volumes for just £6 a pop.
Chris Geary (W/A) • Self-published, £6.00 (individual volumes), £20.00 (Volumes 1-4 set), £45.00