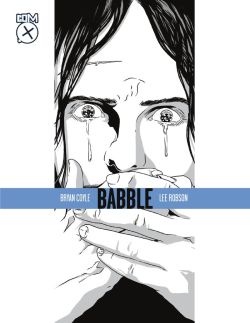 Com.x are a publisher whose output we've looked very favourably on here at Broken Frontier in the past. Their eclectic comics approach always covered a diverse range of genres, from the underground comix vibe of John Lupo Avanti's Monster Myths to the poignant autobiographical account of living with cancer in Ross Mackintosh's Seeds, through to Andi Ewington's distinctly different take on the super-hero world in 45.
So it's very pleasing to hear that the tense sci-fi thriller Babble by Lee Robson and Bryan Coyle has gained a 2013 Russ Manning Promising Newcomer Award nomination for Coyle. Congratulations to Bryan, and Com.x, and of course to the other nominees who include Rem Broo (The End Times of Bram and Ben/Image Comics), Craig Cermak (Voltron, Year One/Dynamite), Paul Roman Martinez (The Adventures of the 19XX) and Russell Roehling (Wasteland/Oni). The winner will be announced at the Eisner Awards in July at the San Diego Comic Con.
For more on Babble check out our interview with Lee Robson and Bryan Coyle here, the Broken Frontier review here and our image gallery here.