Taut, gut-wrenching horror with a lurking malignancy at its core.
Set in Jamaica in the summer of 1978, Casey Seijas and Amancay Nahuelpan's Duppy '78 is a sprawling tale of gang-related crime with an overt and brutal horror element running through it. It follows the complex relationship between three ruling ganglords – the violent Johnny "Too Bad", the more laidback Martin Isaac and the collected Mr. Mansfield – each of whom has in their control a supernatural ace-in-the-hole that backs up their individual power base.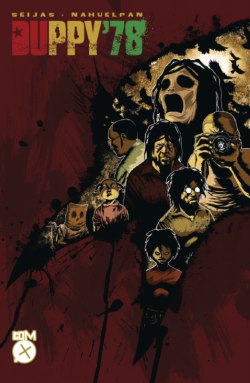 Three children are the source of this authority. Isaac's brother Santa has been able to see the spirits of the dead since early childhood. The wheelchair-bound Judah was given to Too Bad by his grandfather to write off his debts. And Mansfield's daughter Elena gained paranormal abilities after witnessing her mother's murder. This trio are "Obeahmen" or "Duppy Conquerors" able to manipulate and command the Duppy – spirits of the dead in Rastafarian culture.
When one of these crime bosses meets an early end, however, a power vacuum opens and the remaining gangsters look to consolidate their positions. With the Obeahmen now beginning to rebel against their guardians, though, sinister forces from another plane of existence begin to make their presence known in Kingston in a most dramatic fashion…
Drawing from a period of documented political unrest in Jamaica in the late '70s writer Casey Seijas sets his haunting tale against a backdrop of internecine turmoil and gangland traditions. Carefully researched, Duppy '78 comes with its own glossary of slang terms for the uninitiated adding to its palpable sense of meticulous period authenticity. Seijas also exploits one of the great staples of horror fiction in this book – the youngster with unnatural abilities – to eerie effect. There's always something about the linking of children and the supernatural that is particularly chilling; that contrast of the sinister and the innocent being so unsettling in its incongruity.
An additional disquieting layer exists in that these kids are being used as commodities not just by overtly unpleasant cast members but also by those who profess to care about them; genuine familial bonds may exist  in some cases yet they're still being exploited. In that respect, Duppy '78 is as much a twisted and darkly choreographed coming-of-age story as it is a horror thriller.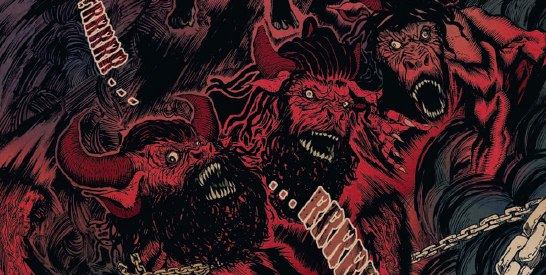 Amancay Nahuelpan's visuals echo the work of a number of accomplished predecessors in the horror genre in comics. There are hints of Bissette and Totleben on Swamp Thing, of Berni Wrightson and Tom Mandrake in his page compositions that are strangely simultaneously distorted and yet grounded in a grim reality. Macabre and visceral, his depiction of something "other" seeping into the claustrophobic city environs of Jamaica is unnerving indeed. Daniel Warner's colouring needs a special mention. Subdued yet expressive, it's integral in building up that air of stifling tension that is such a central part of the book's atmosphere as it works towards its explosive finale.
Duppy '78 is currently available only as a digital comic which, with all due respect to those who enjoy their comics in that format, is something of a shame. This book certainly deserves a physical collection as well. A wild, unruly ride into a hallucinatory urban shadowland, Duppy '78 will take you back to the pre-Vertigo days of Alan Moore's Swamp Thing and Jamie Delano's Hellblazer. Taut, gut-wrenching horror with a lurking malignancy at its core, it once again underlines the ever unpredictable nature of the Com.x publishing philosophy.
Casey Seijas (W), Amancay Nahuelpan (A) • Com.x, available here on Comixology priced $4.99