COMIC CON EXPRESS, the travelling version of  Comic Con India will be held in  HYDERABAD in September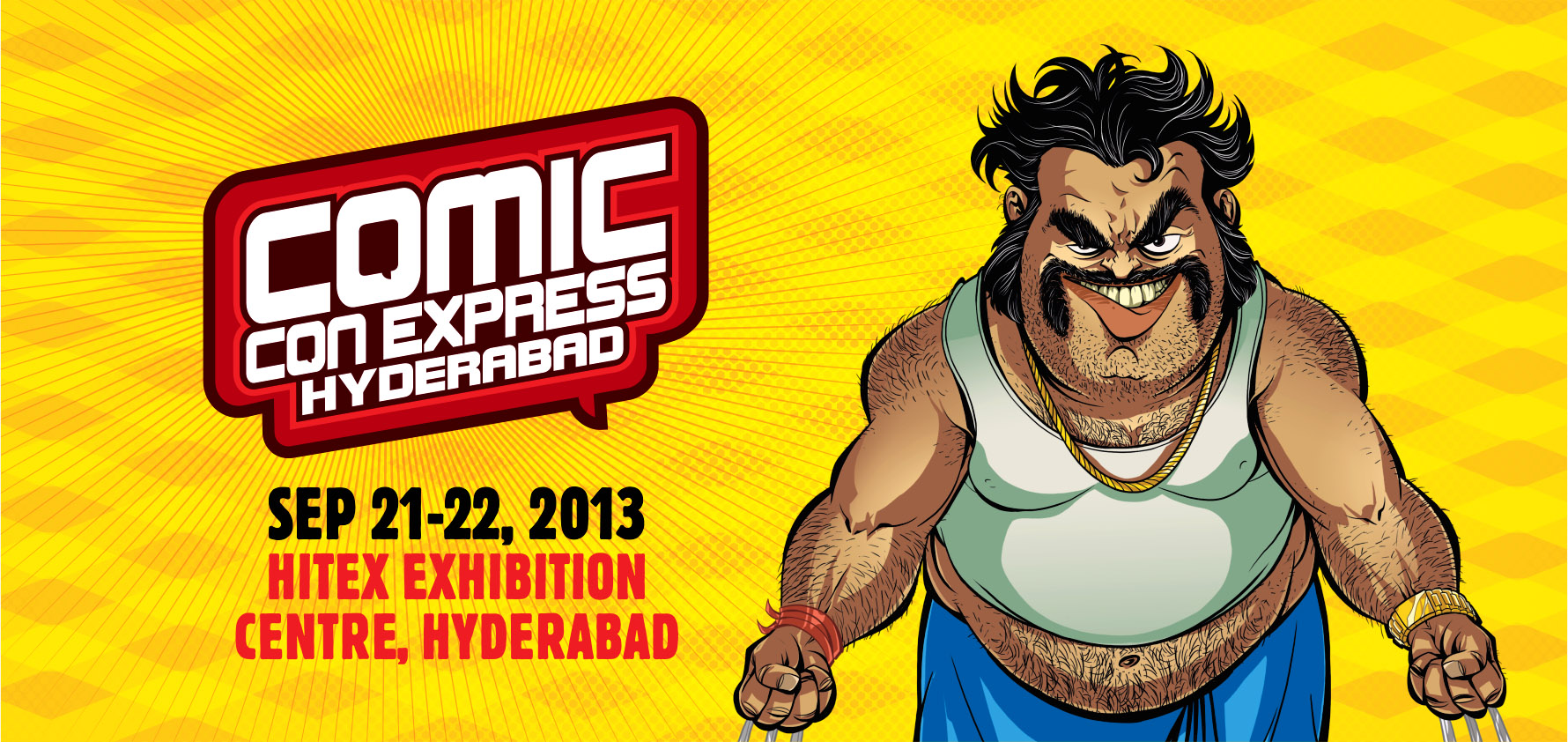 Highlights
    Costume Play: Kids and adults can come dressed as their favourite comic, superhero, gaming characters. Prizes to be Won!!!
  Workshops: with creators,artists and writers of popular comics and graphic novels.
    Book launches: New titles to be launched!
Merchandise from all over the world: Lots and lots of merchandise!Pick up some awesome Merchandise, T-shirts, Mugs, Toys, Posters, Cushions etc, the list is endless!!
Sessions: With Leading writers and Artists in the country.
International:Exhibitors bringing International content!
Comic Con India is pleased to announce that the travelling version of the national Indian Comics Convention, Comic Con Express is going to a new city yet again this year; the City of Nizams-Hyderabad. Comic Con Express Hyderabad will take place over the weekend of September 21-22 at HITEX Exhibition Center, Hyderabad.
The express version was started with the aim of taking the comics convention to cities throughout India to support and boost the comics industry by local interaction and participation. With the enormous response Comic Con India is receiving across cities, it is all set to entice audience in Hyderabad this year.This will be the third express tour but first for Hyderabad. The earlier two express versions in Mumbai (2011) and Bangalore (2012) have been converted into annual events, as the response has been remarkable
Jatin Varma, Founder, Comic Con India, shared, "Over the past 3 years we have expanded to 3 cities and this year we have decided to add another stop to our tour! We are glad to announce that we are taking Comic Con to Hyderabad in September and as our tradition goes, the first event in any new city is deemed Comic Con Express
Jatin explains, "The reason to go to Hyderabad is simple – Fans! We have been bombarded with messages since our inception to come to Hyderabad and it was inevitable we come there for our fans. After the overwhelming response from Mumbai and Bangalore expresses, we are looking forward to a tremendous response from Hyderabad"
Comic Con India is planning a slew of fun filled and interactive activities. They range from participation from artists and publishers, workshops and interactive sessions every hour at the dedicated stage area to exclusive launches of Comic titles, book signings, display and sale of a wide range of  comics and merchandise, special corners for creating comics and cartoons, contests and lots more.
Cosplay(costume contest),one of the major attractions at Comic Con India, will be more appealing than ever! Comic Con India will continue to give assured prizes to everyone in costume, but now there are 5 categories that have been created to increase one's chances of winning gifts.Each day, one winner will be chosen from each of five categories:
1. Comic book/graphic novel
2.Animated Series/Movie
3. Manga/Anime
4. Sci-Fi/Fantasy
5. Gaming
Both days, One lucky winner out of the chosen 5 will get the awesome chance to WIN a GOLDEN TICKET to An Amazing Destination!!
There is going to be special sessions with the leading artists and writers in the country, International Exhibitors and lots more.
The main participants of the Comic Con Express Hyderabad are Amar Chitra Katha,  Campfire Graphic Novels, Scholastic India, DC Comics by Random House, HarperCollins India, Pop Culture Publishing, Holy Cow Entertainment, Mario Miranda Gallery, Level 10 Studio, Chariot Comicsand Green Gold Animation – Chotta Bheem Comics.
Comic Con India is a unique event celebrating the illustrated medium, which brings together the whole comics industry and related fields such as Merchandise, Toys, Games, Films and Animation, along with fans of this culture from all age groups. Now, after years, the comics' community in India has a platform where they can meet and interact.