One of the great joys of London's Comica Festival is the opportunity it affords for discovering international creators and work that would possibly otherwise pass us by. At the opening night of this year's festival at the Free Word Centre's Reframe exhibition I had the pleasure of meeting creators Murat Mıhçıoğlu and Cem Özüduru (below right, pictured by their exhibits) whose comics were on display as part of the Turkish contributions on show.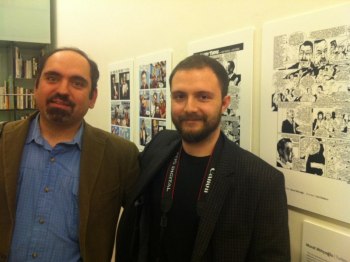 To give some context, the Reframe exhibition's objective is to present "pioneering artists from three contrasting countries who will create Reframe, an innovative exhibition of new work exploring our contemporary attitudes to Europe. Bringing together new voices from Turkey, Algeria and the UK, Reframe invites nine emerging comics artists to use their distinctive styles and viewpoints to 'reframe' perspectives through a series of new graphic short stories that examine the cultural, social and political dynamics between Europe and each of the participating countries."
An intriguing and insightful showcase into how Europe as an entity and a concept is perceived from a variety of perspectives, Reframe runs at the Free Word Centre until 22 November and includes work from Sofiane Belaskri, Mahmoud Benameur and Soumeya Ouarezki from Algeria; Naz Tansel, Murat Mıhçıoğlu and Cem Özüduru from Turkey; and Hannah Berry, Ilya and Daniel Locke from the UK.
Murat has been kind enough to share those exhibition strips he co-created with Cem Özüduru and Naz Tansel with the Broken Frontier readership which are presented below alongside a history of his Studio Rodeo outfit.
The Origins, History and Nature of Studio Rodeo
Studio Rodeo was founded in Istanbul in the beginning of 2006 as a production department related to the monthly Rodeo Strip magazine.The founder of the studio, Murat Mıhçıoğlu, was the publisher and editor of the magazine and there was a search for creating authentic content that reflected the spirit of the publishing company, Rodeo.
The Chained Roamer by Murat Mıhçıoğlu and Cem Özüduru
Names like Cem Özüduru, Murat Kalkavan, Bahadir Baris Ozsoy and Caner Atakul were the first to contribute to the efforts under the brand Studio Rodeo. Later, as Rodeo switched from periodical publications to a series of authentic graphic novels, the studio became more and more of a network under the same editor.
The very first works of Studio Rodeo to be published in the USA were the short zombie stories by the team of Murat Mıhçıoğlu, Ergun Gunduz, Cem Özüduru and Yalcin Didman. They were presented in issues of Zombie Bomb published by Terminal Press.With the publication of Studio Rodeo Comic Book Annual 2011, a.k.a. Totem, such European creators like Roberto Diso began to show up in Studio Rodeo production.
Angry Turks by Murat Mıhçıoğlu and Cem Özüduru
And in 2012, the joint effort of several artists of fame from different continents were presented under the title Ciztanbul (which stands for Comicstanbul). The book, being also a follow-up to the previous annual, featured stories and art by Charles Vess, Dany, Roberto Diso, Aleksandar Sotirovski, Zograf and others.Two books by the young Cem Özüduru, Zombistan and The Breeze of Dawn were also edited under Studio Rodeo and were published by Rodeo in 2009 and 2013.
Studio Rodeo produced comic book and advertorial content also for the Turkish edition of FHM and some other publications and projects. In March 2013, Ivo Milazzo paid a visit to Turkey as the first guest of Studio Rodeo's Activities on Graphic Literature, a line of special events that will continue in parallel to the productions and projects of Studio Rodeo.
Tricky, Icky, Sticky Treat by Murat Mıhçıoğlu and Naz Tansel
The collaboration between Studio Rodeo and Deffter, an emerging Turkish company manufacturing sketchbooks and notebooks, resulted in 8 different sketchbooks that also served as the basis for a contest. The international jury consisted of Diso, Dany, Milazzo and Vess, each of whom had contributed to Studio Rodeo.
Today, the line of work associated to Studio Rodeo also includes some short animation along with comic book production, illustration and graphic literature studies and workshops. Murat Mıhçıoğlu, Bahadir Baris Ozsoy and Cem Özüduru sort of form the core of the studio as collaborators from various backgrounds and locations show up on occasion.
Comica Festival continues until November 16 and the Reframe Exhibition is at the Free Word Centre until November 22nd.