A COMICA FESTIVAL TIE-IN!
Comica Festival returns to London this month with its traditional autumn programme of events celebrating the diversity of approach to comics craft, art and form. First debuting in 2003 at the Institute of Contemporary Arts, Comica has evolved into a year-round institution over the course of its decade-plus existence. The festival's philosophy of offering a "mind-broadening perspective" on the medium being one that very much mirrors Broken Frontier's own mission statement. That shared dedication – to not just champion the work of the most renowned practitioners in the field but to also open up our mutual audience's eyes to remarkable comics material that they have yet to chance upon – will see Broken Frontier supporting the work of Comica over the next few weeks with a series of associated interviews, reviews, profiles and articles. Not to mention our own involvement in the Comica Conversation on cult comics with ILYA, Carol Swain, Rob Davis and Paul B. Rainey at Foyles on November 7th.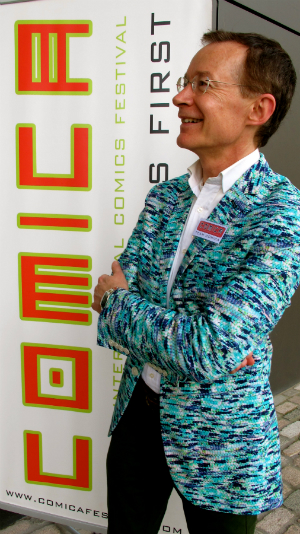 Today, I'm talking to 'The Man at the Crossroads' himself, Paul Gravett (right, photo © Richard Graham), Comica Festival co-director, writer, journalist, broadcaster and curator. From co-founding Escape magazine in the '80s to his numerous books on the medium, the importance of Paul's role as a commentator, activist, and evangelist for all things sequential art cannot be overstated. Join us as we chat about eleven years of Comica, the comics luminaries who have graced its many programmes, and just what we can expect from 2014's exciting line-up…
BROKEN FRONTIER: There's a saying often attributed to Stan Lee about every comic being someone's first that underlines the importance of ensuring no part of a potential audience is left in the dark. In that spirit, and although no doubt most people reading this will know all about the personalities involved, can we begin with an introduction to the Comica team itself?
PAUL GRAVETT: Team Comica is a not-for-profit enterprise promoting appreciation of and involvement with international comics art in all its forms. My Escape co-founder and partner Peter Stanbury and myself are the co-directors with vital back-up from a few freelancers and from the wonderful Team Comica volunteers.
Comica Festival is over a decade old now and what was once a dedicated period of programming towards the tail-end of the year has evolved into a year-long celebration of every aspect of the form. Could you let us into the secret origin of Comica and the extent to which it has expanded over the years?
Comica began as a pilot at the Institute of Contemporary Arts (ICA) on The Mall in London, just down the road from Buckingham Palace, in summer 2003. John Harris Dunning was the man on the inside, bending the skeptical ear of ICA director Philip Dodd. They had a gap in their programming due to building works and gallery refurbishment, so John and I got the chance to try the festival and programme across all their departments (a bit of a first for the ICA) – so film, music, gallery, bar, talks for a weekend, week, weekend, so about ten days. Thanks to my good relations with international comics festivals and creators, we managed to get Chris Ware, Charles Burns and Joe Sacco to come to London before heading on to another festival.
To have these 3 superstars at relatively low cost for Comica's first year was astonishing and brought lots of people. We also invited Sophie Crumb, Robert and Aline Crumb's daughter, from Paris and Frédéric Boilet, a Frenchman making 'nouvelle manga' in Tokyo. And Daniel Johnston, artist and musician. Comica brought in big audiences, the bookshop sold loads of graphic novels, and the ICA noticed! I remember Sacco got interviewed on Channel 4 News and Comica and the ICA were mentioned. The next morning Philip Dodd rang me to say how well it was going and he'd be open to doing another next year.
Panels at this summer's British Library Comica Conversations weekend – 'New Voices, New Directions' (left) and the conversation on comics and censorship (right). Photos courtesy of Dean Simons.
The big step in Comica's growth was moving on from the ICA after Dodd, Dunning and a key collaborator, Jennifer Thatcher in their Talks department, all left. It was high time to move on and set it up as its own independent enterprise. This would not have been possible without invaluable help from Peter Stanbury and for an important period of growth from Megan Donnolley. During this stage, our Comica Comikets, a free independent comics market, could finally expand beyond the confines of the ICA, expanding to the Bishopsgate Institute and now Central Saint Martins, with specials such as our recent British Library version.
For those who are perhaps discovering the festival for the first time through this interview can you give us a rundown of the type of events that it has hosted in its lifetime – from those with a traditional format to those of a more unconventional nature! And of all the hundreds of panels, interviews and featured guests to fall under the festival's spotlight since its inception in 2003 what have been some of your personal Comica highlights in that time? 
So many highlights really, but Art Spiegelman setting off the ICA Cinema's fire alarm with his cigarette smoke while talking with Philip Pullman was memorable. Again reuniting three underground legends was a buzz: Spiegelman, Shelton and Spain (sadly no longer with us). Clowes and Ware was also amazing, both in London but also in Brighton, which required a mad taxi ride due to an accident on the railway. We arrived 30 minutes late at the packed Corn Exchange but the audience had been plied with free drinks so everyone was very mellow and merry.
The Unmasks Corruption collection from 2009's Comica and Karrie Fransman and Hunt Emerson's art adorning two of the Foyles billboard comic strips in 2013
Lingua Comica in 2007 was very exciting, funded by the Asia-Europe Foundation to bring over seven Asian and seven European young comics creators and pairing them up on collaborative projects. While they were over, we sorted a packed programme of activities and guest tutors like Igort from Italy, Titus Ackerman from Germany and Sarnath Banerjee from India and Gerald Gorridge from France, plus many other guests. In following years, Lingua Comica went on to Kyoto, Japan and Bucheon, Korea and Singapore, and resulted in several comics anthologies and genuine cultural exchanges and international friendships.
Another coup was in 2006 when the whole issue of The Independent on Sunday's Review magazine focussed on comics – there was not one photo in any of the editorial and all the sections, even the gardening or motoring, had a comics/cartoon element to them. A first! I'm also really pleased about the 2009 anthology organised with Comica and the charity Ctrl Alt Shift, entitled Unmasks Corruption. A great British and international line-up of collaborators and a powerful exhibition at Lazarides Soho to go with it. Our partnership with Foyles has also been really fruitful including Comica's billboard comics art exhibition about the iconic bookshop's history that lined Charing Cross Road for months.
Festival guests ILYA, Darryl Cunningham and Emily Carroll will all be on Comica panels discussing their recent projects above
One of the aspects of Comica that has always appealed to me as a punter is that not only has it given me the opportunity to see some truly groundbreaking practitioners of the form in conversation – Spiegelman, Sacco and Crumb to name just a few – but also the chance to discover the work of artists I may not have been that familiar with at the time – Anke Feuchtenberger, Willy Linthout and Reinhard Kleist all spring to mind. How integral a part of Comica's philosophy is that idea of not just celebrating the recognised and the renowned but also promoting those talents deserving of a much wider audience?
This is one of Comica's core philosophies. If you are really interested in what comics can do, they cannot be limited to one character, one franchise, one company, one style or type. Comics are not British, or Anglo-American, or English-language, they are truly international and transnational. From the outset we've championed this mind-broadening perspective. There's a more global vision of comics today, I'm glad to say, but the big two U.S. global media corporations, Disney and Time Warner AOL, would dearly like to dominate public awareness and media coverage of comics with only their messages.
Luckily, in this internet age, it's easy to blot out the hype and explore for yourself. One of the nicest things anyone said to me was 'I like everything Comica'. This lady said she might not know anything about a comics artist we were presenting, but she could trust us to find fascinating and inspiring creators every time. To bring geniuses like Craig Thompson, Shaun Tan, James Jean, Carlos Nine and Amruta Patil to London is a buzz. There's an abundance out there and of course on our doorstep too.
http://www.youtube.com/watch?v=-EOqqDoQvyA
Ellen Lindner, Garen Ewing and Paul Grist at the 2010 Comica Comiket Drawing Parade
How successful over the years do you feel the festival has been in bringing comics to that all-important target group – that section of the public who traditionally have shunned the medium altogether?
All the signs that we are doing this are good. When we used to run the free Comikets at The Bishopsgate Institute near Smithfield Market and Liverpool Street, we would get the general public coming in, attracted by the Drawing Parade. I remember talking to several people who were obviously a bit puzzled but intrigued, so I welcomed them and explained a bit. Later in the day, they came up to me and said how much they'd enjoyed it and were amazed at how much more to comics there is than they had believed. One way to broaden the audience for comics is to appeal to people with fascinating subjects and stories which just happen to be told using this medium – like Logicomix, making the debates about logic accessible, or of course Marjane Satrapi's Persepolis helping us understand Iran and Islam.

The mapped-out narrative structure of the Potential Comics exhibition that was part of the very first Comica Festival along the wall of the Concourse Gallery at the ICA. This distinctively interactive reading experience can be enjoyed online here courtesy of Daniel Merlin Goodbrey. 
We're about to enter into the autumn period of Comica events with another formidable line-up of guests. In this centenary year of the First World War's beginning how much of a coup for you was it to attract the participation of a legend responsible for such seminal work as Tardi?
All credit has to go to the Institut Français, both the much-missed Hélène Fiamma who instigated the invitation and negotiations, and to François Croquette, the new director. I also have some routes to Tardi from over the years, having published a story by him and his wife in Escape Magazine No.8. It is clearly very special that Tardi is choosing to be in London on November 11th, of all dates, a crucial one in the remembrance of World War One, and not say be in Paris. This is hopefully a first step towards doing something much more ambitious around Tardi's remarkable oeuvre.
It also helps to appeal to creators like Tardi that Comica is not like most other UK festivals which are tied to packing everything into a specific day, weekend, or perhaps a week. One idea I have had from the start is that it should ideally be possible to go to every single event and piece of programming in Comica. You don't have to miss anything. Because everything in Comica is completely worth your while going to!
Many festivals set out to appeal to as many audiences and demographics at once as possible, or to the many clans of fandom. Now I perfectly understand the strategies of popular appeal and broadest coverage that other festivals outside London are adopting and very successfully. But Comica is in London, a place full of comics expos and other events all year round. So we can leave a lot of that side of comics culture to them, and concentrate on another bigger, bolder vision. Comica is aimed mainly at an adult, culturally-alert audience. We're lucky too that we can put an event on at any time of the year – like getting Jaime Hernandez last summer – and our main autumn festival is more of a season with a focussed approach.
Also Comica will never be like a typical Comicon, where the comics element can get lost among all the movies, media, gaming, cosplay and other aspects. Comica puts comics first and foremost.
Similarly, "Mistress of Creepy Manga" Junko Mizuno is also a headline guest with not just a Comica Conversation but an exhibition at the Atomica Gallery to look forward to. What is it about her work, do you think, that has such a crossover appeal?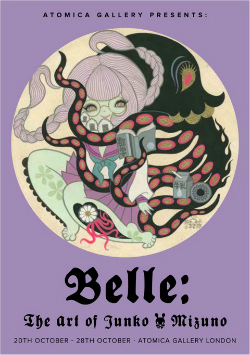 Junko Mizuno hybridizes past and present, cute anime-style manga with darker, weirder creepiness, she harks back to Japan's rich history of prints but blends them with underground/avant garde influences. It's a little odd but she has become far better known outside Japan than in her homeland. Her gig posters for cool bands, her toys and figures for Kidrobot and others, all add to her international crossover following.
Cult comics, digital comics, gothic comics, graphic journalism… the amazing diversity of the medium is certainly being showcased throughout the month that Comica is running. Beyond those headline Tardi/Junko Mizuno events what other treats can eager Comica Festival-goers expect to see?
I'm very pleased to welcome Emily Carroll to Comica at The British Library, with thanks to her UK publisher Faber and Faber and to Thought Bubble in Leeds. Her webcomics now in book form in Through the Woods are enchanting and haunting. And there are loads of other British guests taking part, but I am so pleased that Carol Swain has agreed to talk about her excellent new graphic novel Gast, in fact with you, Andy, at Foyles! Comica will never have a 'women's panel'. From the outset, we've always included women in their own right. But that said, we are keen to spotlight women whenever we can like this.
The fifth one-day Transitions symposium will be held at Birkbeck in October as part of Comica's programme, providing a platform for the promotion of the multi-disciplinary academic study of sequential art. How far do you think we have come in recent years in underlining the validity of comics scholarship as a worthy pursuit?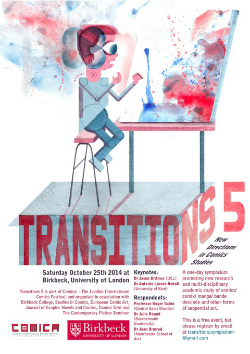 Transitions is the only regular totally free conference about comics studies in London and Tony Venezia, Nina Mickwitz and their team do a fantastic job pulling this all together. We've come a long way. Who would have imagined the UK having three peer-reviewed academic journals dedicated to the study of comics? And the number of conferences has shot up too – I am always learning something fresh at these exchanges.
This is as vital a process as the writer and artists creating new comics. New research and approaches about comics in academia. It's good that writers and artists of comics are taking more of an interest, so that practitioners can share ideas with the theorists. There is still much more to be done, to set up more courses and to build a solid foundation of shared knowledge and build further upon this.
Engaging artistic collaboration and supporting the work of up and coming comickers is a central part of the Comica ethos. In that respect how important are the twice-yearly Comikets in pushing the self-published comics of newer faces? And what role does the Comica Social Club play throughout the year in providing networking opportunities for the UK's burgeoning comics-creating scene?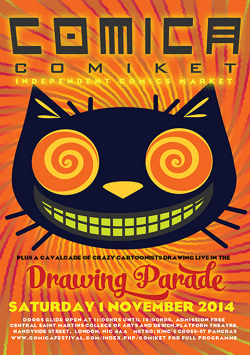 It's an extraordinary time for the UK small press/self-publishing community right now and I hope Comica Comikets have played some part in nurturing and encouraging this. I think it's vital that the Comikets are free, and we're determined to try to keep them free for as long possible, just as TCAF, a big inspiration, do in Toronto to great success. There should be no barrier of any kind to the public stepping into this wider world of comics and it can often lead to genuine epiphanies, people getting 'converted' to comics as a result! It may be one at a time, but I'm convinced the readership for good creative comics is enormous, they just need an appealing way to discover it. Peter's invention of The Drawing Parade hypnotises visitors, because who doesn't love to watch a drawing coming to life?
And yes Comica Social Club, on the last Wednesday of the month, provides a great way for people who love making and reading comics to meet, makes friendships, make projects and share ideas. It's also great that people only in London briefly know they can connect to the London comics scene by coming along – we've had visitors from all over the place turning up.
Paul chats with creators Jade Sarson and Emmanuel Guibert at The Drawing Parade at the recent British Library Comica Comiket. Photos courtesy of Dean Simons.
This is the time of year, as well, that the Observer/Cape/Comica Graphic Short Story Prize is announced? As a member of the judging panel what can you tell us about the quality of the entries this year?
I helped out again with the judging last Friday and the standard this year, the 8th year, was markedly better, some brilliant entries, many names new to me, and more entries than in the last few years. The challenge with a four-page story is to create enough mood, story and characterisation and to devise a surprising, or at least not familiar conclusion or twist or even open ending. There's so much talent out there right now. This year's winner and runner-up get announced in The Observer on Sunday October 26th. And from October 27th to November 27th, the eight top finalists' stories will be displayed for free in the Central Saint Martins Platform Theatre Bar and that is where we'll present the runners-up and winner with their cheques on Saturday November 1st at the Comiket.

Isabel Greenberg's The Encyclopedia of Early Earth came to Cape after her short story 'Love in a Very Cold Climate' won the 2011 competition
And finally – even though it seems slightly cruel to be asking this before the autumn programme gets underway – do you already have one eye on another year's worth of Comica events throughout 2015? 
I am always keen to hear about comics creators people would love us to bring to Comica next, so do please send us your wish list. There are several creators we are hoping to entice over, these things can take time but they will happen. One of my few regrets was not being able to bring Neil Gaiman and Moebius over to talk together – they had both agreed but sadly Moebius was too ill and then sadly died. I'm hoping we can entice Charles Burns back now that his trilogy is complete. I'd love to get Dylan Horrocks and Lynda Barry over, for example. We're also developing a very exciting exhibition and related programme for a guest country for autumn 2015. Further partnerships, both with London and UK institutions, and with other festivals worldwide, are underway as well. And 2014 marks Comica teaming up with Broken Frontier for the first time, let's see where that can take us next!
The best way to keep up with Comica throughout the year is to sign up for our Newsletter here – not too frequent and with advance news of our events and activities.
For the full line-up of this year's Comica events and booking details – including the panel 'What Makes A Cult Comic?' in association with Broken Frontier – visit the Comica Festival 2014 site here.