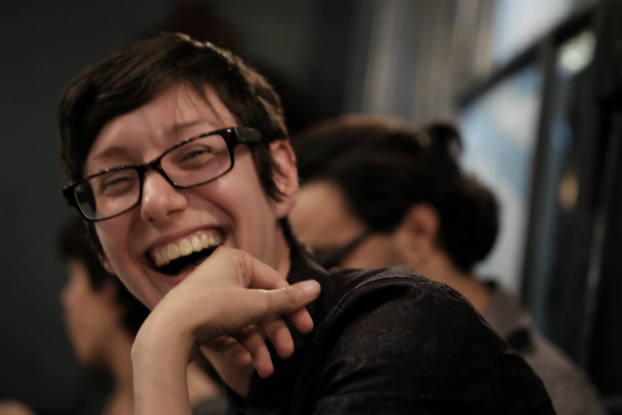 Over the weekend at the Lakes International Comic Art Festival the news broke that the third UK Comics Laureate will be Hannah Berry who takes over the role from Charlie Adlard in 2019. Berry's name will, of course, be a familiar one to Broken Frontier readers. You played a significant part in voting for her as our 2017 Best Writer winner in our most recent Broken Frontier Awards for her graphic novel Livestock after all!
You can read an interview with Hannah on the BBC website where she talks about her desire to harness the untapped potential of the form and of destigmatising comics as a medium here. For those wanting to catch up with her previous work here's a potted biography of her career to date with links to relevant BF coverage…
Hannah Berry's debut graphic novel was the acclaimed noir thriller Britten and Brülightly from Jonathan Cape which followed the investigations of a worldweary private eye… but with a deliciously surreal twist. In 2012 her second Cape book, the tense horror story Adamtine (below left) was published. I described it here at Broken Frontier as a "labyrinthine, twisting tale of murkiness and guilt that cements Hannah Berry's rep as one of the most exciting talents to break out in the UK comics scene in recent years."
Berry was also part of Ravi Thornton's Broken Frontier Award-nominated graphic memoir HOAX Psychosis Blues (above right) alongside artists like Bryan Talbot, Karrie Fransman, Mark Stafford and Rian Hughes. She has contributed to anthologies including Team Girl Comic, The Strumpet and The Corbyn Comic Book, and has been a regular panellist/interviewer/guest at comics events and festivals. Recently she has worked with 2000 AD/Rebellion including writing the updated 'The Sentinels' in the 2017 Scream! and Misty Special. Her cartooning credits include Prospect and the New Statesman.
Last year she was nominated (and won) for Best Writer in the 2017 Broken Frontier Awards and her third graphic novel, the darkly satirical and disturbingly prescient Livestock (above), was also nominated as Best Graphic Novel. I called it "a brilliant, brutally relevant parable… and a bleakly comedic triumph" when I reviewed it here at BF.
She also has the singular honour of being the first creator to ever draw me into a professionally published comic (above right)…
Our hugest congratulations to Hannah who has long been a favourite around these parts for both her creative endeavours and for her passionate championing of the form. This really could not be more deserved and we know she's going to be an absolutely magnificent ambassador for the medium!
For more on the work of Hannah Berry visit her site here and follow her on Twitter here. Top photo by Sean Azzopardi.