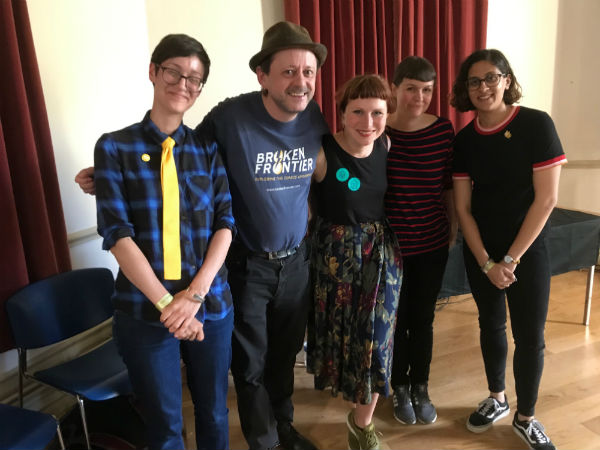 We've been aware for a while that current British Comics Laureate Hannah Berry was working on a UK Comics Creator Survey as an information-seeking exercise to continue to support and champion the evolution of the form in the UK. Berry, of course, is a former Broken Frontier Award winner for her graphic novel Livestock and was a guest on last year's Broken Frontier panel at ELCAF alongside Avery Hill's Katriona Chapman, and Broken Frontier 'Six to Watch' artists Jayde Perkin and Aleesha Nandhra (above). We were also rather chuffed earlier this year when an interview with Hannah in the i paper gave Broken Frontier its first ever national newspaper mention for our small press coverage!
The anonymous survey is described by Hannah as "for everyone making comics in the UK. Over the last couple of decades, the UK comics scene has exploded into the wild, experimental, thoughtful and provocative artistic frontier that we belong to today. To find ways to ensure that this level of creativity and growth can be encouraged, supported, and sustained, we need to get an accurate breakdown of the situation."
She continues "The survey has been designed to gather information and generate insights about comic producers across a range of creative practice, and at all levels of activity: if you are UK-based and make comics or cartoons for public consumption, I want to hear from you. Regardless of whether you are an internationally renowned comics legend or a newcomer working in secret on your long-form graphic novel or posting strips on Instagram: if you make comics then you are a part of the UK comics community and this survey is for you."
The findings will be available in a full report down the line and will be used as a foundation for further discussion and a basis for seeing how we move forward as an industry and a creative community. It only takes 15 minutes to complete and events are planned in future to discuss its findings. This is the first national survey of its type and, as such, it's so important that as many people from across all areas of our scene contribute. So here's that link to the survey again. And if it's any incentive then there's an opportunity to enter a prize draw for a £50 comics shop voucher as part of the deal. Get filling in, chums!