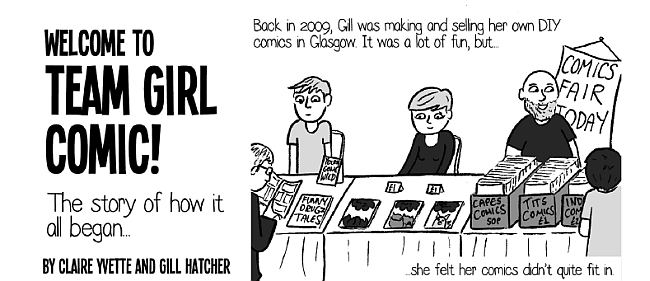 Ten issues is a phenomenal achievement for a small press anthology comic. In the near three years I've been writing 'Small Pressganged' at Broken Frontier I've seen anthologies come,  I've seen anthologies go, and I've seen anthologies return from the dead. But I'm not sure I've seen one make double figures before. It's a testament to Gill Hatcher's vision that all-women collective Team Girl Comic has not just managed to reach ten editions of always relevant material but to also foster an entire community of creators in its wake.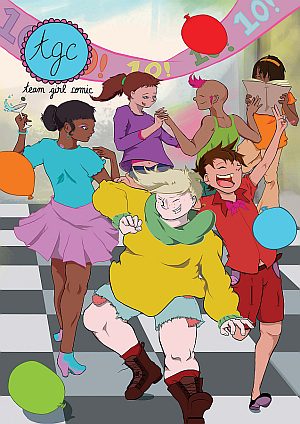 I first reviewed TGC back on the old Broken Frontier site when it was a mere four issues old, noting even back then how it evoked the "… power of the small press to provide a platform for creators of all kinds to share their personal vision of what comics can be." In the years since, I've watched as this project has evolved from (but never forgotten!) its democratic, DIY culture roots to become a more polished and integral part of the British small press scene. And I've looked on with great satisfaction as so many of the artists involved have grown in creative confidence, often graduating to their own projects and collaborations elsewhere.
To celebrate this momentous landmark (catch the party atmosphere in the gorgeous Claire J.C. Stewart cover, right!), co-editors Gill Hatcher and Claire Yvette have put together a bumper-sized celebratory issue with contributors old and new – and some surprise guest comickers (check below for details) – all joining the party celebrations. Those already intrigued by my opening couple of paragraphs may be pleased to know that the issue kicks off with Hatcher and Yvette's scene-setting "secret origin" of TGC (see also my interview with Gill Hatcher here at Broken Frontier last year), perfectly encapsulating the spirit and philosophy of the book to date.
Team Girl Comic has always been about all styles and subject matter of comics storytelling but for me – and I'm willing to admit that my own biases may play a part in this – it's been at its strongest when presenting autobiographical and slice-of-life storytelling. There's a focus and intensity to work written from personal experience – in any medium – that is difficult to capture in obvious genre fiction and, once again, it's those personal offerings that most resonated for me in this latest edition.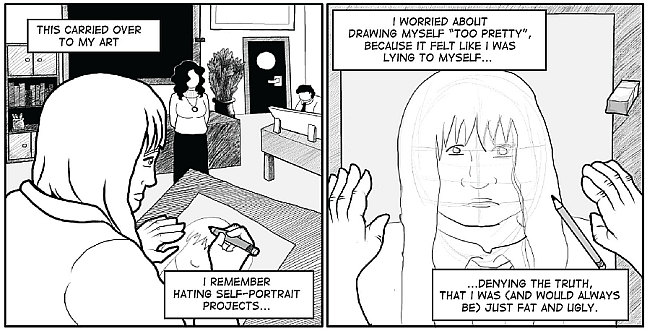 In that vein, MJ Wallace's 'How I Learnt to Stop Worrying and Love Me' (above), dealing with body image and issues of self-esteem, puts across an old message with an upbeat and inspiring delivery while Jules Valera's 'Unplugged' utilises one of those visual metaphors that could only work in comics and immediately marked her out to me as someone whose work I must investigate further. Elsewhere in this issue, Jef Sinclair's 'The Art of Getting By' is an honest and pensive reflection on living with emotional instability, and guest artist Lucy Sweet puts the ageing process into perspective in 'What Will I Be Doing When I'm Forty?'. I was also rather taken by Claire Yvette and Coleen Campbell's 'Die Grenze' – a short on maintaining barriers in our relationships – with its mix of comics and photography displaying a strong use of the form to visually communicate ideas in ways that prose never could.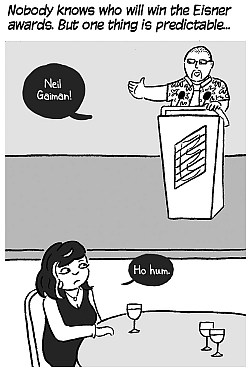 A Trina Robbins contribution to TGC #10 (right, drawn by Gill Hatcher) is something of a coup and her story 'The Extraordinary Occurrence that Took Place at Comicon, in July 2013' – on last year's Eisners finally seeing some sort of gender balance – is bitingly witty in places and a fine fit for the TGC ethos. Collaborator Gill Hatcher meticulously captures the hustle and bustle of the convention world on the art front. Of course, one of the joys of Team Girl Comic is its unpredictability and there's plenty of non-autobio work on show here. Shona Heaney's 'The Winston Churchill Guide to the Zombie Apocalypse' pasting Churchill's speeches onto imagery of Winnie hunting down the undead hordes is so silly that it's instantly endearing. And Amanda 'Hateball' Stewart's 'GEMS Saltire Squad' – the adventures of a special squad of Earth operatives tasked with protecting our indigenous monsters from the invasive alien variety brought to the planet through an increase in intergalactic trade – has a knowing touch of the tongue-in-cheek to its retro sci-fi heroics.
Coming back to some more of those guest contributors, Kate Charlesworth gives us  'My Tenth Edition' which, simultaneously, fondly celebrates and gently subverts some of the traditions of DC Thomson weekly comics. There's also trademark trippyness, as seen below, from Donya Todd (Death & the Girls, Bimba) and Hannah Berry (Britten & Brulightly, Adamtine) provides a cutting one-page commentary in 'Endemica' which is a perfect coda to the issue.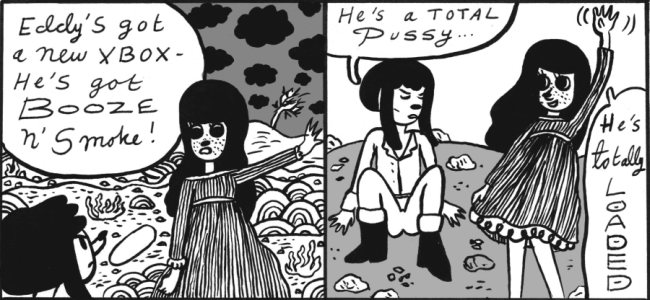 This mix of established pros and grassroots comics creators on show in Team Girl Comic #10 is a particularly appropriate way to mark the festivities surrounding the book attaining double digits. In that regard that element of inclusiveness that TGC promotes may well not be to all readers' tastes but I firmly believe that, although the range of technical proficiency may vary from entry to entry, every offering has something worth saying and, more importantly, something worth saying in the comics form.
So let's raise a glass and say a hearty "Happy Anniversary" to every TGC contributor past and present!  As I will keep underlining, books like this are a vital platform for those honing their craft, and provide opportunities for newer comics practitioners to not just see their work in print but to interact with a supportive network of peers. Long may that continue. Here's a second toast to what Gill Hatcher set in motion in 2009 and to the next ten issues of TGC. Without a doubt, it's the quintessential embodiment of the UK small press zeitgeist of the last few years.
For more on Team Girl Comic (including their webcomic) check out their site here. Team Girl Comic #10 can bought here priced £5.00.