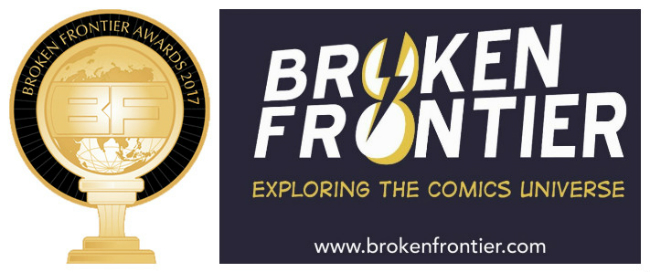 Broken Frontier proudly presents the shortlists for our 14th annual Broken Frontier Awards. Our staff have selected five nominees for each of the 15 main categories that comprise the BF Awards, honouring some of the creators and publications of the past year whose work has particularly spoken to us in 2017.
As always, you will have a big say in who gets to take home an award!
Little did I know when I introduced last year's Broken Frontier Awards (and spoke about what a huge year it had been for us) that 2017 would trump even 2016's game-changing developments for the site. The last twelve months have seen a change of ownership for BF, a number of long-term staff faces moving on to exciting new ventures, and the recruitment of a whole new crew of indie comics champions to bolster our ranks. We'll look back more on that at the end of the year but that ever evolving team dynamic is certainly reflected in this year's BF Awards shortlists which have, perhaps, an even more indie feel than usual.
This being Broken Frontier, of course, we have every format of comics delivery covered – from self-published DIY culture through to Big Two super-hero comics… sometimes even in the same category! I wrote a little recently at BF here about how the unpredictability of comtemporary serial comics publishing models have made some of our categories a little harder to define. This year we've tried to broaden our coverage with the introduction of three new categories and a Broken Frontier Hall of Fame.
Look for a Best Graphic Non-Fiction Award to give more opportunities for those working in graphic memoir, graphic journalism and graphic medicine to be nominated. We also have a Best Webcomic section to provide more space for digital delivery and a Best Collection of Classic Material to spotlight a burgeoning area of comics archiving. Our Hall of Fame will recognise those individuals whose work in promoting new talent and bringing it to a wider audience mirrors our philosophy at BF.
The BF crew have completed their role in the initial process and now it's up to you to do your bit in deciding our winners in the public ballot. As ever, the final decision will come from an equal 50-50 consideration of the votes of the comics community and the Broken Frontier staff. Voting will run until December 20th, with the results to be announced on January 2nd, 2018.
And so to the big questions of this year's Awards… Will Tillie Walden sweep the board in her three nominated categories and double her Broken Frontier Awards tally in one go? Can a self-published comic with a more focused audience upset the odds and take home a prize? And with no US publishers who specialise in serial comics nominated in the Best Publisher section (for the first time ever!) who will take the award that Image had won for the last five years in a row?
Your input, as ever, will play a vital role in answering all those questions. As we're fond of saying here at BF "Comics can be whatever we want them to be." From small press to 'Big Two' players the Broken Frontier Awards exist to embrace all aspects of this wonderfully diverse medium and its boundless possibilities. Join us in celebrating that by clicking on the blue 'Vote now!' button and casting your votes from the choices below!
Broken Frontier Awards 2017: The Nominations
Best Writer

Cecil Castellucci (Shade the Changing Girl)
Charles Forsman (Slasher)
Hannah Berry (Livestock, The Return of the Sentinels)
Jeff Lemire (Royal City, Roughneck, Black Hammer)
Warren Ellis (Injection, The Wild Storm)
Best Artist

Alexis Deacon (Geis 2: A Game Without Rules)
Ellice Weaver (Something City)
Jillian Tamaki (Boundless)
Marley Zarcone (Shade the Changing Girl)
Tillie Walden (Spinning, On a Sunbeam)
Best Colorist

Dave Stewart (Black Hammer, Maestros)
Elizabeth Breitweiser (Outcast, Kill or Be Killed)
Jordie Bellaire (Injection, Redlands)
Matt Wilson (The Wicked + The Divine, Paper Girls)
Tamra Bonvillain  (Doom Patrol, Wayward)
Best Letterer

Aditya Bidikar (Kid Lobotomy, Paradiso)
Clayton Cowles (Redlands, Mister Miracle)
Colin Bell (Beast Wagon, Godshaper)
Jared K. Fletcher (Paper Girls, The Gravediggers Union)
Thomas Mauer (4 Kids Walk into a Bank, The Realm)
Breakout Talent

Ellice Weaver (Something City, Avery Hill Publishing)
Emil Ferris (My Favorite Thing is Monsters, Fantagraphics)
Jey Levang (Lazaretto, BOOM! Studios)
Ram V (Paradiso, Image Comics)
Sophia Foster-Dimino (Sex Fantasy, Koyama Press)
Best New Series

Mister Miracle (Tom King, Mitch Gerads, Clayton Cowles, DC Comics)
Now (Anthology – Various creators, Fantagraphics)
Redlands (Jordie Bellaire, Vanesa R. Del Rey, Clayton Cowles, Image Comics)
Royal City (Jeff Lemire, Image Comics)
Spy Seal (Rich Tommaso, Image Comics)
Best Ongoing Series

Katzine (Katriona Chapman, Tomatito Press)
Minor Leagues (Simon Moreton, Lydstep Lettuce)
š! (Anthology – Various creators, kuš comics)
Shade the Changing Girl (Cecil Castellucci, Marley Zarcone, Kelly Fitzpatrick, DC Comics/Young Animal)
Silver Surfer (Dan Slott, Mike Allred, Laura Allred, Marvel Comics)
Best Limited Series

4 Kids Walk into a Bank (Matthew Rosenberg, Tyler Boss, Thomas Mauer, Black Mask Studios)
A.D. After Death (Scott Snyder, Jeff Lemire, Image Comics)
The Flintstones (Mark Russell, Steve Pugh, DC Comics)
Godshaper (Simon Spurrier, Jonas Goonface, Colin Bell, BOOM! Studios)
Slasher (Charles Forsman, Floating World Comics)
Best One-Shot

Cindy and Biscuit: Sundays (Dan White, Milk the Cat Press)
The Corbyn Comic Book (Anthology – Various Creators, SelfMadeHero)
SID (Olivia Sullivan, Good Comics)
The Unquotable Trump (R. Sikoryak, Drawn & Quarterly)
Your Black Friend (Ben Passmore, Silver Sprocket/AdHouse)
Best Webcomic

Best Original Graphic Novel

Crawl Space (Jesse Jacobs, Koyama Press)
Livestock (Hannah Berry, Jonathan Cape)
My Favorite Thing is Monsters (Emil Ferris, Fantagraphics)
Something City (Ellice Weaver, Avery Hill Publishing)
A Thousand Coloured Castles (Gareth Brookes, Myriad Editions)
Best Graphic Non-Fiction

Everything is Flammable (Gabrielle Bell, Uncivilized Books)
Graphic Science: Seven Journeys of Discovery (Darryl Cunningham, Myriad Editions)
Spinning (Tillie Walden, FirstSecond/SelfMadeHero)
Tenements, Towers & Trash (Julia Wertz, Black Dog & Leventhal)
Threads: From the Refugee Crisis (Kate Evans, Verso)
Best Collection of Classic Material

The Collected Arn Sabra's Neil the Horse (Katherine Collins, Conundrum Press)
Dokudami Tenement (Takashi Futukami, Black Hook Press)
Faceache: The First 100 Scrunges (Ken Reid, Rebellion)
Good News Bible: The Complete Deadline Strips of Shaky Kane (Shaky Kane, Breakdown Press)
Marney the Fox (Scott Goodall, John Stokes, Rebellion)
Best Book on Comics

Be Pure! Be Vigilant! Behave! 2000 AD and Judge Dredd: The Secret History (Pat Mills, Millsverse)
Krazy: George Herriman, a Life in Black and White (Michael Tisserand, Harper)
Last Girl Standing (Trina Robbins, Fantagraphics)
Mangasia: The Definitive Guide to Asian Comics (Paul Gravett, Thames and Hudson)
Thrill-Power Overload: The First 40 Years, Revised Edition (David Bishop, Karl Stock, Rebellion)
Best Publisher

Avery Hill Publishing
Breakdown Press
Fantagraphics
Koyama Press
Retrofit/Big Planet
Broken Frontier Hall of Fame
???