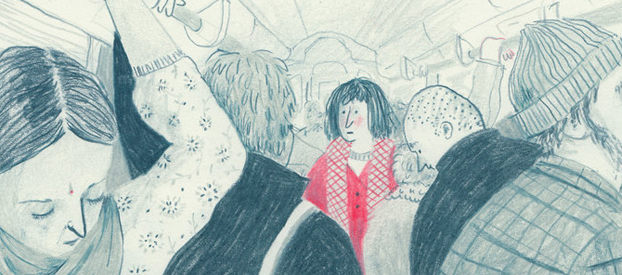 That spark of attraction can flare up in the most unlikely of circumstances. Just imagine: you're stood in a comic shop, rainwater sloshing around your leaky brogues, the podcasty bantz of the staff-children beginning to give you toothache, when something alluring catches your eye…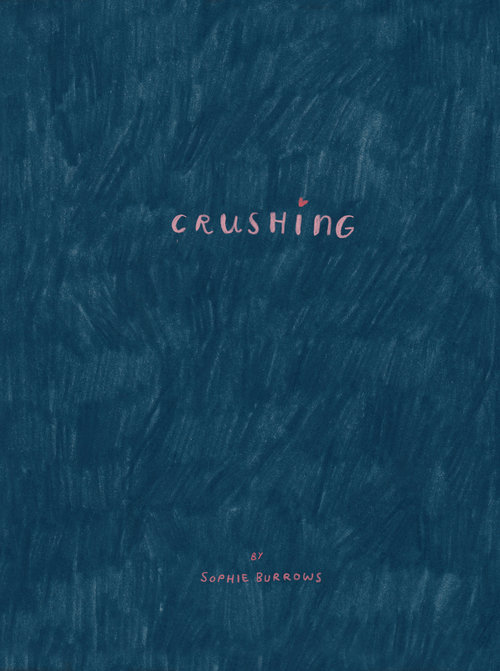 In this case, it was the understated cover of Crushing by Sophie Burrows – a brief but deeply charming 'silent short' of a young woman in London, seemingly adrift in a teeming city full of loved-up couples and impossible ad-driven aspirations.
As she follows her daily routine, the phantom of flirtation looms into sight. In a city where millions of people are flung together each day in an incalculable number of possible permutations, there must be someone out there for everyone. Mustn't there?
As you'd expect from someone working towards an MA in Children's Book Illustration, Sophie Burrows has a very assured and expressive style, mixing lovely soft lines with an eye for colour. She also has a flair for body language and expressions that does away with the need for superfluous dialogue or narration. Going without words is a bold choice, but it's a narrative flip that the artist lands confidently.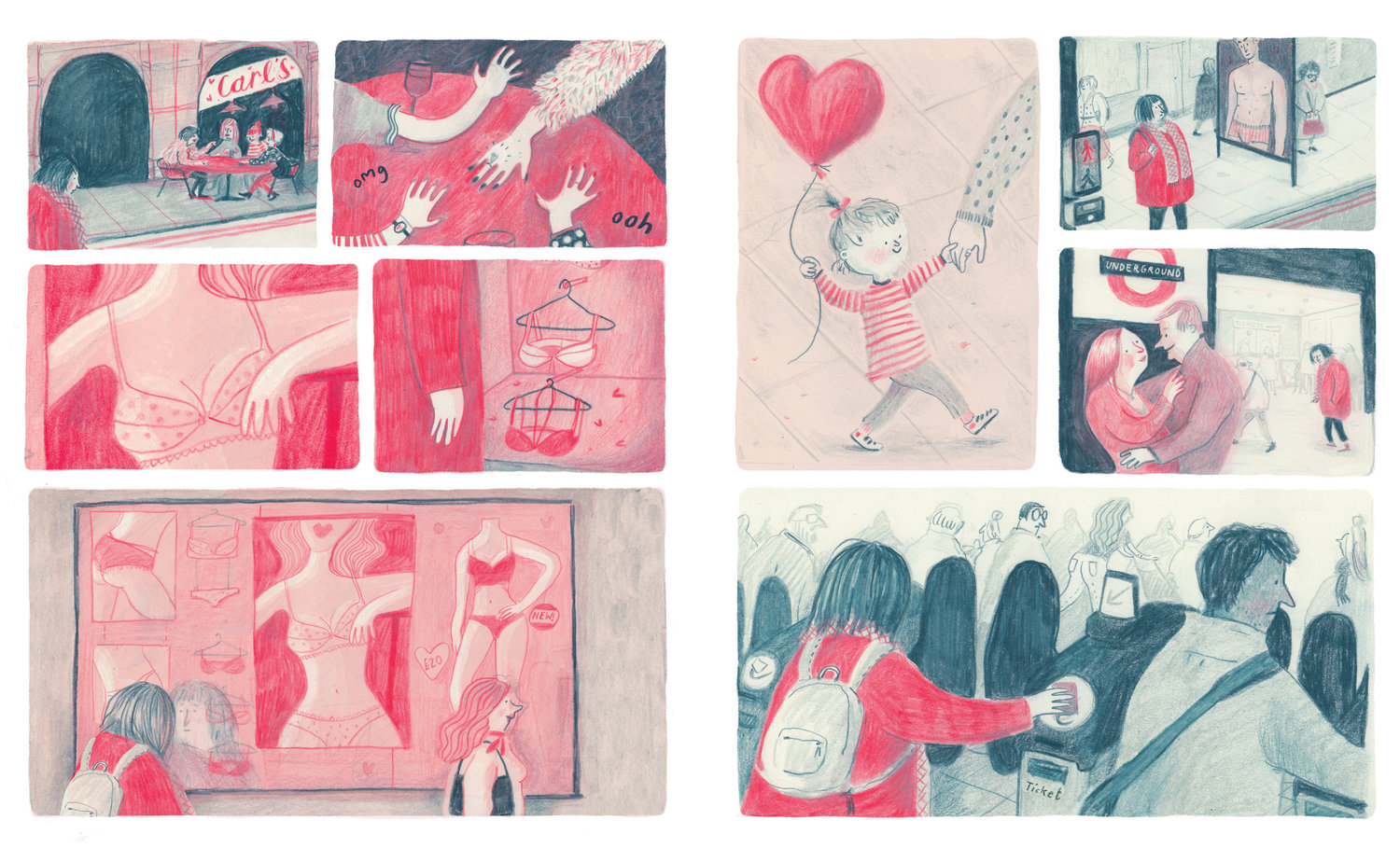 She combines that illustrative strength with strong comics chops, rolling out her wordless sequences with an easy flow. This is evident as early as the opening page: as the viewpoint on a familiar London scene widens, bringing in more little dramas, our attention is drawn to the little figure in red – our protagonist – making her ascent of the hill.
The large (A4) format also serves the comic well. Two double-page spreads in particular, showing the view from Primrose Hill and a packed tube platform, are almost worth the price of admission alone. And the book ends with a nice nod to Edward Hopper's Nighthawks, given a 21st-century London spin.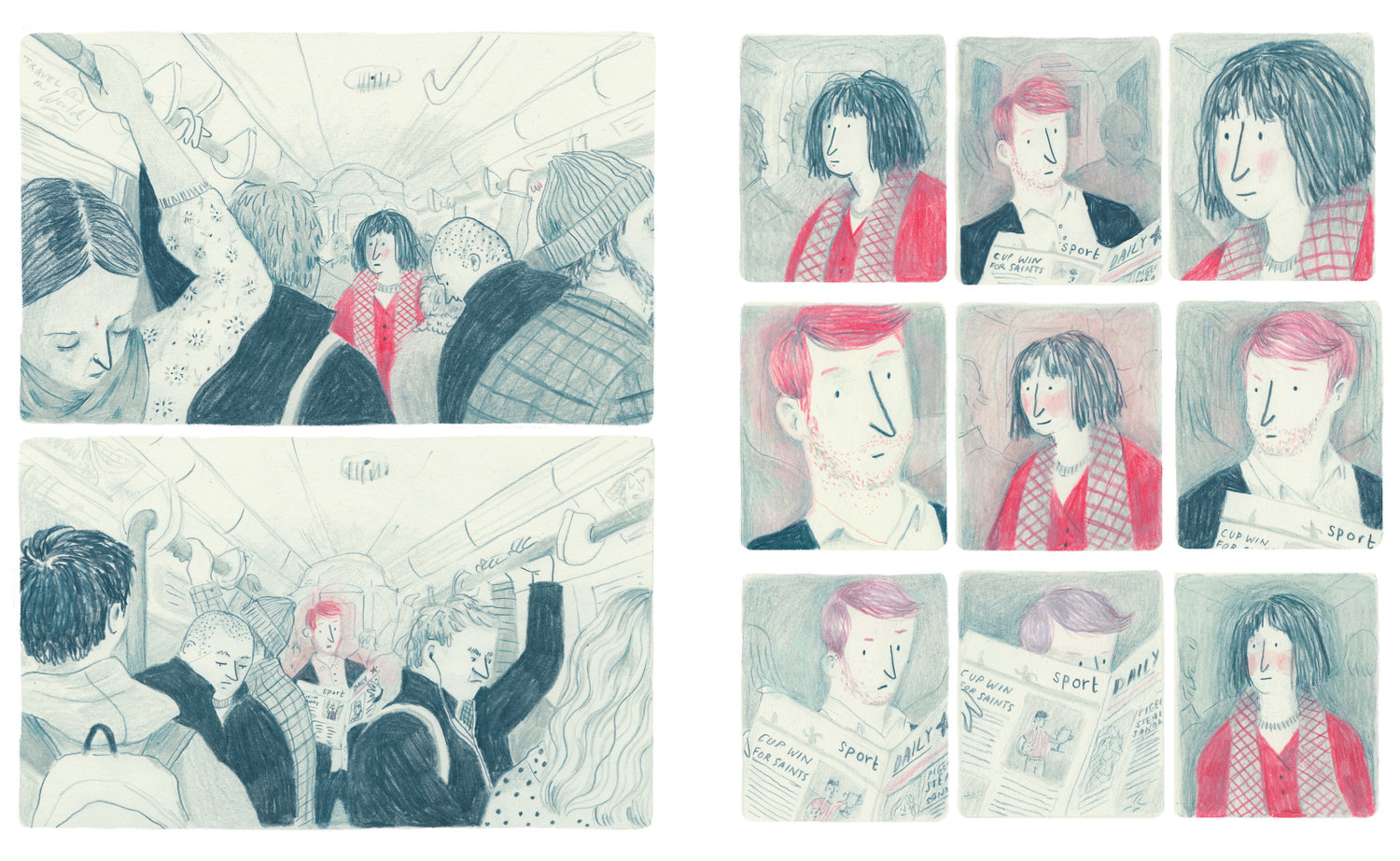 In fact, one of the beauties of the comic is the recognisable London it depicts – a city of standing behind the yellow line, intrusive pigeons and nipping to the kebab shop in your 'jammies. A maddening, exhausting and creaking city that, through it all, retains the capacity for magic.
In her website biography, Sophie Burrows states that she's "nurturing a love for comics". On the basis of Crushing, it's a relationship that should go a lot further than a series of furtive glances across a tube carriage.
For more on Sophie Burrows' work visit her site here and follow her on Twitter and Instagram. You can find her online store here, where you can buy Crushing priced £7.50.
Review by Tom Murphy