Press Release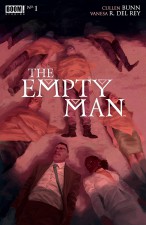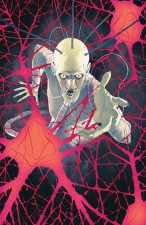 When you think of a good horror story, you might imagine some kind of monster, like the werewolves of CURSE or the nightmare fuel of CLIVE BARKER'S HELLRAISER. However, some of the scariest stories are the ones that hit home—stories that are just realistic enough to make you wonder if it really could happen. This June, BOOM! Studios plays on those fears with THE EMPTY MAN, a dystopic version of the world we know, where a terrifying disease has taken on almost deific connotations and has inspired a wave of murder cults. People are killing each other and themselves, and the same words keep popping up: "The Empty Man made me do it." Writer Cullen Bunn (The Sixth Gun, Magneto) and artist Vanesa R. Del Rey (HIT) are two of the most exciting talents in the industry, and perfectly in sync on this haunting new crime procedural.
"My favorite horror stories are of the grounded variety, balancing terror with real-world human concerns," said BOOM! Studios Editor-in-Chief Matt Gagnon. "The disease and investigation that are at the heart of THE EMPTY MAN completely hit that mark. Combining a bit of J-horror and a bit of the police procedural, Cullen Bunn and Vanesa R. Del Rey—both visionaries in their own right—have crafted a gripping story that explores some of our darkest fears."
It's been one year since the first reported case of the Empty Man disease, and no drug has been able to slow its progress. The cause is unknown, and the symptoms include fits of rage, hideous hallucinations, suicidal dementia, followed by death, or a near lifeless, "empty" state of catatonia. As murder cults rise nationwide, the FBI and CDC enter a  joint investigation of the Empty Man, hoping to piece together clues to stop the cult and uncover a cure.
THE EMPTY MAN #1 arrives in comic shops on June 11th with a cover price of $3.99 under Diamond order code APR140958. The main cover is illustrated by series artist Vanesa R. Del Rey, with an incentive cover available in a limited quantity from Goñi Montes (CLIVE BARKER'S NEXT TESTAMENT).